Published on
Belgian Red Cross teams treat wounded in wake of Brussels attacks
Dozens of people injured in yesterday's attacks in Brussels have been treated by Belgian Red Cross medics working across the capital.

More than 100 Belgian Red Cross doctors, nurses and paramedics, as well as 30 ambulances were at the scene of attacks in Brussels yesterday following suspected bombings at Zaventem Airport and Maelbeek metro station.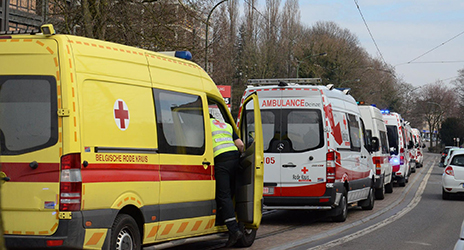 A spokesperson for the Belgian Red Cross said: "Our teams are across the different sites providing first aid, emergency medical treatment and emotional and psychological support to victims and their loved ones. More than 100 people were treated by our teams at a first aid post close to the metro station this morning. We have also transported more than 100 wounded people to 16 different hospitals."

The entire ground floor of the Thon EU Residence Hotel in Brussels was turned into a Red Cross medical post to support the people affected by the attack in the close-by Malbeek metro station.

Teams were also working at two reception centres in the city at the Residence Palace and the Novotel hotel. Psychological support experts were on hand to help people suffering from shock, trauma and grief. Beds, blankets and toiletries were also provided by the Red Cross.

The Red Cross has also sent blood stocks to hospitals at St Pierre and Brugmann. Members of the public who would like to donate blood are encouraged to do so at facilities outside of Brussels. O negative and A negative blood types are the most needed, although the Belgian Red Cross says there is no major shortage so far.