Published on
Cash and livelihoods: a winning combination for long-term sustainability and support to refugees
Turkey continues to host the largest number of refugees worldwide, including 3.6 million Syrians under temporary protection. There are also over 330,000 refugees and asylum seekers under international protection, mostly Afghan nationals, but also Iraqis, Iranians and Somalis, among others. Refugees who suffer through protracted crises are often particularly vulnerable. With the civil war in Syria entering its twelfth year, the approach has switched from a humanitarian emergency response to strengthening longer-term resilience.
Since April 2020, the International Federation of Red Cross and Crescent Societies (IFRC) and the Turkish Red Crescent through its KIZILAYKART platform implements the largest humanitarian programme in the history of the EU. The Emergency Social Safety Net (ESSN) is funded by the European Commission's Directorate-General for European Civil Protection and Humanitarian Aid Operations (ECHO) and provides support to more than 1.5 million refugees in Turkey.
Through ESSN, refugee families receive a monthly cash allowance via debit cards, enabling them to decide for themselves how to cover essential needs like rent, transport, bills, food and medicine. The use of cash transfers is widely recognised as the most efficient and effective way of providing humanitarian assistance and it empowers people by letting them decide how to meet their own needs. The programme also supports longer-term livelihood opportunities for refugees and host communities by offering opportunities to learn new skills, which can lead to income generation and can increase employability in the labour market.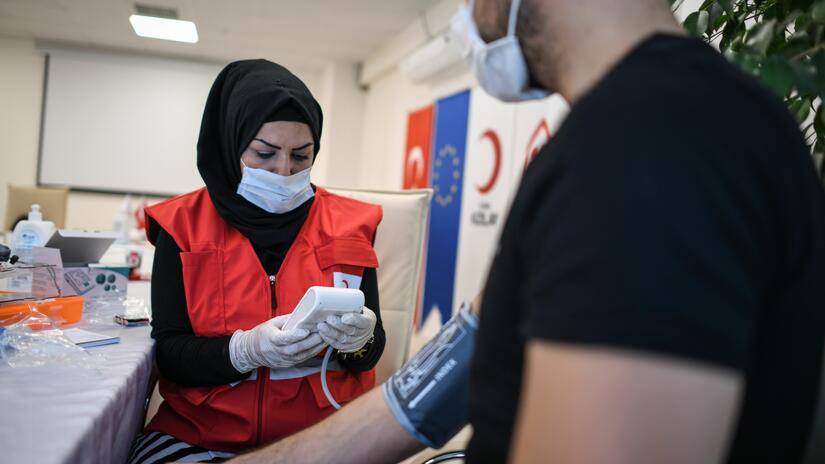 On April 2021, the Turkish Red Crescent launched employment referrals that link people receiving cash assistance through ESSN with a range of livelihood trainings and employment opportunities in its 19 community centres. At these centres, refugees and host communities can find employment support, including consultancy for employment and help with work permits, as well as vocational and Turkish language courses. The community centres connect individuals to relevant job opportunities by coordinating with potential employers and public institutions.
"We have seen in many contexts that when refugees are able to build their resilience and self-sufficiency, they can contribute even more meaningfully to the local economy. When they benefit, we all benefit, including host communities," says Deniz Kacmaz, IFRC Turkey, Livelihood Officer.
Kevser is one of the persons the Turkish Red Crescent is supporting, both through cash assistance and language training in a community centre. Kevser and her family decided to leave Syria in 2015 when a bomb landed on their home, and had to start from zero in Turkey. The effects of COVID-19 impacted them again making job opportunities even scarcer.
"The assistance has been crucial for us to pay the rent and bills, as my husband is not able to find jobs all the time. Without assistance, our life would be very difficult. Turkish Red Crescent changed our life. I attended courses, became more active, I feel powerful," said Kevser. Learning the local language created a change in her life. Her relationship with her neighbours improved, she attended vocational courses, she was able to go to the hospital on her own. It also gave her a chance to give back to the Turkish community. As a volunteer at the Turkish Red Crescent's Community Centre, she visits vulnerable households, informs people about available resources and refers them to related services when necessary.
A collective effort is needed to ensure long-term changes that allow both refugee and host communities in Turkey to thrive. IFRC is working with agencies, civil society, donors and authorities to engage in a continuous dialogue to enable better linkages between their interventions to:
increase investment in socio-economic empowerment in Turkey,
mitigate barriers to employment for refugees, and
create greater synergies between humanitarian and development interventions.
ESSN fosters the socio-economic inclusion and the empowerment of refugees in Turkey. The synergies and collaboration created between different actors will create a sustainable change that will provide long-term opportunities for everybody in Turkey.