Published on
Conflict in Ukraine and displacement to Europe: the Red Cross response
Since 24 February, millions of people endure the horror of the armed conflict in Ukraine. More than 4.2 million people have left the country, while it is estimated that at least 18 million will require urgent life-saving assistance and long-term support, including 6.5 million who are internally displaced in Ukraine. Sustained efforts to support people in Ukraine and the region are needed, as the humanitarian impacts of this armed conflict will be felt for some time.
In response, the EU's solidarity has been unprecedented – it demonstrates what is possible with concerted efforts and illustrates the good practice essential in any humanitarian crisis. Substantial support has been announced to provide emergency assistance inside Ukraine and beyond, as well as important legal provisions and financial resources to help ensure protection in the EU for displaced people and their access to social rights and services.
Thanks to the outpour of support and donations, the Red Cross has scaled up its operations in Ukraine and in the countries receiving people who have fled the conflict.
Inside Ukraine, the humanitarian situation is grave. Currently, the most acute needs include financial assistance, accommodation and access to health care, food, water, and essential household items such as infant supplies, hygiene products and clothing. The security conditions remain critical and access to affected people is among the biggest challenges. Furthermore, over 80 health facilities have been damaged or destroyed and the ability to provide health care is severely impacted. Humanitarian aid is thus more critical than ever. However, the danger of instrumentalisation of aid and politicisation of the Red Cross' role is real, jeopardising operations and putting lives at risk. Neutral and impartial humanitarian action and obligations under International Humanitarian Law must be urgently respected, including refraining from attacking critical infrastructure and ensuring safe passage for the evacuation of civilians.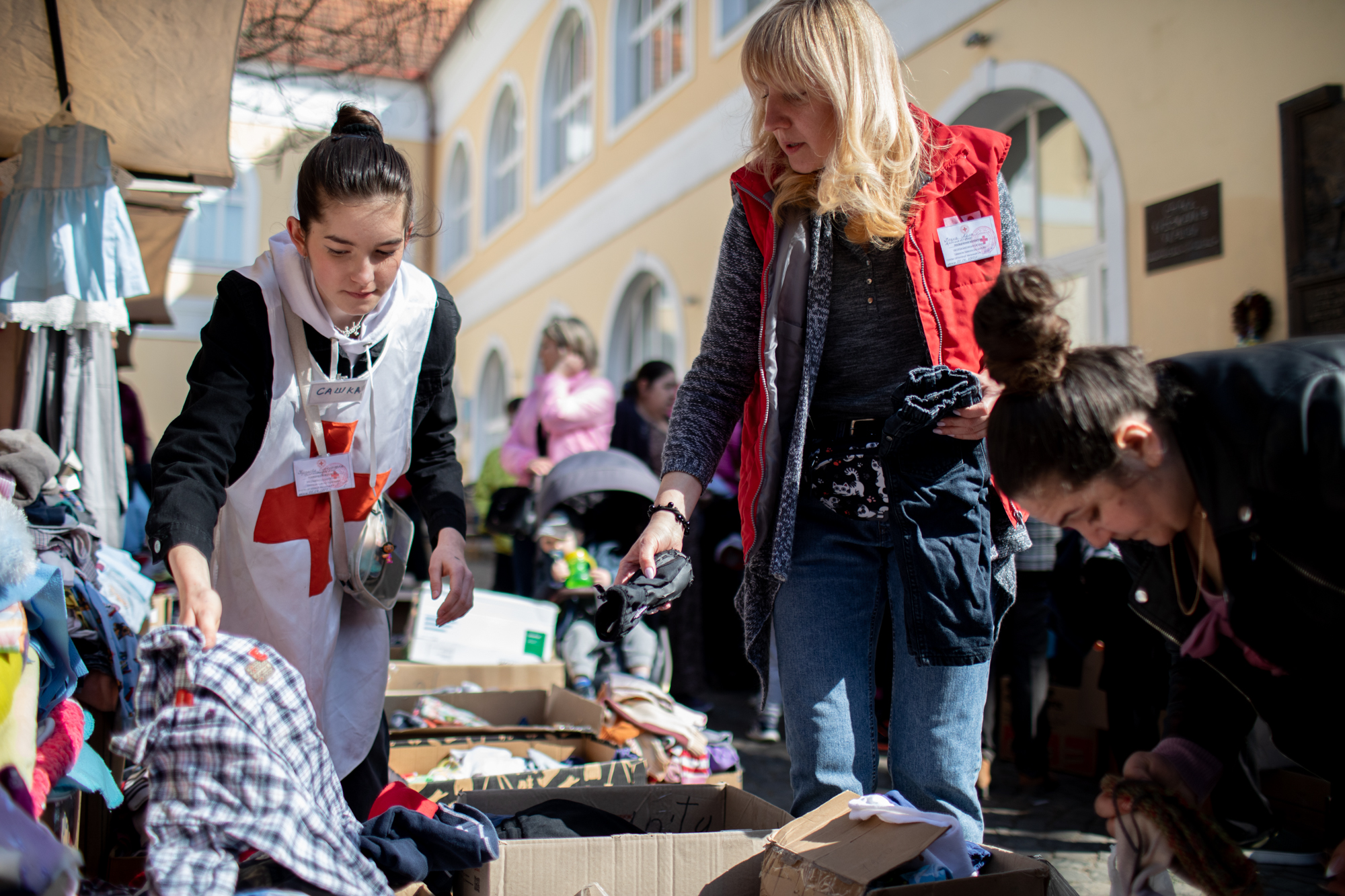 In this challenging setting, the Ukrainian Red Cross Society is working around the clock with the support of the International Red Cross and Red Crescent Movement. Jointly, more than 11,500 staff and volunteers are providing principled humanitarian assistance, including by delivering food, blankets, tents, water, hygiene packs, kitchen sets, first aid and psychosocial support, as well as Restoring Family Links (RFL) services, amongst others. In close collaboration with the Ukrainian Red Cross Society and the International Federation of Red Cross and Red Crescent Societies (IFRC), several National Societies, including the Bulgarian Red Cross, the Hellenic Red Cross, Croatian Red Cross and the Turkish Red Crescent have organised convoys with medical and other supplies. Furthermore, the Danish Red Cross is providing psychosocial support and training volunteers inside Ukraine, while the Italian Red Cross has been involved in two missions to evacuate civilians from the country. In addition, the German Red Cross has supported the Ukrainian Red Cross in providing shopping vouchers to evacuees and kick starting health interventions in three oblasts in Western Ukraine. To date, the International Red Cross and Red Crescent Movement has reached more than 400,000 people in Ukraine with life-saving assistance.
In the EU and neighbouring countries, the IFRC and National Societies have scaled up their assistance and cross-border collaboration, including by working with national and local authorities to provide humanitarian assistance and protection to people affected by the crisis. For example, Polish Red Cross teams are distributing food and essential items, as well as providing medical and psychosocial assistance to people arriving from Ukraine at border points and in major cities. The Romanian Red Cross and Slovak Red Cross have deployed volunteers along the border to deliver food, water, hygiene products and other necessities like sim cards. The Hungarian Red Cross has also established information and first aid points along the border. To support people who continue to move on to other EU countries, National Societies are running reception facilities, providing information and referrals, and offering activities that promote social inclusion. For example, the German Red Cross has established a federal contact point to mediate and coordinate the supply and demand of services to support refugees with disabilities or specific care needs who are arriving in Germany from Ukraine.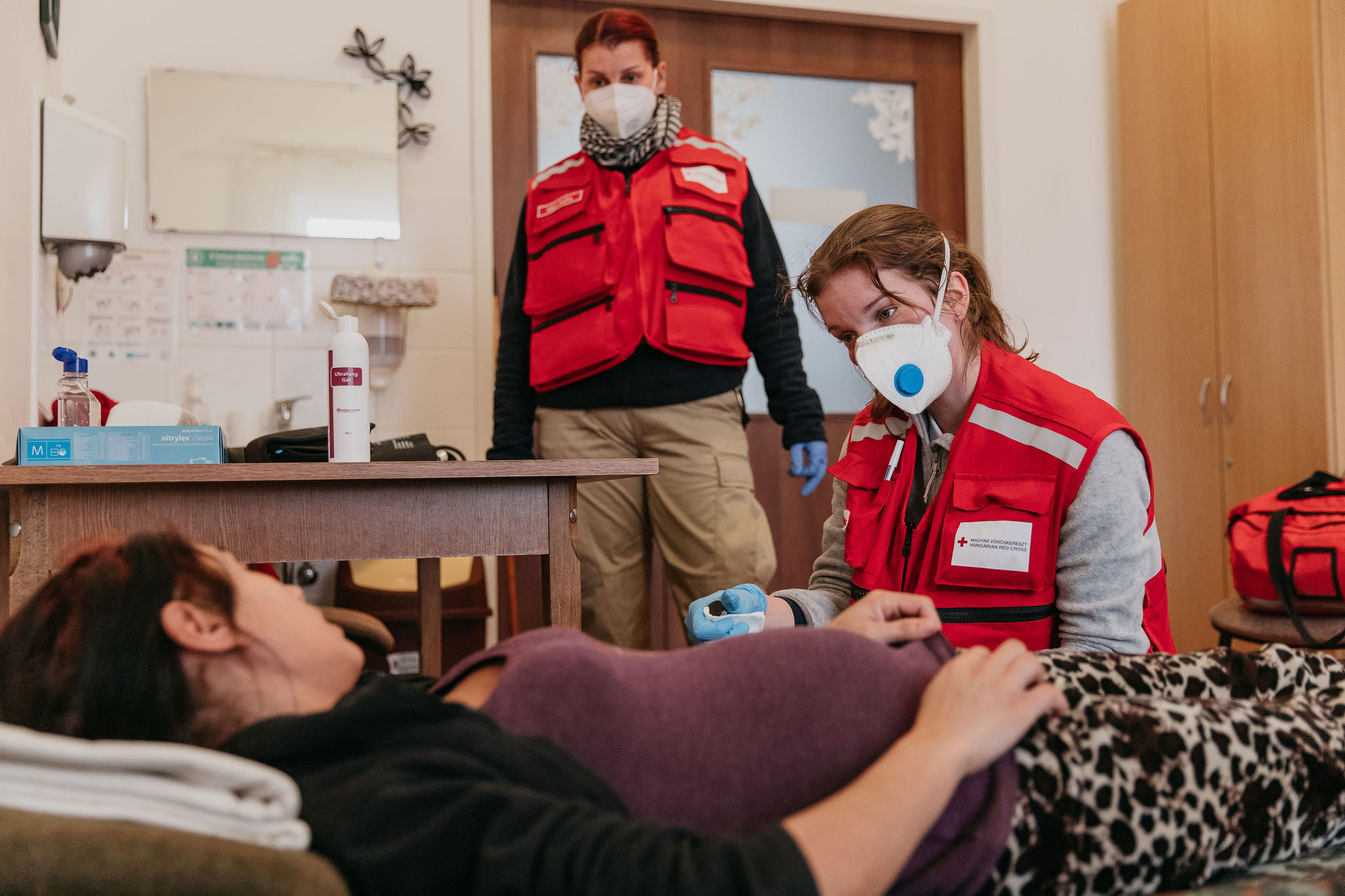 People arriving are physically and mentally exhausted. They will need time and safety to recover. After the immediate response, the focus should quickly shift to medium and longer-term needs, ensuring that everyone has access to a full range of protection and assistance services. Organisations like National Red Cross Societies are among the first responders. They are well placed to work with EU Member States to identify needs and priorities. Flexible access to funding would facilitate this work. It will also be important that resources allocated to expanding reception and asylum systems are maintained and invested in asylum and reception preparedness, so that all people fleeing war are able to benefit from dignified conditions and services, regardless of their nationality or origin.
Sustained solidarity from the EU and Member States will be crucial in the weeks and months to come. Member States, including through the European Commission's Solidarity Platform, should work closely with humanitarian actors to coordinate and strengthen the assistance available to people in need, ensuring that they are treated with dignity and respect. In the meantime, the Red Cross will continue to work to alleviate suffering and provide protection and humanitarian assistance to all those in need, regardless of their nationality or status. We hope that the EU's response to the displacement from Ukraine signals a step closer to a more open and welcoming Europe for all migrants, including those fleeing conflict and persecution happening in other parts of the world.
For more information about the work of IFRC and National Societies to support Ukraine and impacted countries please consult the latest operational update.