Published on
EU Aid Volunteers: a story from Bangladesh
For the last five years, the EU Aid Volunteers initiative has been training and deploying volunteers to contribute to humanitarian projects worldwide. Managed by the European Commission's Directorate General for European Civil Protection and Humanitarian Aid Operations (DG ECHO) and the Education, Audio-visual and Culture Executive Agency (EACEA), the programme aims to strengthen the resilience of vulnerable communities, while providing opportunities for EU citizens to be involved in humanitarian actions.
We spoke to Margherita Putrone, an EU Aid Volunteer who has been working with the German Red Cross in Bangladesh since June, to hear more about her experiences so far.
How did you come across the EU Aid Volunteer programme and what made you decide to apply?
I first heard about the EU Aid Volunteer programme from colleagues back in December 2018. I immediately searched for more information as it sounded like a very stimulating opportunity for me to gain field experience in humanitarian programme management. Until then, I had mainly worked in European NGOs in Brussels and was looking forward to acquiring some practical knowledge of the Red Cross Red Crescent's work in the field. I sent my application, had a successful interview and was eventually selected to provide support to the German Red Cross' Forecast-based Financing (FbF) team in Bangladesh. After two intensive, engaging and extremely thought-provoking training sessions organised respectively by the EU and the Red Cross, I was deployed.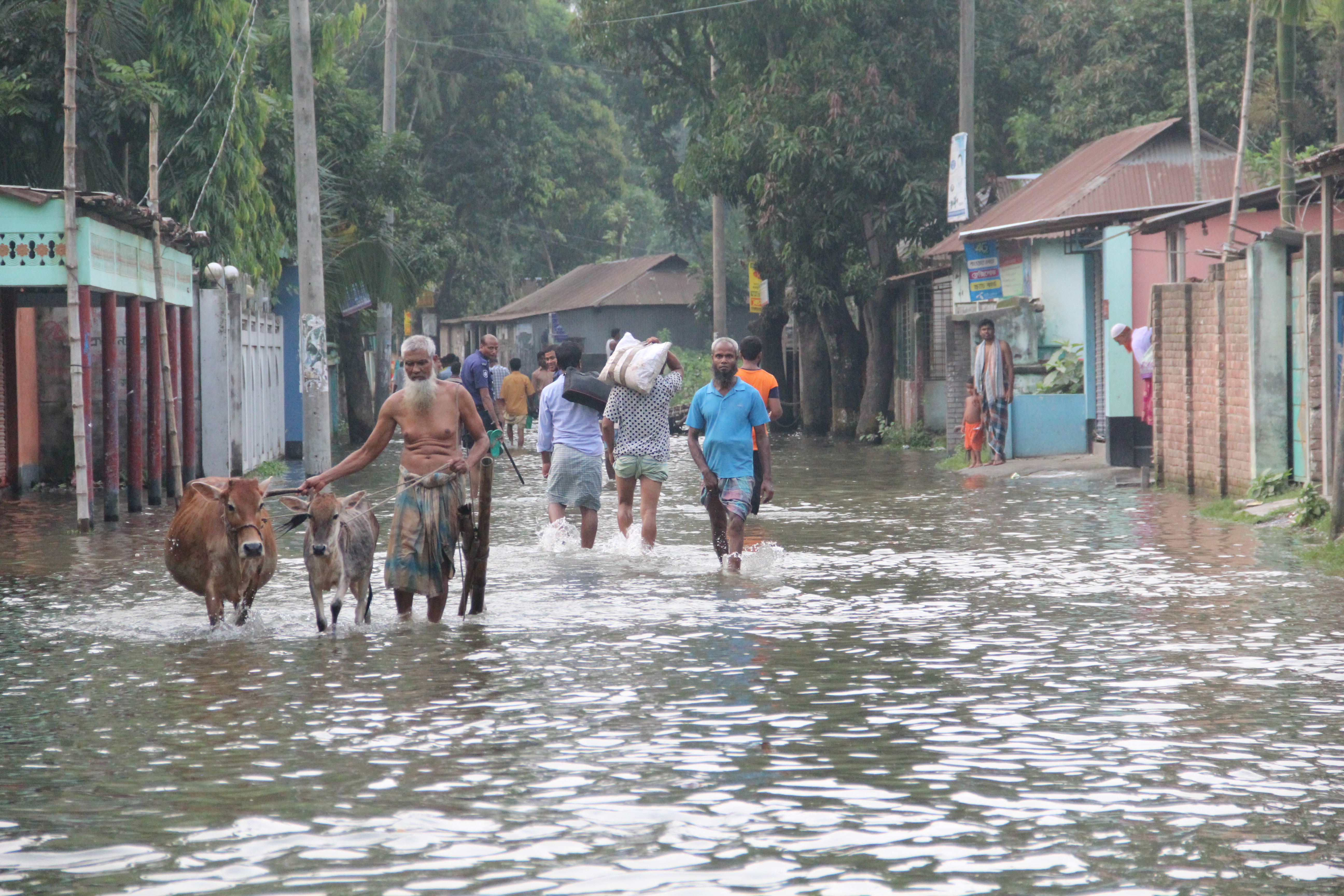 Can you explain what FbF is and what the Red Cross does to implement it in Bangladesh?
FbF is one of the most crucial and innovative German Red Cross programmes in Bangladesh – it is a new approach to humanitarian assistance that prioritises acting before a disaster strikes, instead of simply reacting to it. Since it is a relatively new approach, it is very exciting to be a part of it as there is always room for new ideas. Moreover, we work very closely with the Bangladesh Red Crescent Society in this sector. This is particularly enriching as the interaction with my Bangladeshi colleagues allows me to learn from their experience, explore a new culture, and discover a different way of working.
What does a typical day look like for you? What activities does your job include?
As an EU Aid volunteer, I work either at the office in Dhaka or in the rural communities across Bangladesh. When I am in the office, my tasks could range from working on a proposal for the next phase of the FbF, participating in the organisation of the National Dialogue Platform on FbF, liaising with other organisations working on FbF, and supporting the team in the preparation of forecast-based early actions. Outside Dhaka, I mainly accompany the team to meetings with local authorities and Bangladesh Red Crescent Society branches and help volunteers to implement FbF activities.
Could you tell us more about the most recent FbF early action in Bangladesh? What was it like to work with local communities and the Bangladesh Red Crescent Society?
I was in northern Bangladesh during monsoon season in July 2019, where I had one of the most powerful experiences I have ever lived. After an analysis of the flood forecast confirming that the situation would deteriorate further in certain areas, the Bangladesh Red Crescent Society decided to test-activate the FbF Early Action Protocol (EAP).
This protocol outlines the steps that the Bangladesh Red Crescent Society, its branches and Partner National Societies like GRC should take in a very short time period before the natural hazard to ensure the success of the forecast-based action. It is the only way we can guarantee the most effective support to the families that would be affected by the disaster.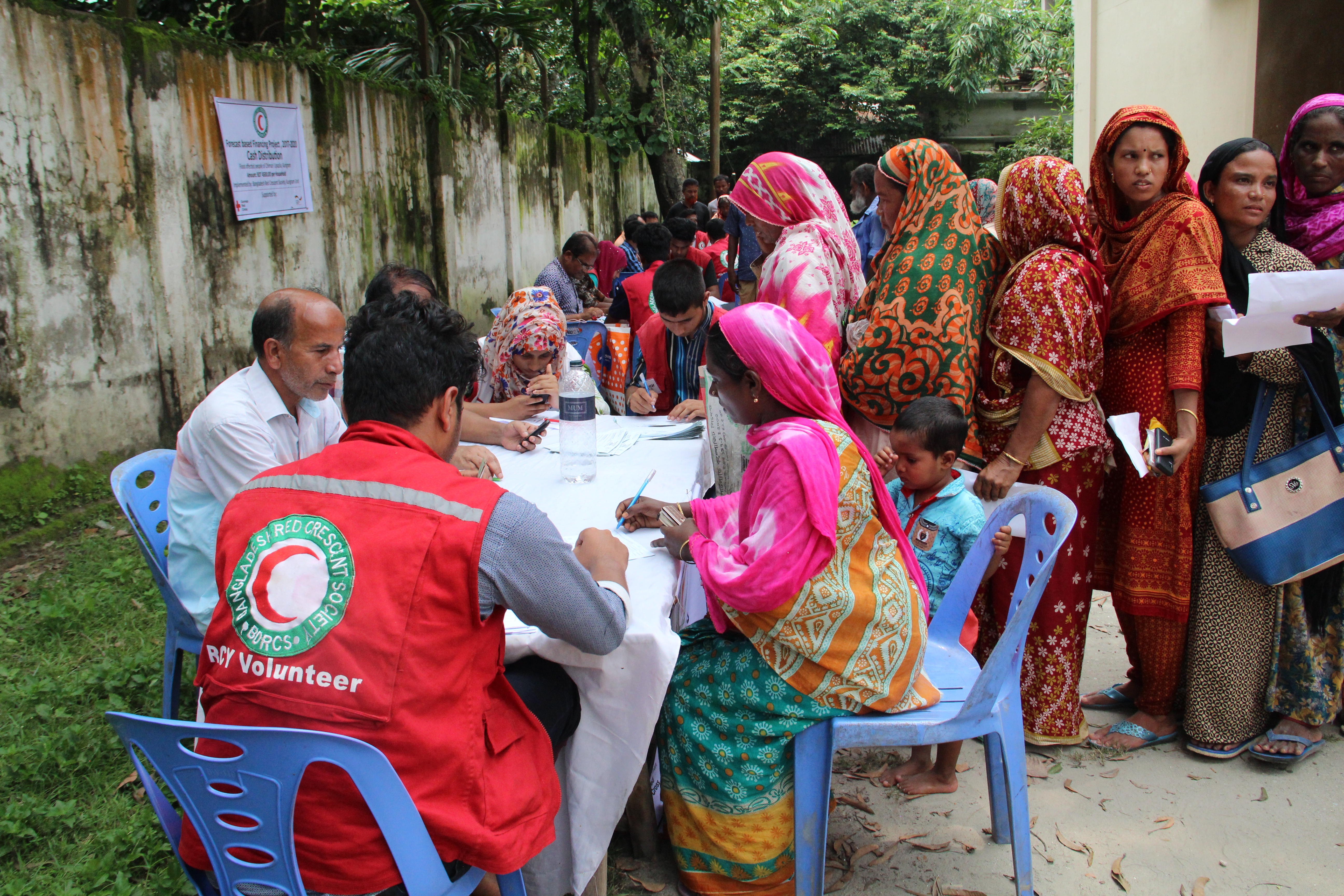 We test-activated the Protocol in Kurigram – one of the most affected areas, where we provided 500 vulnerable households with around 48€ in cash each. With this amount of money they could evacuate from their house (in most of the cases completely under water) along with their belongings and livestock and buy food for their survival in the following month.
The Bangladesh Red Crescent Society and German Red Cross do not have pre-established fixed beneficiaries or areas they work in, but choose them on the basis of potential impact of the hazard and vulnerability of the communities. Thus, through a meticulous work of coordination between the Bangladesh Red Crescent Society, German Red Cross, service provider (Bangladesh Post Office) and local authorities the data of potential beneficiaries was collected by volunteers and the cash was provided to the most vulnerable families.
During this mission in Kurigram, I saw flooded houses and fields and people living in poverty trying to cope with a burdensome situation that was threatening their lives. But I also saw people voluntarily offering their time and energy, working 10-hour shifts for three days in a row to help the others. This was simultaneously both heart breaking and encouraging.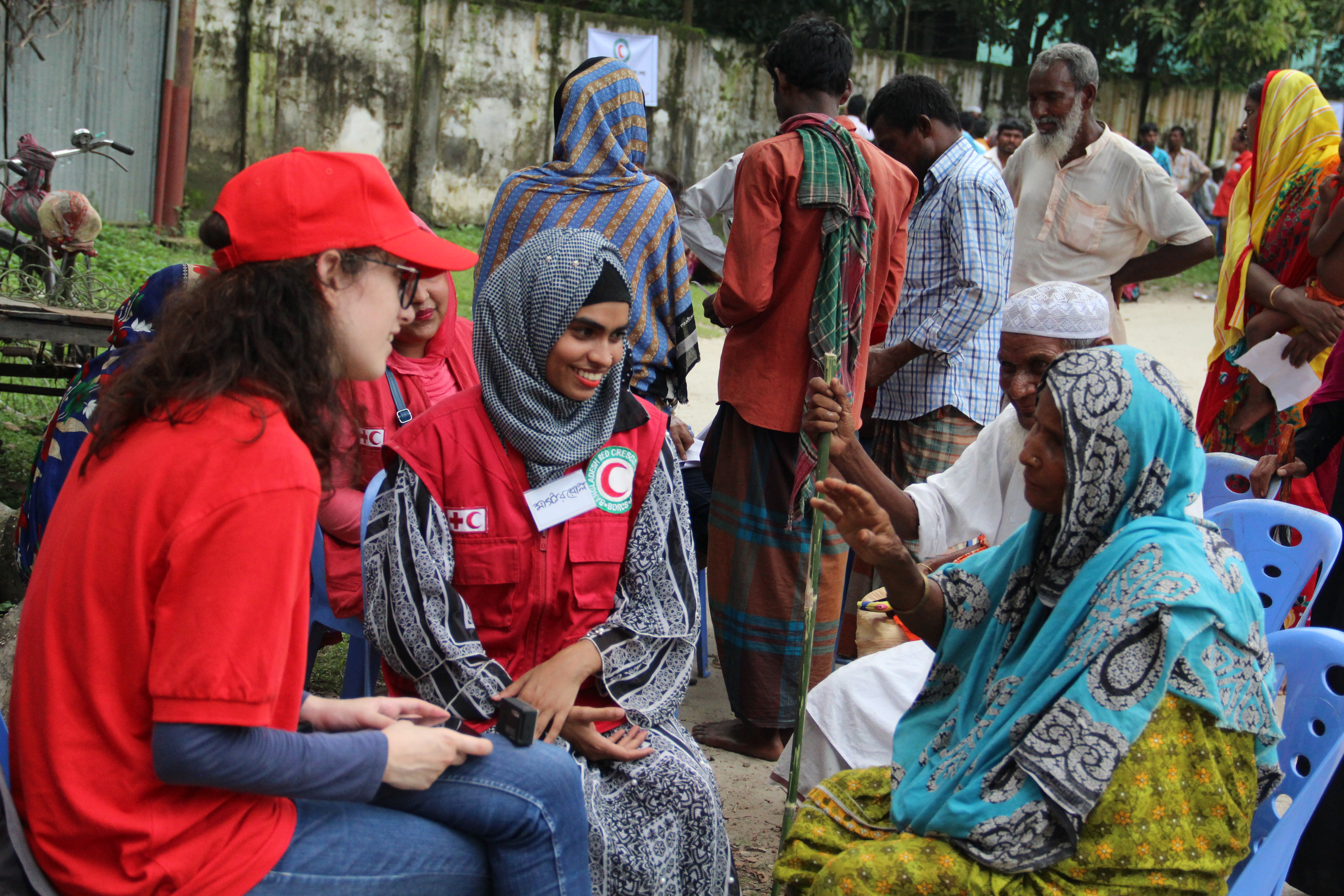 What has this experience given you so far?
My experiences so far have helped me acquire a huge amount of knowledge in just a few months. It is fascinating to discover the culture and customs of Bangladesh by interacting with its people. I am also enjoying learning about the FbF project through its practical application. I have come to admire the resilience of the poorest Bangladeshi families, as well appreciate and better understand my own resilience.
What do you expect your prospects will be like after you finish the programme?
I am very curious to see how my experience as an EU Aid Volunteer will affect my work, my priorities in the future and my perception of the world once I go back to Europe. I certainly plan to continue putting all my energy into the humanitarian sector and to try to always think outside the box in finding ways to support people in need.