Published on
EU funding for the integration of migrants
Last week, Secretary General of the Austrian Red Cross, Dr Werner Kerschbaum, shared the views and experience of European Red Cross Societies at the Directorate General for Migration and Home Affairs (DG HOME) information day "EU funding for the integration of third-country nationals". National Red Cross Societies are key counterparts in the implementation of EU funding to facilitate migrant integration, having developed a wide range of projects and significant expertise in this area over the years.
The event brought together around 200 representatives from the EU institutions, Member States in charge of managing EU funding for integration, regional and local authorities, and stakeholders implementing measures to support migrants' integration on the ground.
The need to ensure the successful integration of migrants is a pressing matter on agenda across Europe and beyond. On 7 June 2016, the European Commission published its Action Plan on the Integration of Third-Country Nationals, providing a framework to support Member States' efforts in developing and strengthening integration policies and practices.
According to the Red Cross' experience, most integration work happens at the local level across different policy areas. The integration of migrants should not only be looked at from the prism of migration management, but from a wider social inclusion perspective. During the meeting, Dr Kerschbaum underlined the need to account for the vulnerabilities and specific needs of all migrants.
"Current discussions around migrant integration disproportionately focus on their access to the labour market," noted Dr Kerschbaum. Employment is crucial as it empowers migrants, facilitates their social integration, and increases their possibility to have decent living conditions, including adequate housing. However, several other conditions for integration should be implemented first.
At the earliest stage of their arrival, migrants should have access to a full range of assistance, protection and integration services such as healthcare, psychosocial support and legal counsel. There ought to be greater emphasis on policies and practices that enable meeting the needs of individuals in an irregular situation, as well as sufficient targeted funding.
"Facilitating the right to family unity is key for integration", Mr Kerschbaum explained. Family separation impinges on those who have sought protection in Europe and their ability to engage in various aspects of the integration process. Already traumatised by the experiences associated with forced migration, living without their familial networks increases their vulnerabilities. This is intensified by the fear for their loved ones left behind. Reunification with relatives is essential to empower migrants to start settling into their host society. For this, funding at the local level is imperative.
Integration requires long-term strategies, beyond quick fixes. Xenophobia and discriminatory attitudes present obstacles that take time and commitment between host societies and migrants to overcome. "National and local authorities, in collaboration with civil society organisations, have a principal role in enabling this two-way process," Dr Kerschbaum emphasised. "Communities benefit from developing the ability to respect and appreciate diversity and find solutions to challenges together," he added.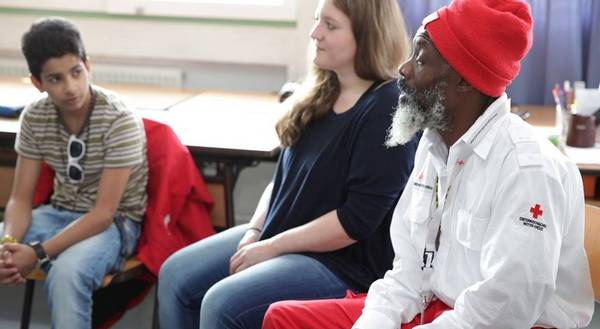 Across the EU, Red Cross projects aim to raise local awareness on the realities and experiences of migrants, the challenges they face, and the opportunities that global migration presents. For example, the Austrian Red Cross' "Projekt Xchange" works to showcase migrants as role models to young people in Austria. Volunteers with migratory backgrounds known as "ambassadors of integration" present their journeys and achievements, demonstrating that integration is possible while also maintaining individual and diverse identities.
The holistic approach to social inclusion outlined by Dr Kerschbaum is essential to the effective and efficient integration of migrants. EU funding is a key tool for integration activities at the national level, and Dr Kerschbaum encouraged the EU to ensure that all Member States make optimal use of the Asylum, Integration and Migration Fund (AMIF), as well as other EU funding to achieve the broad conditions that integration requires.