Published on
European Commission staff donation to the Red Cross
Yesterday, Vice-President of the European Commission, Kristalina Georgieva presented two cheques on behalf of the employees of the Commission to support the Red Cross' assistance to vulnerable people on the move across Europe.
Following a joint campaign that was launched by Commissioner Georgieva, Leon Prop, Director of the Red Cross EU Office, and Pascal Declaye of Give Eur-Hope inviting 28,000 Commission staff to express their solidarity with refugees and migrants, almost EUR 100,000 of generous contributions have already been collected.
The campaign will run for another week, and funds will be dedicated to providing essential items; food, water, shelter, clothing and blankets, as well as medical checks, first aid and psychosocial support where it is needed most.
The Red Cross and Red Crescent is responding in 24 countries across Europe, addressing immediate as well as long-term needs. Red Cross National Societies have all scaled up their activities to address the growing challenges that migrants are facing across the continent, and the onset of winter is of great humanitarian concern.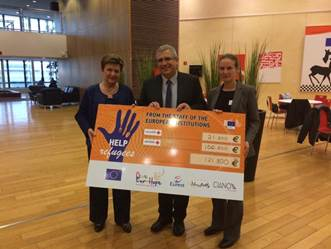 Another Commission solidarity action was organised between 24 September and 7 October which invited EU staff to donate EUR 1 at the cash-register in our canteens and 10 per cent on their purchases in the cafeterias. This initiative has raised over EUR 21,000 to support the work of the Belgian Red Cross with migrants in Belgium.
As its neighbours, Belgium has witnessed an "unprecedented" increase in vulnerable migrants seeking asylum in the past months. The asylum office has been unable to register and process all the request which initially forced around 1,000 people to queue in the park opposite the office day and night, where the Belgian Red Cross has been carrying out health checks, and providing food, water and warm clothes. At the request of the Belgian government, the Belgian Red Cross is currently managing a temporary hosting centre, and stand ready to provide an additional 3,000 beds in the next three months to ensure additional accommodation as the situation continues to evolve.
To deal with growing needs, the International Federation of Red Cross and Red Crescent Societies (IFRC) has launched Emergency Appeals for Italy, Greece, Serbia, FYR of Macedonia, Hungary and Turkey. Click here to donate to the Red Cross Red Crescent migration response.
We have also launched a global campaign calling for a humanitarian approach to migration and the protection of people on the move, regardless of their legal status. Add your voice and join our call to #ProtectHumanity here.