Published on
First FEAD Network Meeting: Motivating, coordinating and training volunteers
On 26 September, the European Commission hosted over 80 representatives from 28 EU countries at the first meeting of the Fund for European Aid to the Most Deprived (FEAD) Network – an open membership community for people aiding the most vulnerable people in Europe. The meeting gathered experts from implementing partner organisations and national managing authorities to discuss challenges, solutions and best practices in the activities carried out alongside food and basic material assistance - in FEAD language "accompanying measures" - to support social inclusion and help people take their first steps out of poverty.
Alexandre Lesiw, head of the FEAD Managing Authority (MA) in Belgium, kicked off the case studies by sharing insights into Belgium's triangular approach to FEAD implementation. It involves active collaboration between the MA, public social services and implementing organisations – amongst which the Belgian Red Cross, which he cited as a key partner in FEAD-related activities. Indeed, numerous National Red Cross Societies cooperate with their public authorities to deliver FEAD goods and services. For example, the Spanish Red Cross has worked in the governmental food aid programme since 1986; distributing food to partner organisations and directly to the most deprived. In 2015, the Spanish Red Cross assisted 843,406 vulnerable people under FEAD.

However, Red Cross support goes beyond providing basic material assistance, with activities aimed at fighting social exclusion and protecting the dignity and overall wellbeing of the most vulnerable people in society. Support ranges from health checkups and information on accessing social services, to psychosocial care, improving employability, and courses on home economics or healthy diets. Often, delivering food aid – especially when Red Cross volunteers deliver food to people's homes – can be a gateway to exploring other needs in terms of housing, family relationships, health or finance.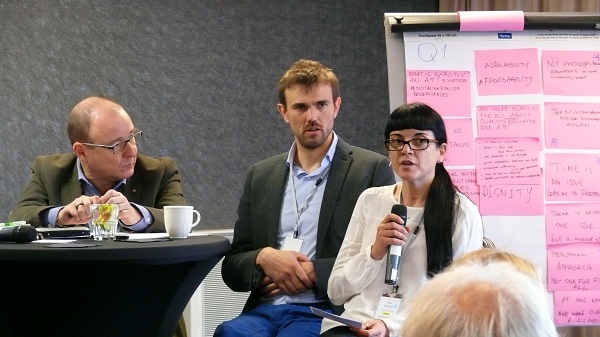 During the meeting, practitioners from the Finnish Red Cross, Italian Red Cross, Slovak Red Cross and Spanish Red Cross shared their first-hand experiences in motivating, coordinating and training volunteers for the delivery of food aid, in combination with social assistance. Red Cross volunteers play an integral role in delivering much needed services at the local level. It is vital that they can recognise the cross-cutting vulnerabilities faced by many beneficiaries. Training modules provide tools to establish a relationship with a vulnerable person, with topics ranging from access to welfare systems such as social benefits and carrying out needs assessments, to active listening and communication techniques.
While volunteers clearly want to help, motivating them to go beyond delivering food aid can be tricky. Making sure they get sufficient support to deal with difficult situations and feel confident in their work can also be a challenge. It is important for them to feel that they are listened to, and that their opinions matter. There should also be opportunities for them to socialise as a team.

Under FEAD, Red Cross volunteers carry out a variety of roles, including: project management, counseling and coaching, accompaniment and psychosocial support, monitoring and follow-up, logistics, warehouse management, transportation and administration. Ensuring that they are given enough responsibility, and that there are different ways in which they can contribute – including by dividing actions into smaller tasks for new volunteers – is central to their satisfaction and engagement with the work. Significant effort also goes into coordination so that FEAD activities are smoothly integrated into the other services offered by the local Red Cross branch.