Published on
Israel-Gaza conflict: we must preserve humanity
The dramatic escalation of hostilities in Israel and occupied Palestinian territories over the last month has left millions of people living in fear, interrupted critical services, and seen families on all sides grieving the loss of loved ones. Civilians - including women and children, the elderly, and the wounded and sick - are currently paying the highest price.
With the fighting continuing unabated, civilians, healthcare workers, health facilities and civilian infrastructure must be respected and protected. While humanitarian aid has started to enter Gaza through the Egyptian border with support from the Egyptian Red Crescent, the needs remain staggering. Safe and sustained humanitarian access, as well as an unhindered flow of relief, are desperately needed to prevent further devastation.
The human suffering experienced on all sides is deeply distressing; there is no justification for indiscriminate violence against civilians. In International Humanitarian Law (IHL) – the law of armed conflict – civilians must be protected. They cannot be attacked or taken hostage, and they have a right to receive humanitarian assistance and medical care. Furthermore, health-care workers and humanitarian organisations must be able to safely carry out their life-saving work to reach those in need.
The Palestine Red Crescent Society and The Magen David Adom in Israel have been working around the clock to provide critical assistance, including ambulance and health services, to those affected. Their staff and volunteers are risking their lives on a daily basis to save others. Tragically, both National Societies have recently lost colleagues in the line of duty. Others have been injured and ambulances have been damaged. As members of their communities, volunteers are facing severe trauma and working in unsustainable conditions. Not only must their safety be guaranteed, but caring for their physical and mental health and wellbeing has to be included in the response.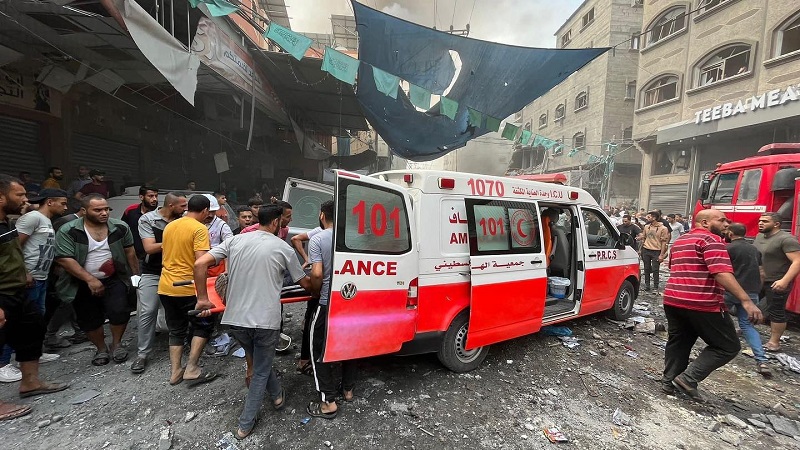 The humanitarian situation in Gaza is extremely alarming and worsening every day. The complete siege on the Gaza Strip preventing critical humanitarian aid, including food, water and fuel, from entering, and the cutting of all electricity, has caused a humanitarian catastrophe in the past weeks. Hospitals are on the verge of collapse as they run out of supplies and power to care for the sick and injured. Families are sleeping in the open, with little food and water. The lack of electricity and fuel is also severely hindering people's access to clean drinking water and preventing treatment of wastewater, which increases the risk of disease outbreaks. All this comes on top of 16 years of conflict and restrictions on the movement of people and goods, which have had disastrous impacts on the economy, livelihoods and the life of residents, both materially and psychologically.
The trickle of life-saving aid that has been allowed to pass recently is very welcome, but it is not nearly enough to address the immense needs of 2.2 million people. Humanitarian aid serves no purpose if it is sitting in trucks. It must be made possible to deliver aid regularly, safely and at scale. This is not only about the border opening: there is the need to create a safe humanitarian space where humanitarian teams can work, and civilians can receive much-needed aid.
The International Federation of Red Cross and Red Crescent Societies (IFRC) Secretariat is partnering with the European Commission to help streamline aid into Gaza, working through the Egyptian Red Crescent and the Palestinian Red Crescent Society – central actors in the response. Through this cooperation, two EU Humanitarian Air Bridge flights for the people of Gaza took off from Ostend (Belgium) and Dubai (United Arab Emirates) on 7 November, transporting almost 115 tonnes of assistance supplies to al-Arish, Egypt, near the Rafah Border Crossing Point.
The International Red Cross and Red Crescent Movement has repeatedly called on all parties to exercise restraint, to abide by their obligations under IHL, and to protect civilians – which must remain at the core of everything we do. There is an urgent need to de-escalate to save lives, including by ensuring that hospitals can safely operate and allowing for an unhindered, continuous flow of critical humanitarian aid into Gaza.