Published on
Livelihoods at risk: adapting to climate change in Sudan
Sudan is among the countries most affected by climate change. The already fragile ecological conditions are exacerbated by global warming, with a negative impact on the livelihoods of local communities, who largely rely on agriculture and pastoralism. Adapting to these changes is vital for the wellbeing of the Sudanese population now and in the future.
On 15 May, Red Cross Red Crescent programmes that address these challenges were the focus of a conference at the Infopoint of the European Commission's Directorate-General for International Cooperation and Development (DG DEVCO): "Improving community resilience to climate change in Sudan". Representatives from the German Red Cross, the Netherlands Red Cross, and the EU delegation in Sudan shared insight into their work with the Sudanese Red Crescent Society to help local communities to reduce risks and better prepare for and adapt to climate change.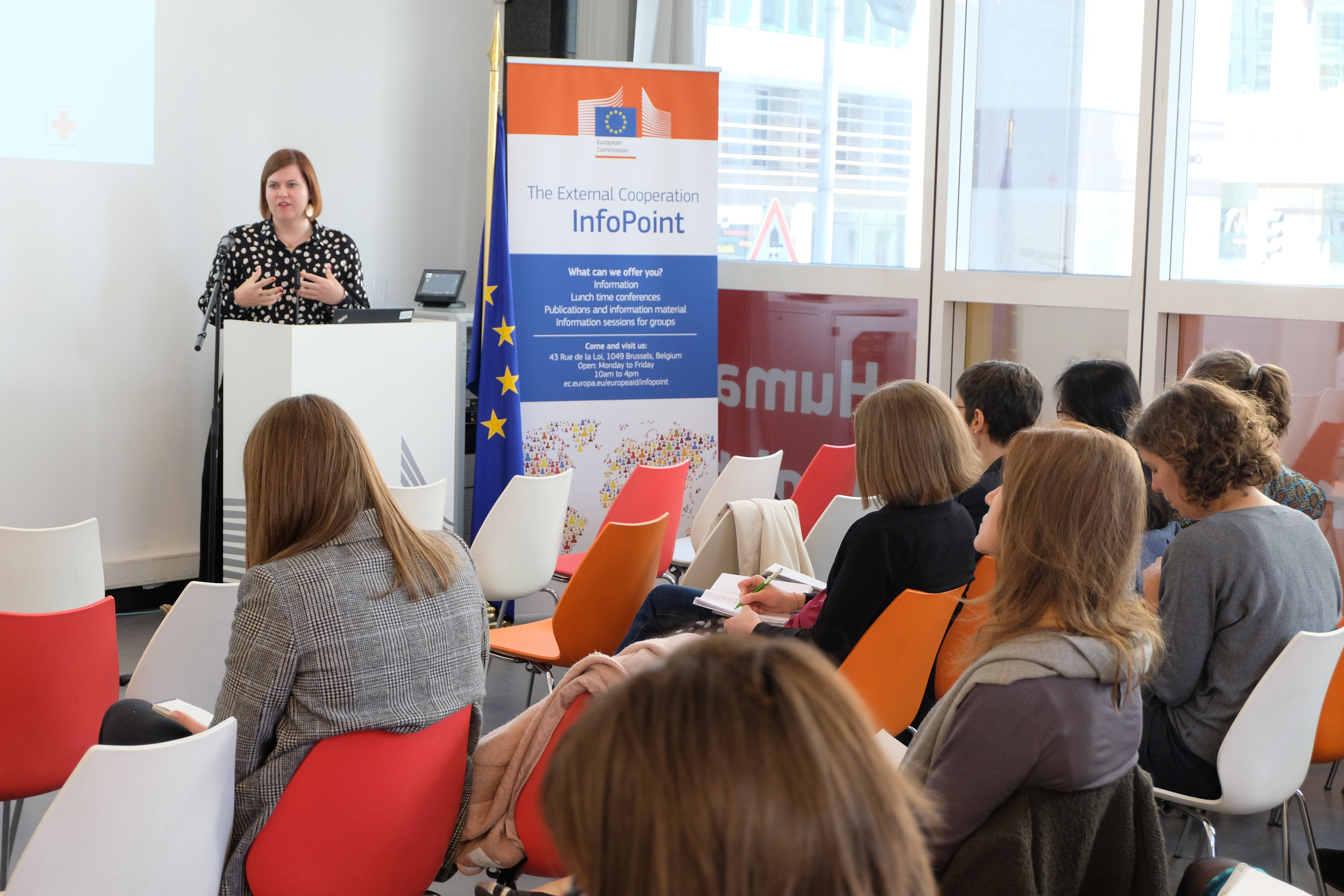 Sudan's geographic location in the sub-Saharan region is one of the factors rendering it particularly vulnerable. Its sparse vegetation and arid lands already present a great challenge for its population. This is compounded by irregular rainfall and extreme and recurrent floods, which are increasingly challenging people's food security, as most crops cannot grow successfully throughout the year. Having reliable access to sufficient and nutritious food has thus become a priority for the local population, particularly in remote villages. "Sudan is a forgotten country and a forgotten crisis", underlined Ambassador Jean-Michel Dumond, Head of the EU Delegation to Sudan. "Climate change is one of the main concerns for the region and it's a trigger for conflicts. Building the resilience of the population is vital for its future".
During the conference, the Netherlands Red Cross shared how it has been working with the Sudanese Red Crescent Society and local authorities to assist over 70,000 people to respond to climate change by developing coping strategies that are tailored to community needs. Amongst others, collective gardens have been set up, innovative water-harvesting measures have been implemented, and lines of trees have been planted to protect agricultural lands from the sand dunes. "We have a community-based natural resource management approach – this means that the communities make their own plans and form their own groups. We strongly believe that local capacity is the best available", said Ashleigh Crees, climate change programme manager at the Netherlands Red Cross.
On the German Red Cross side, action has focused on strengthening household capacities through training in new and more sustainable farming and gardening techniques. Seeds, tools and other materials suited for cultivation in these climatic conditions have been provided, and specific measures targeting the food security and livelihoods of women have been developed, such as home gardens and home-based income generating activities like handcrafts or tailoring. "The Sudanese Red Crescent Society has great access to the local community, with branches and volunteers based in all states. Its long-term experience in disaster management, climate change adaptation, food security, livelihoods, and water sanitation activities has also been a huge asset", said Subaskar Thangarajah, food security specialist at the German Red Cross in Sudan.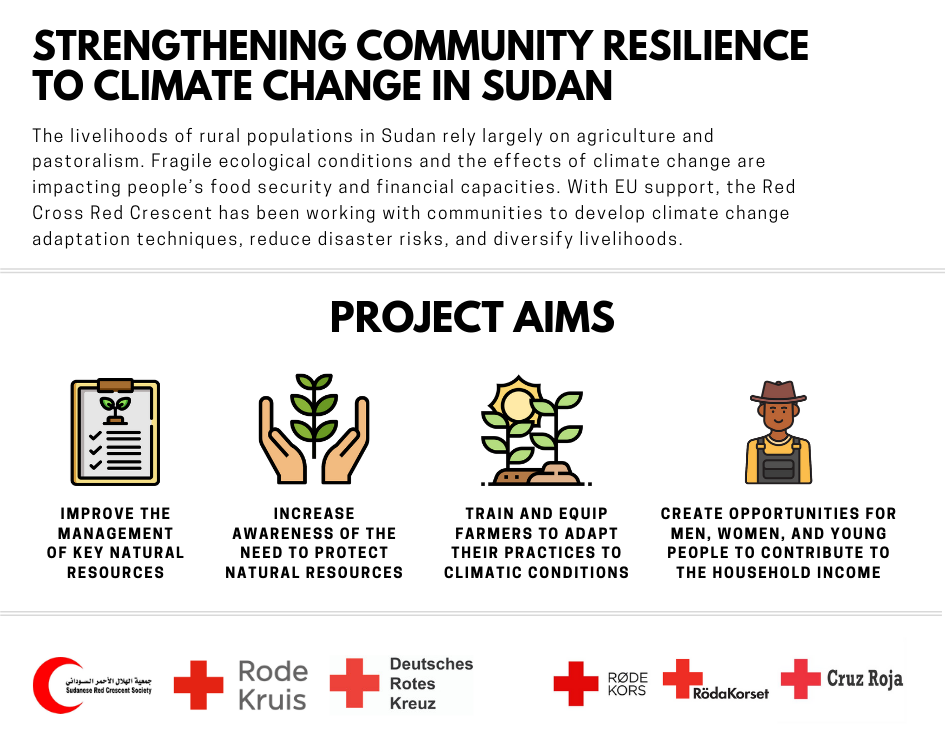 "In Sudan, people are aware and worried about climate change – and on a community level, there's a great desire to do something about it.", underlined Ms Crees. The commitment and contributions of local communities have been critical to developing effective and meaningful outcomes to address the most pressing needs. Project partners have also actively engaged an array of relevant stakeholders, and ustilised local resources and knowledge to ensure a holistic approach that is replicable and maintainable.
These activities have been implemented with the financial support of the EU's Global Climate Change Alliance Plus Initiative and the German Federal Ministry of Economic Cooperation and Development.