Published on
Local approaches to support people who need food and material assistance
For families from migrant backgrounds, undocumented migrants, older people, people experiencing homelessness or simply for people who already had difficulties in meeting their rental agreements, COVID-19 is having long-lasting health and social effects. Moreover, the impact of the pandemic is putting new people in a situation where they are making use of food and material assistance to get by. As a direct consequence of lockdowns and other public health measures, many working-class families and university students have lost their jobs and means of sustaining themselves and their families.
The Belgian Red Cross local branch of Louvain-la-Neuve in the province of Brabant-Wallon is providing on-campus food and material assistance in collaboration with the University of Louvain-la-Neuve (UCL), the Centre for Public and Social Action (CPAS) and other Civil Society Organisations (CSOs). Support is being offered to vulnerable students who lost their student jobs during the pandemic and students with children who could not afford to pay their rent and utilities, as well as buy food for themselves and their children. In addition, older people, undocumented migrants and people who find themselves homeless in the area surrounding the university campus also have access to these services.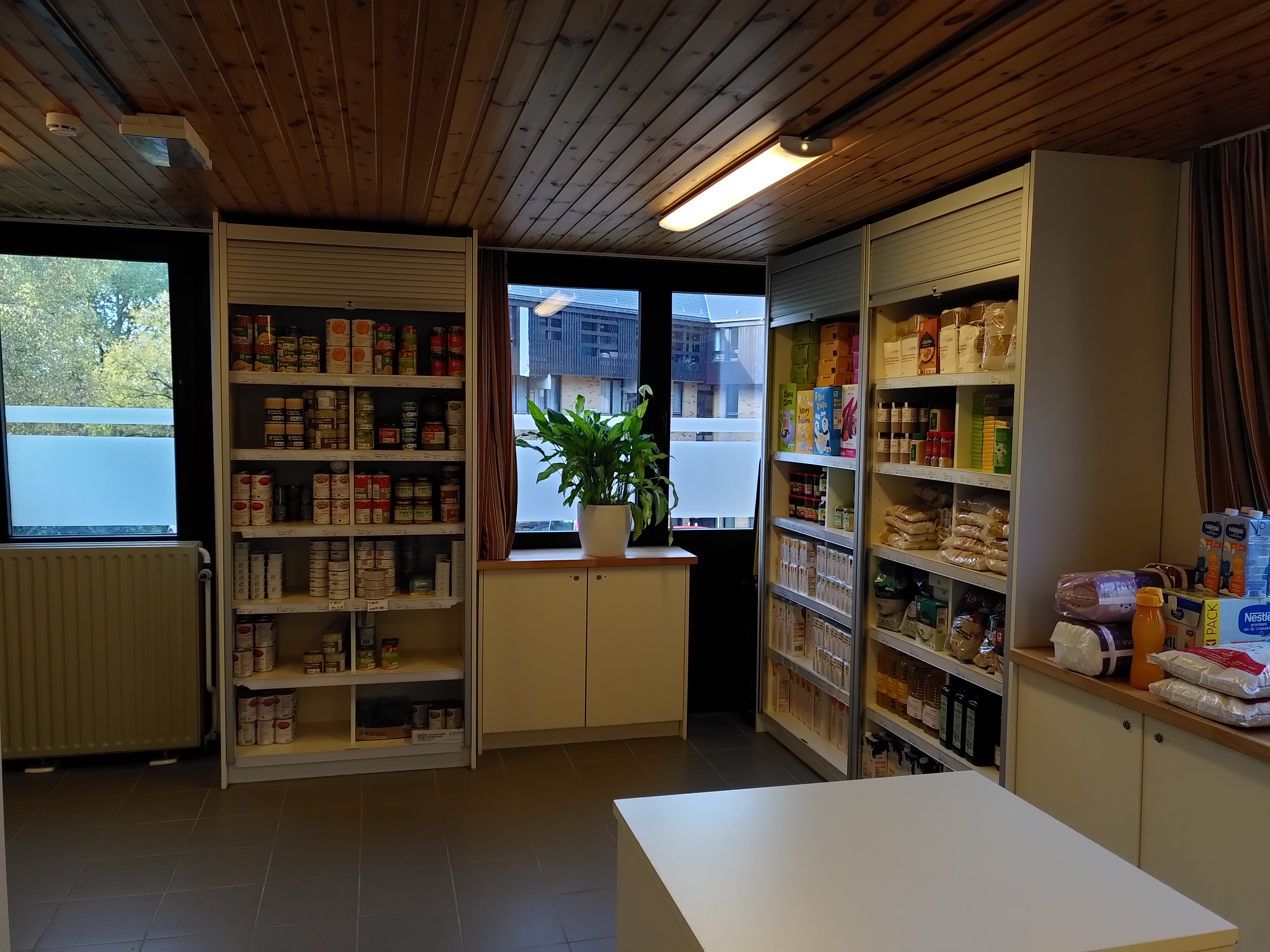 The on-campus Red Cross social grocery shop supports 120 families, in total 180 people, who need a variety of food and hygienic products. People are often directly referred by the CPAS and UCL. They are allowed to visit the shop twice a week and spend a total of EUR 25 per adult in the family and EUR 12,5 per child.
''Fluid communication with both the CPAS and the UCL is crucial for our work, so we can really reach out to university students and families experiencing poverty on campus'', says a Belgian Red Cross volunteer at the on-campus grocery store.
Close collaboration with student unions has also been fundamental to carrying out other activities such provide clothing, but also toys for children during the Christmas season. The Belgian Red Cross' collaboration extends to private actors addressing food waste and food quality. In this case, the local branch of Louvain-la-Neuve is in close contact with local supermarkets, which provides unsold food and goods from a variety of products.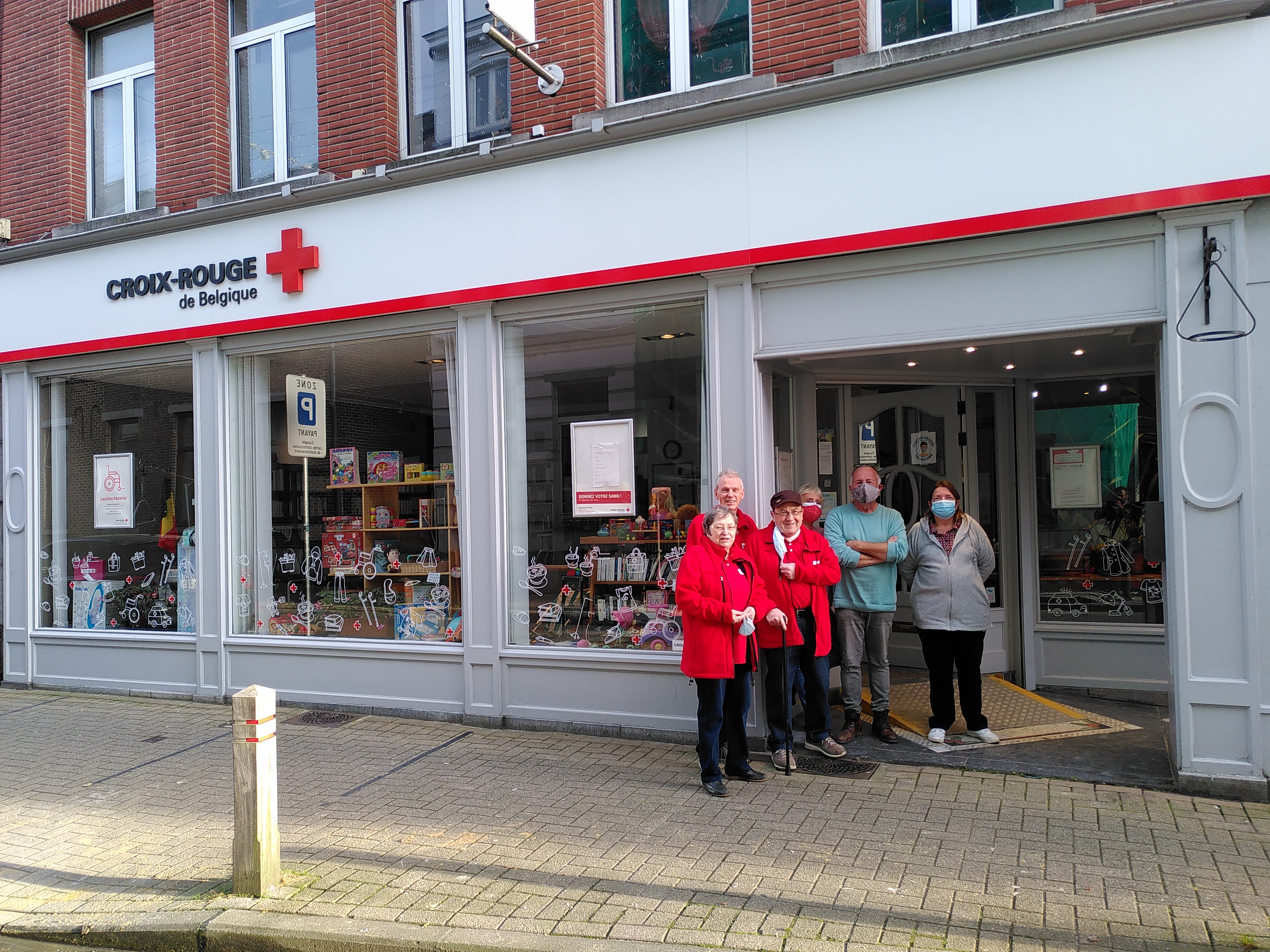 In the city of Wavre, the local branch delivers food as well a material assistance through a private partnership with local supermarkets, but also through the Fund for European Aid for the most Deprived (FEAD). Besides providing food and material assistance, the Belgian Red Cross in Wavre offers several complementary support services to vulnerable people. These include renting out crutches at a low price, distributing wheelchairs for people with low or reduced mobility, and selling second-hand books. The resources generated aim to guarantee a wider and better pool of food and material assistance available at their local branch to support those most in need within the local community.
The local branch of Wavre helps 80 families, which accounts for approximately 300 people. They are supported on a monthly basis for 6 months and based on their specific individual needs, assistance can be extended for up to 2 years.
The integration of the Fund for European Aid for the most Deprived (FEAD) into the new European Social Fund Plus (ESF+) offers the opportunity for National Red Cross Societies to help address immediate needs such as food aid and material assistance in a more holistic way by considering other needs such as better jobs or access to stable housing. Services like the social grocery stores and complementary activities of the Belgian Red Cross are essential in ensuring these kinds of holistic solutions.