Published on
Nepal Earthquake: six months on
Kathmandu/Geneva. Six months after a magnitude 7.8 earthquake struck Nepal, affecting 5.6 million people, the International Red Cross and Red Crescent Movement warn that longer term support is needed to help shattered communities to recover.
Over the coming 18 months, the focus for the Movement will be on supporting the recovery of 700,000 people in four key sectors: water supply and improved sanitation; the restoration of livelihoods; rehabilitation of health structures and community health programmes; and help in rebuilding permanent homes.

"The effects of the earthquake have been felt at household and community levels. People have lost homes and livelihoods. Water supplies to many communities have been disrupted and local health services have been damaged or destroyed. It will take years for life to return to normal," said Max Santner, International Federation of Red Cross and Red Crescent Societies head of delegation in Nepal.
After the earthquake the Movement launched a massive emergency response operation and significant achievements were made in meeting the immediate needs of survivors. "Our 8,000 volunteers went instantly into action with search and rescue and first aid. We distributed tarpaulins and blankets from the stock we had ready in our warehouses as well as supplies as soon as they arrived by air and road. In total, we reached more than 620,000 people," said Dev Ratna Dhakhwa, Nepal Red Cross Secretary General.
Movement from around the world supported the relief operation with specialist teams including field hospitals fully equipped with operating theatres and surgeons, mobile clinics and self-contained teams that produce water and provide sanitation infrastructure.
As winter approaches, one of the main humanitarian concerns is how families living at high altitudes will endure the coming months. Many have lost their thick-walled homes and are living in temporary shelters that offer little protection against the cold. The Red Cross is making plans to give blankets or cash grants to families so they can buy warm clothes and blankets.
As well as helping survivors to rebuild their lives, the operation will enhance the Nepal Red Cross' capacity to respond to future disasters through targeted skills training for volunteers and strengthening expertise in disaster management and disaster risk reduction.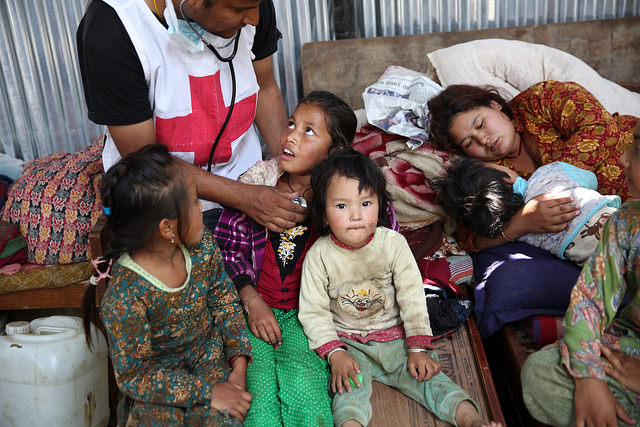 Background:
The earthquake of 25 April was followed by a second quake on 12 May. After the two earthquakes a total of 5.6 million people were affected; 8,857 people were killed; more than 900,000 houses were damaged or destroyed.
The IFRC launched a CHF 85 million (USD 88 million/EUR 78 million) emergency appeal to assist 700,000 people affected by the Nepal earthquake. So far, CHF 51 million (USD 53 million/EUR 47 million) have been raised.
Across the 14 worst-affected districts, the Red Cross distributed tarpaulins for 550,000 people, water, soap and hygiene kits to 620,000 relief kits with tarpaulins, blankets, kitchen sets and building tools to 360,000 people, unconditional cash grants to 70,000 households covering 350,000 individuals, 4.6 million litres of safe drinking water, and provided health services including first aid, hospital care and psychosocial support to 88,000 people.
For further information or interviews contact:
In Kathmandu
Dibya Raj Poudel, Nepal Red Cross Society, Head of Humanitarian Values and Communications Department
Tel +977 1 4270650+977 1 4270650 Cell: +977 9851191968+977 9851191968 or +977 9841699068+977 9841699068
disse@nrcs.org, dibyarp@gmail.com Skype : dibyarp
Rosemarie North, IFRC South Asia Comms Manager
tel +977 981 015 2220+977 981 015 2220 Rosemarie.North@ifrc.org Twitter: @rosemarienorth
In Kuala Lumpur
Patrick Fuller, IFRC Asia Pacific communications manager
Tel: +977 980391 +60122308451+60122308451 / Patrick.Fuller@ifrc.org Twitter: @pat_fuller and @IFRCAsiapacific
In Geneva
Benoit Carpentier, IFRC team leader, public communications
Tel: +41792132413+41792132413 Email: Benoit.Carpentier@ifrc.org Twitter: @BenoistC
To mark the transition from emergency to recovery at the six-month mark, a microsite has been created with stories, videos and images. You can view it here.