Published on
One year after the Nepal earthquake - millions of survivors remain homeless
One year after a 7.8 earthquake struck Nepal on 25 April, 2015, an estimated four million people are still living in sub-standard temporary shelters in conditions that pose a threat to their health and well-being. More than 800,000 homes were damaged or destroyed by the earthquake and shelter remains the paramount humanitarian priority. But despite achievements in many areas of earthquake recovery efforts, little progress has so far been made in helping survivors to rebuild permanent homes.

"We are hoping that the government's priorities and perspectives on reconstruction will soon be clear so that we can help people to rebuild and get their lives back on track as quickly as possible," said Max Santner, Head of Nepal Country Office, International Federation of Red Cross and Red Crescent Societies (IFRC).

In the months after the earthquake, the Red Cross gave more than 130,000 families emergency shelter including, tents and tarpaulins.

"Living under plastic sheeting was never intended as a permanent solution," said Dev Ratna Dhakwa, Secretary General of the Nepal Red Cross Society. "Our aim is to restore the dignity of survivors who have endured massive personal loss. To do this, they need to be reassured that they will have the security of a real home in the near future."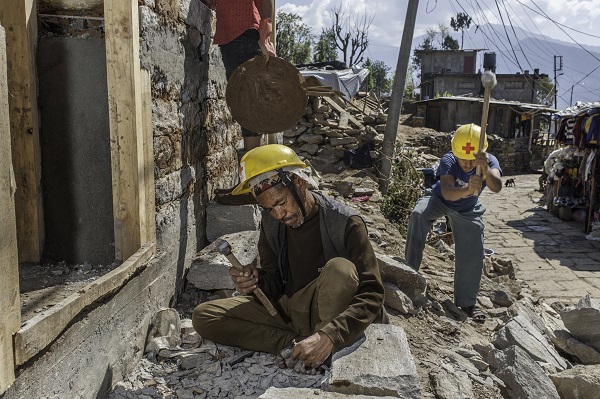 In recent months the Red Cross has been training stone masons, carpenters and community members in earthquake-resistant building techniques and is ready to support families to start rebuilding once the guidelines are clear.
In the first six months after the earthquake, the Nepal Red Cross Society, supported by Red Cross and Red Crescent partners from around the world, reached more than three million people with emergency help which included the distribution of emergency shelter and relief items, the provision of safe water and healthcare and the distribution of cash grants to help families re-establish their livelihoods. In 2016 and 2017, the Red Cross will continue its efforts to support the longer term recovery needs of 500,000 people across 14 of Nepal's earthquake affected districts.
For further information or interviews, please contact:
In Kathmandu:
Rosemarie North, IFRC South Asia Communications Manager, tel; +977 986 056 1758, Rosemarie.North@ifrc.org, Twitter: @rosemarienorth
Dibya Raj Poudel, Nepal Red Cross Society, Head of Humanitarian Values and Communications Department, tel: +977 1 4270650, mobile tel: +977 9851191968 or +977 9841699068, disse@nrcs.org, dibyarp@gmail.com, Skype: dibyarp

In Kuala Lumpur:
Patrick Fuller, IFRC Asia Pacific Communications Manager, tel: +60122308451, email: Patrick.Fuller@ifrc.org, Twitter: @pat_fuller and @IFRCAsiapacific

In Geneva:
Benoit Carpentier, IFRC Team Leader, Public Communications, tel: +41792132413, email: Benoit.Carpentier@ifrc.org, Twitter: @BenoistC

Red Cross Red Crescent response - progress:
Over the past 12 months, close to 8,000 local volunteers have made an invaluable contribution to the delivery and effectiveness of emergency aid and recovery initiatives. No fewer than 51 National Red Cross and Red Crescent Societies supported the earthquake operation with funds and 26 were present in Nepal during the first three months of the operation.

Read the Movement-wide one year progress report.
Discover the first anniversary stories, photos, videos and statistics.