Published on
Reception of asylum seekers: a crucial step towards a new life
In 2015, 88,912 asylum seekers lodged an asylum application in Austria. For many, this was the end of a long and dangerous journey to reach safety in the EU. While waiting for their asylum claims to be processed, people are housed in reception facilities like the PWH Baumgarten Pav. 6 centre in Vienna, which is managed by the Vienna branch of the Austrian Red Cross.

Located in a former hospital building, the reception centre accommodates up to 100 asylum seekers in shared rooms. However, the support on offer is not limited to shelter alone. A dedicated team of staff and volunteers provide a wide range of services, such as family tracing, healthcare, psychosocial support, German-language courses and integration assistance. Families are also hosted at the centre, where Red Cross teams organise leisure activities and facilitate access to school for children.

"The level and quality of services accessible to asylum seekers in reception centres is a key determinant of their future success. The right type of support can give them the necessary tools to ease their inclusion in the host society, as well as facilitating their access to the labour market, for example," says Diana Karabinova, from the Asylum and Migration department of the Austrian Red Cross. "It is therefore crucial to ensure high standards of reception for all asylum seekers," she adds.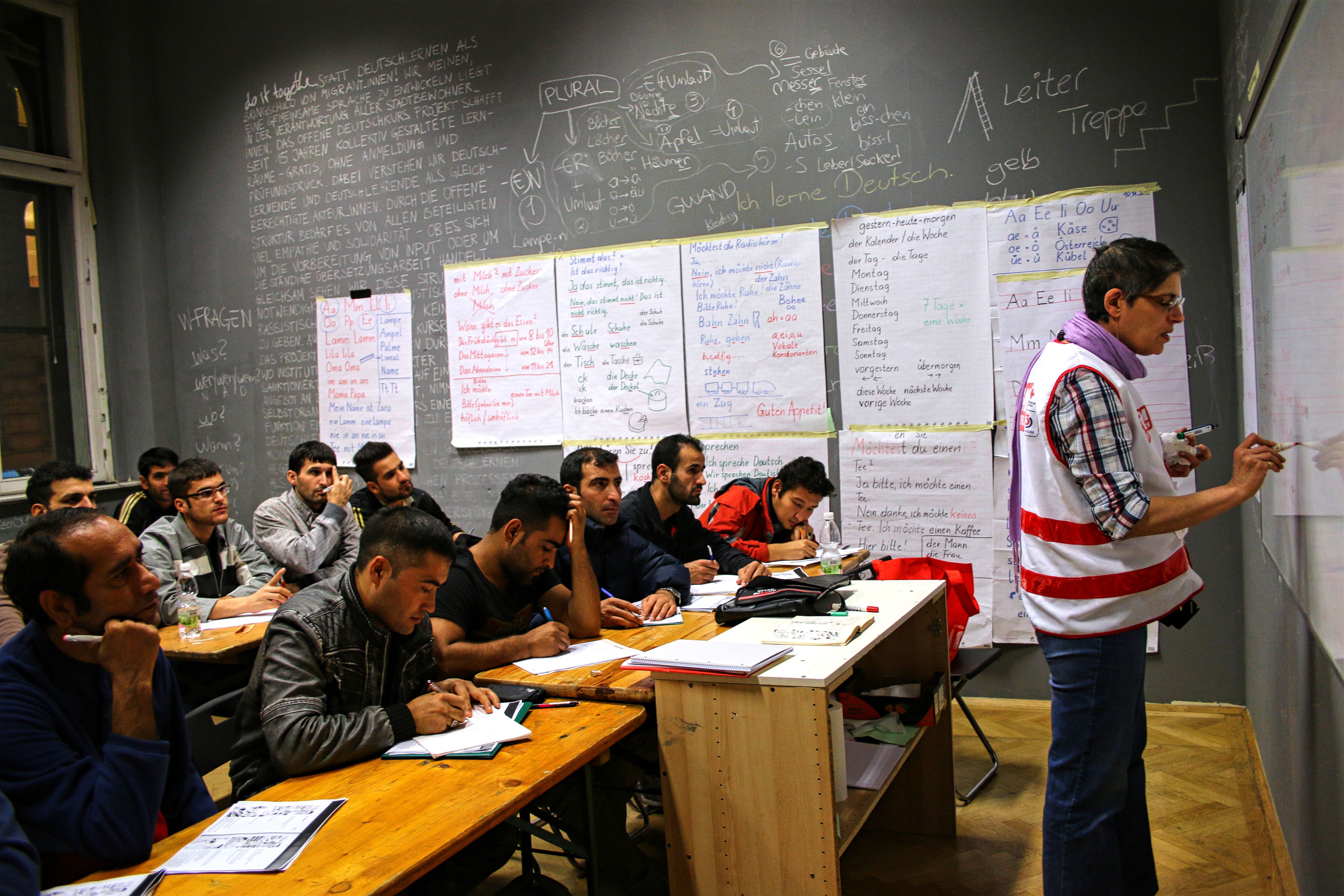 Arriving in a new country is always challenging, especially when you do not speak the local language. In order to accompany their first steps in Vienna, the Austrian Red Cross has developed the short guide "You've arrived", which is available in German, English, Arabic and Dari. The guide provides practical information about how things work in Austria generally, and in Vienna specifically, like how to access medical services, the different types of mobile phone contracts available, or the recycling rules that are in place. "With this guide, asylum seekers can find information and tips to make their life easier during their first months in the country," says Katharina Strassl, Head of Refugees Services for the Red Cross in Vienna. To increase its accessibility, the guide is also available online as an audio file.

Austria is not the only country in Europe that has received relatively high numbers of asylum seekers. With around 1.2 million asylum claims registered in 2015, reception systems across the EU are currently under unprecedented strain. However, the comparatively large numbers of recent arrivals should not undermine the EU's responsibility to provide high reception standards for people seeking international protection, especially in light of the far higher numbers of asylum seekers and refugees hosted by non-EU countries such as Jordan, Lebanon, Pakistan, Iran or Turkey.

The ongoing reform of the Common European Asylum System and the Dublin Regulation is a critical opportunity to reinforce and strengthen previous advancements, such as those related to reception processes. Identifying and addressing the special reception needs of vulnerable asylum seekers must be high on the agenda of EU decision-makers in the months to come. This is particularly important as many of the people who have recently arrived in the EU have suffered extreme trauma in their home countries, or during their migratory journeys to and through Europe. "Ensuring the wellbeing and respecting the dignity and rights of all asylum seekers across the entire Union is, and must remain a priority for the EU and its Member States," says Denis Haveaux, Director of the Red Cross EU Office. "There is also a clear need for more psychosocial support. Holistic approaches that address both physical and mental illnesses with the adequate treatment and care are desperately needed," he underlines.

The recent proposals published by the European Commission would limit the individual rights of asylum seekers as a sanction for moving on to another Member State. Such a punitive approach is likely to increase their vulnerabilities, as the proposals foresee a reduction in the material reception conditions of asylum seekers in cases of onward movements. "The secondary movement of asylum seekers can only be reduced by assuring even, comparable reception conditions throughout the EU" stresses Mr Haveaux. "These conditions should be characterised by high reception standards, and should enable access to a full range of assistance, protection and integration services."