Published on
Reducing Disaster Risk Vulnerability in Eastern Ukraine
Six years of fighting in eastern Ukraine have left over 3 million people in need of humanitarian aid, and many more vulnerable to conflict-related risks, such as shelling or prolonged cuts in services. This protracted conflict has also increased the dangers posed by the industrial and environmental hazards present in the historically heavily industrialized area of the Donbas. It is therefore critical to prepare communities to respond to these risks and to reinforce local authorities' capacities to protect the civilian population and prevent a large-scale disaster through improved planning.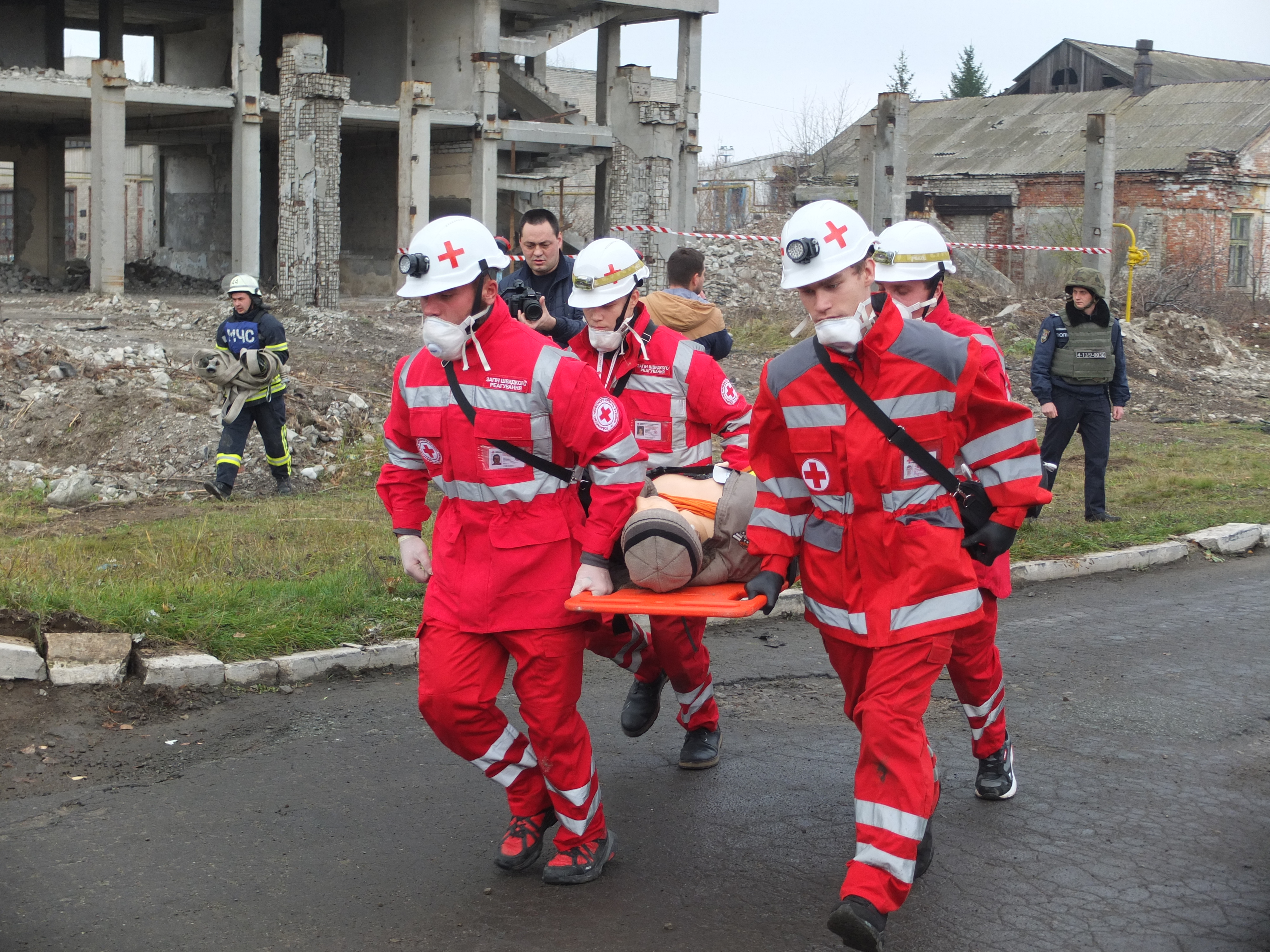 In order to address these challenges, the Danish Red Cross and partners have engaged in two eponymous projects, "Reducing Disaster Risk Vulnerability in Eastern Ukraine," within the ACTED-led '3P Consortium.'
Launched in May 2019, the first 18 Month project is financed by the European Union through its Directorate-General for Civil Protection and Humanitarian Aid Operations, and aims to improve understanding of, and promote and take measures towards, preparedness for industrial and ecological risks – including those exacerbated by the conflict – in eastern Ukraine. The second, complementary project is funded by USAID through its Office for Foreign Disaster Assistance (USAID/OFDA); over 24 months, it intends to increase awareness and preparedness to multi-hazard disaster risks, increase water safety and improve coordination on Disaster Risk Management among aid actors and local authorities in eastern Ukraine.
We caught up with Antoine Terrien, Country Manager in Ukraine for the Danish Red Cross, to hear more about the work done to protect vulnerable people in the country.
Who is involved in the project?
The "3P Consortium" was formed in 2019 and is funded by the European Commission Directorate-General for European Civil Protection and Humanitarian Aid Operations (DG ECHO) and USAID through its Office for Foreign Disaster Assistance (USAID/OFDA). It is led by the ACTED and comprises a group of international and national NGOs that are working in Ukraine – IMPACT Initiatives, Right to Protection, the Danish Red Cross, the Austrian Red Cross, and the Ukrainian Red Cross Society.
What is the project's scope?
Under the leadership of ACTED, the 3P Consortium works to reduce vulnerabilities to disaster risk vulnerability in Eastern Ukraine through the '3Ps' approach: Prevent, Prepare and Protect the civilian population and critical service systems against the risks of natural, ecological and industrial disasters. By October 2020, we plan to reach at least 15,150 people and 45 organisations across the Popasna region of Luhansk, the Yasinovata and Bakhmut regions, the Toretsk municipality, and the Volnovakha/Mariupol areas of Donetsk. In total, an estimated 150,000 people will benefit from the local disaster preparedness plans that will be developed under the project.
What specific risks need to be addressed in Ukraine?
IMPACT initiatives and 3P partners have mapped the natural, multi-hazard, ecological, and industrial risks in the conflict-affected areas of Eastern Ukraine. Indeed, populations living close to the "Line of Contact" – where fighting is still taking place almost every day – face multiple hazards, including quasi-daily shelling, high mine and unexploded ordinance (UXO) contamination, frequent utility cuts, exposure to shelling, risks pertaining to interruptions in the water supply, possible forced mass displacement in case of an emergency, and other cascading disasters.
Moreover, conflict compounds risks posed by pre-existing natural, industrial and ecological hazards including, for example hazardous sites could be impacted directly by shelling and indirectly due to poor maintenance or abandoned industrial waste.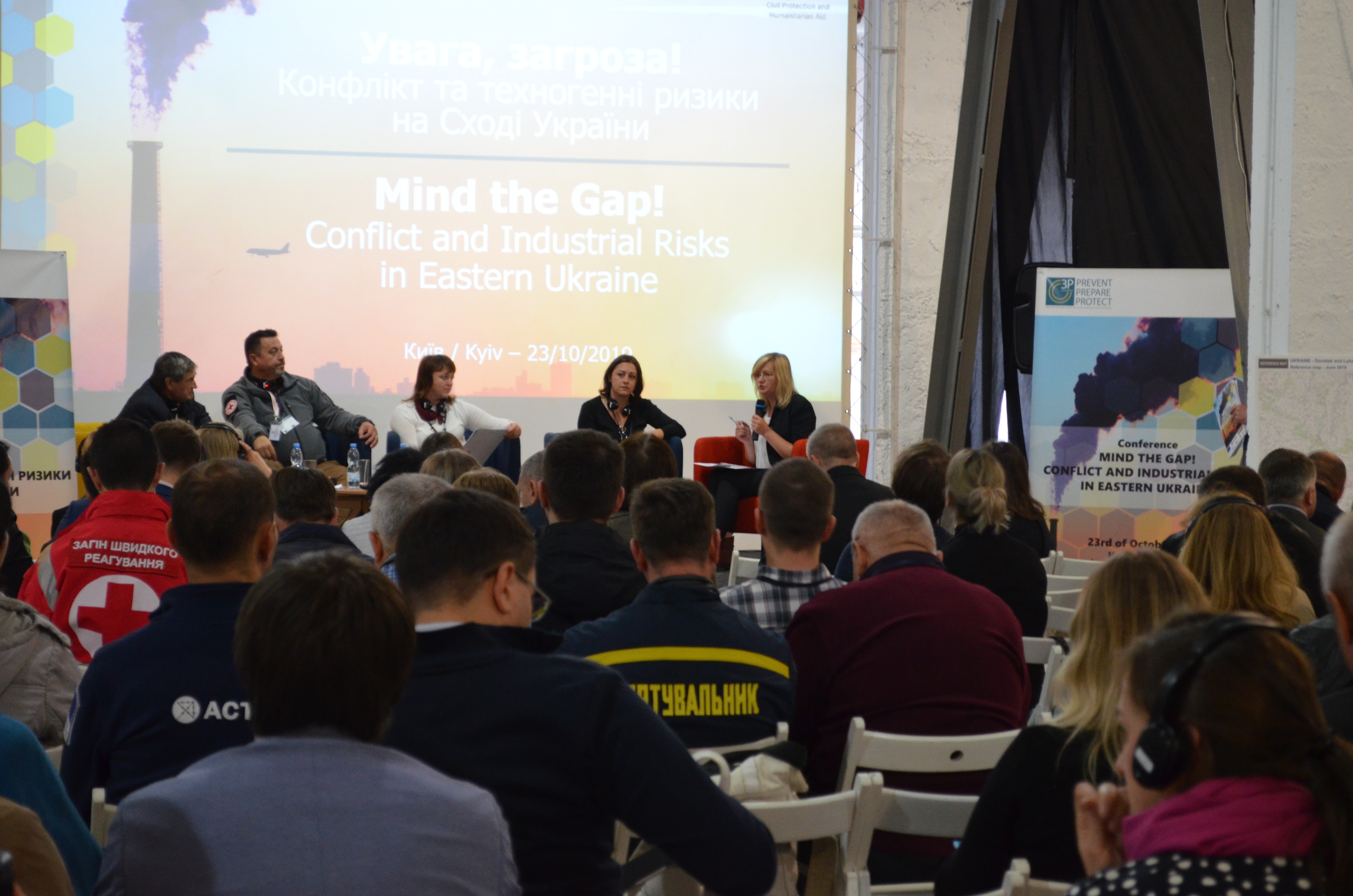 How will the project tackle risk preparedness to industrial and ecological risks in areas affected by conflict?
Through the implementation of activities in regions and municipalities bordering with the Line of Contact and areas where natural, industrial, ecological, and conflict-related hazards are located, the 3P Consortium will improve the understanding of, and promote and take measures towards, preparedness to multi-hazard risks, including those exacerbated by the conflict.
Within the project, partners will advocate for legislative gaps and investment priorities to be addressed, as well as make efforts to enhance coordination amongst key stakeholders at the national level. At the regional level, activities will be implemented in order to improve the understanding of risks and strengthen risk management capacities.
How does the project intend to engage local authorities and enhance their capacities to manage risk?
ACTED works jointly with local authorities, the State emergency service and various civil protection bodies in conflict-affected areas to develop mitigation, response, and evacuation plans to address risks identified at the local level. The project then supports plan implementation through training, practical support, targeted investments in materials, and simulation exercises. The 3P Consortium's objective is to support local authorities in managing disaster risks actively, with appropriate resources.
What will be done to increase awareness and resilience among local communities?
Red Cross project partners are working with local communities to increase their resilience, preparedness and capacity to cope with risks. With support from the Austrian Red Cross, the Ukraine Red Cross Society will design and distribute hazard-specific, disability-sensitive Information, Education and Communications (IEC) materials to increase awareness of risks and basic preparedness measures. They also intend to work with the local population to develop community and family emergency planning. With support from the Danish Red Cross, the Ukraine Red Cross Society is also training community focal points in first aid and psychological first aid. Emergency equipment will be provided to people exposed to the natural, ecological, industrial and conflict-related hazards identified at the local level – this includes first aid kits and material to equip 'safe spaces' for communities and children in case of emergency.
Does the project have an advocacy element? What kind of legislative changes need to be made?
Advocacy is key to ensuring that the project also supports Ukraine to fulfill its commitments under the Sendai Framework for Disaster Risk Reduction (2015-2030). Right to Protection (a Ukrainian NGO) is therefore going to analyse legislation on industrial and ecological risks to identify regulatory gaps in the area of civil protection which cause practical obstacles to implementing a systematic approach to impact mitigation in the country. Building upon the results of this analysis, project partners will advocate towards national authorities and donors for policy change and increased investments. They will focus both on the short term, in support of project activities, as well as long term, to promote longer-lasting impact.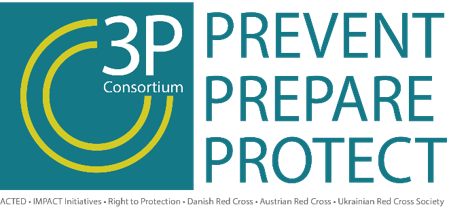 3P Consortium Partners
ACTED www.acted.org
IMPACT Initiatives https://www.impact-initiatives.org
Right to Protection http://r2p.org.ua/en/
Danish Red Cross https://www.rodekors.dk
Austrian Red Cross https://www.roteskreuz.at
Ukrainian Red Cross Society (URCS) https://redcross.org.ua/en/
EU Civil Protection and Humanitarian Aid https://ec.europa.eu/echo/index_en
USAID/OFDA https://www.usaid.gov/who-we-are/organization/bureaus/bureau-democracy-conflict-and-humanitarian-assistance/office-us
For more information, contact Jan Severa, 3P Consortium Manager, ACTED, jan.severa@acted.acted.org, +380 63 463 76 20
DG ECHO funds all activities related to industrial, ecological, and conflict-related hazards, while OFDA funds work on natural hazards