Published on
Responders provide vital support to victims and their families
Italian Red Cross teams continue to offer support to the victims of the 24 August earthquake, which struck central Italy in the area around Amatrice, as well the nearby towns of Pescara del Tronto, Arquataa del Tronto and Accumoli. The 6.2 magnitude-earthquake, along with the 98 aftershocks in the following 36 hours, greatly devastated the towns demolishing buildings and trapping hundreds of people in the rubble. So far, the quake has caused 292 deaths, left 2,925 people homeless and countless people still missing.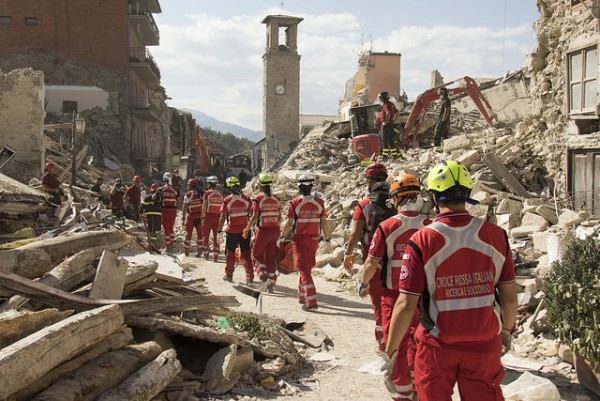 Since the onset of the emergency, the Italian Red Cross has been present offering support in the affected areas, with more than 450 volunteers. Immediately following the earthquake, they mobilised search and rescue teams accompanied by sniffer dogs, who worked rigorously to find and assist the survivors of the quake, despite the challenging and dangerous conditions caused by the aftershocks.

"When we arrived in Amatrice, only a fraction of the town had survived, and we managed to rescue 20 people that were alive under the rubble that", said Piero Altissimi, a member of the Red Cross Rescue team, describing the situation in Amatrice. Alongside their continued efforts to find people among the debris, the Italian Red Cross is helping those impacted by the quake by providing much needed shelter, food, first aid and psychosocial support.

More than 110 vehicles, including 44 ambulances, were dispatched to support the emergency response teams, and 13 regional Red Cross branches deployed emergency workers, vehicles, tents, camp beds, mats, blankets, generators and field toilets, amongst others. Sleeping tents and reception centres have been set up for those that have seen their houses destroyed by the devastating quake, as well as a toy library for children to play in. In addition, two mobile kitchens with a capacity to provide 10,000 meals per day, are serving food to survivors and volunteers. With the support of the Italian Red Cross' National Operation Centre, a Restoring Family Links (RFL) service is helping reunite families that have lost touch with each other.