Published on
Syria: violence, COVID-19 and access constraints
Now in its tenth year, relentless conflict keeps wreaking havoc in Syria. Humanitarian access remains problematic in multiple areas, and COVID-19 has amplified existing shortcomings while armed hostilities continue to leave their mark – from violence against civilians to bombed hospitals and other vital infrastructures, decimated services, and many people struggling to get basic commodities such as food or water. One in two Syrians has been forcibly displaced since 2011: over 6.6 million inside the country and 6.7 million outside, primarily within the region. The situation is dire. Increased assistance is needed, including for neighbouring countries, in a context of growing difficulties to reach the most vulnerable.
"The pandemic is a negative catalyst of a multitude of new and complex challenges including the restriction of movements and goods, the delay of certain field activities, the closure of borders and a critical insufficiency of protective equipment for staff and volunteers," according to the President of the International Federation of Red Cross and Red Crescent Societies (IFRC), Francesco Rocca. Such hindrances have dramatically impacted ongoing humanitarian operations across Syria and in its neighbouring countries, emphasizing "the importance and need for more locally led responses."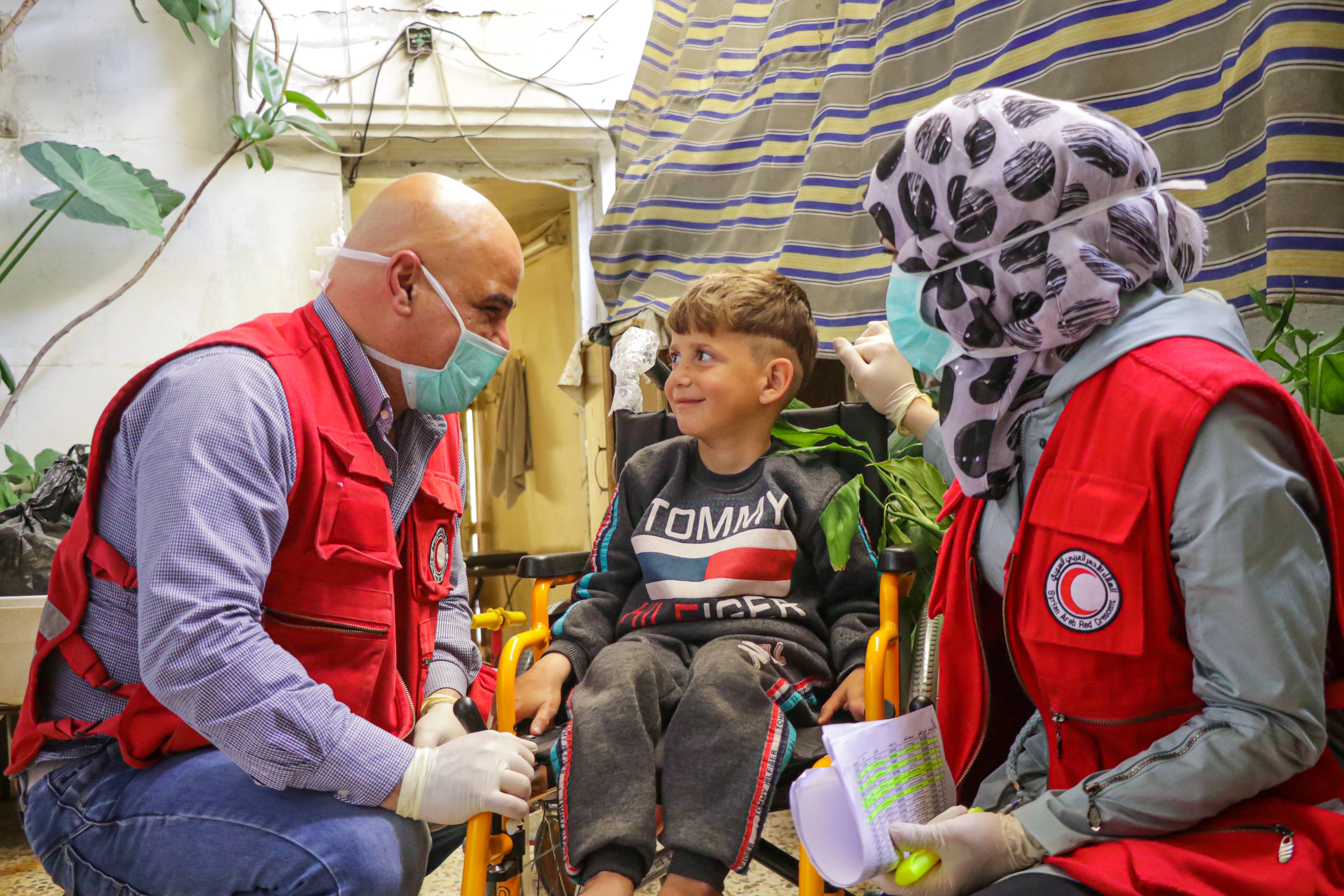 The International Red Cross and Red Crescent Movement participated at the fourth Conference on "Supporting the Future of Syria and the Region", held at the end of June 2020 in Brussels. The event, co-chaired by the European Union (EU) and the United Nations, gathered representatives from 80 countries, international organisations and civil society. Following discussions on the current state of affairs and ways forward, different governments pledged a total of EUR 6.9 billion to relieve the crisis in Syria and the region in 2020, 2021 and beyond – 16.9% less than the EUR 8.3 billion raised in the previous edition, in 2019. Collectively, the EU and its Members States committed nearly EUR 5 billion.
In his statement during the Ministerial segment of the Conference, IFRC President Rocca stressed the resilience of the Syrian people inside and outside of the country – and called for increased protection of the humanitarian space. Highlighting the critical role of the Red Cross and Red Crescent, he underlined the importance of ensuring aid workers and volunteers can reach the most vulnerable in accordance with International Humanitarian Law: "Rapid, safe and unimpeded humanitarian access for people in need is critical, and must be granted as a matter of priority by all parties."
At present, the International Red Cross and Red Crescent Movement supports over eight million people in need in Syria, Lebanon, Jordan, Turkey, Egypt and Iraq. Inside Syria, the Syrian Arab Red Crescent (SARC) is the largest community-based provider of humanitarian aid, with 11,000 volunteers and staff. In the context of COVID-19, they have helped distribute hygiene kits to displaced communities, and carry out infection prevention and awareness-raising interventions. In neighbouring countries, National Societies' assistance includes health and care services, child protection, psychosocial support and education projects. In Turkey, the Turkish Red Crescent and IFRC are also implementing the Emergency Social Safety Net (ESSN), a joint programme with the European Commission's Directorate-General on Civil Protection and Humanitarian Aid Operations (ECHO) to deliver cash to refugees in the country, which hosts the world's largest refugee population, including 3.6 million Syrians.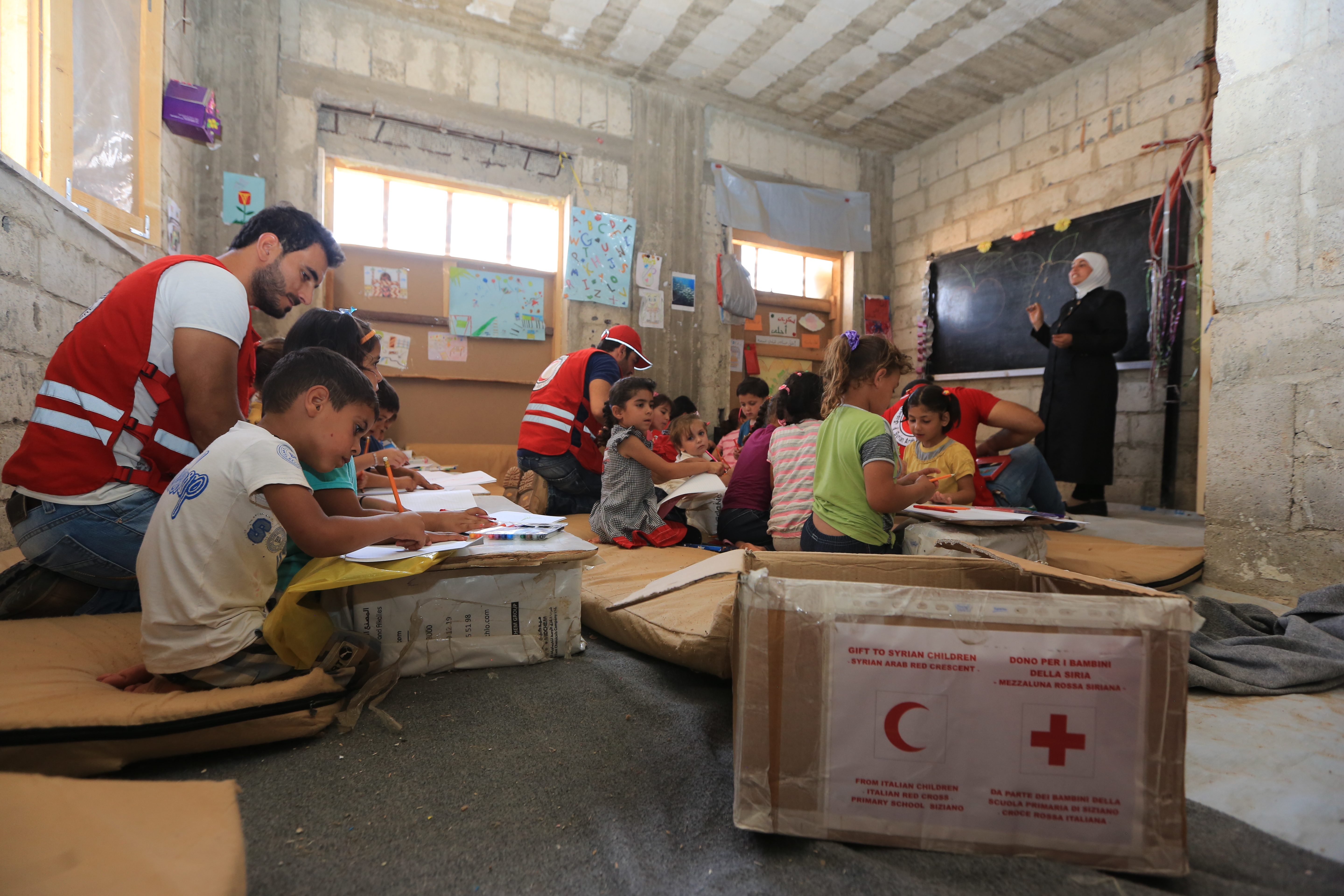 Beyond Syria and neighbouring countries, the EU and its Member States must ensure that Syrians (and others) fleeing violence, persecution and human rights violations are protected and treated with dignity. This can be done by expanding and implementing safe and legal pathways, and by scaling up search and rescue capacities. National authorities must also uphold the principle of non-refoulement by all means, while enforcing a humane and solidary approach to migration.
More than nine years of war have left a trail of destruction, humanitarian needs, uprooted populations and suffering in Syria and beyond, compounded by COVID-19. The emergency is not yet over, and it requires further action by key stakeholders. At the Brussels Conference, IFRC President Rocca reiterated that "humanitarian agencies cannot solve every problem nor will the aid that is delivered. We need a political solution to this protracted crisis which is heavily affecting millions of people. If not, there will be many more pledging conferences and an increasingly fragile context to address."