Published on
The Road to Sendai
As ministers and delegations get ready to attend the UN World Conference on Disaster Risk Reduction (WCDRR) on 14-18 March 2015, in Sendai, Japan, Red Cross EU Office Director, Leon Prop underlines the crucial role that disaster risk reduction plays in strengthening resilience and saving lives and money.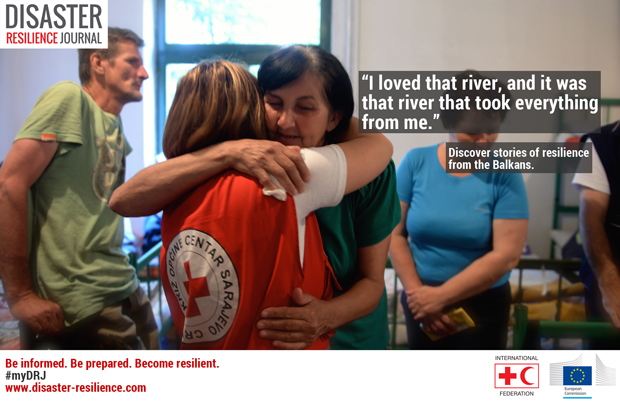 Global trends such as climate change, the depletion of natural resources, urbanisation, and demographic shifts are increasing our exposure and vulnerability to disasters. In 2013 alone, almost 100 million people were affected by disasters worldwide with devastating impacts on lives and livelihoods. The costs imposed by disasters are also growing, having quadrupled over the last 30 years to now annually exceed EUR 150 billion. Not to mention the many physical, social and psychological impacts that disasters have on survivors, which are often wide-spread and long-term.

The most vulnerable countries are particularly exposed. Here, it only takes a moment for an earthquake or a hurricane to dash the hopes of a better future. The 2010 earthquake in Haiti for example, cost the country almost 120% of GDP, destroying development gains built up over decades. But middle and high income countries are also at risk, where growth is struggling to keep pace with disaster losses. Recently, Central Europe suffered 'once-in-a-century' floods for a second time in 13 years, and the economic losses resulting from disasters in the EU have mounted to an astounding EUR 95 billion over the last decade.

Clearly, no one is immune.

There are no easy solutions but it is evident that without building more resilient communities, the loss of life and property will continue to rise. This is why investing in disaster risk reduction needs to be high up on our list of priorities – to prevent hazards from turning into crises.
Furthermore, the post-2015 disaster risk reduction framework presents a crucial opportunity to set the world on a more sustainable path:

1) Disaster risk reduction and resilience activities must always build on local capacities and understand why people are living with risk. Vulnerable people and groups are often the most severely affected by disaster, and their empowerment is key to achieving sustainable results.
2) We need better structures at international, national and local level fostering accountability and better coordination between different public authorities and other stakeholders.
3) We need to focus on results. Our aim is to make people feel more secure by creating a culture of resilience at national and community levels.
4) We need to harness the potential of risk reduction as a driver of jobs, innovation, growth and development.

Strengthening resilience and preparedness is the first line of defence for vulnerable people in many risk prone countries, who are particularly exposed to the effects pf climate change. By reinforcing coping mechanisms and reducing disaster risks, individuals, communities and countries can better anticipate, decrease the impact of, cope with and recover from the effects of shocks and stresses like natural hazards, without compromising their long-term prospects.
Additionally, prevention and risk management not only saves lives and livelihoods, but also makes strong economic sense in terms of avoiding losses. According to the cost benefit analysis of Red Cross and Red Crescent community-based DRR programmes, every EUR 0.77 spent on disaster risk reduction saves EUR 11.47 in return.

As part of our commitment to strengthening community resilience, we have recently run an awareness-raising campaign with 12 European Red Cross National Societies and the European Commission's department for Humanitarian Aid and Civil Protection (ECHO) to inform EU citizens of the importance of the importance of reducing risks and preparing for disasters. Through an interactive social media campaign and an informative web documentary, The Disaster Resilience Journal, we have reached nearly 126 million people.

Our experience shows how supporting communities to strengthen their resilience before, during and after disasters pays off. For example, a Finnish Red Cross project carried out with ECHO funding in the town of Aliputos, Philippines, contributed to the fact that not one human life was lost during typhoon Haiyan, owing to work with communities to establish early warning systems and evacuation routes, in combination with other preparedness measures. But more needs to be done and no one can be left out.

In a world that is increasingly prone to natural disasters, let's make sure that the post-2015 disaster risk reduction framework better addresses the underlying causes of vulnerability and results in more genuinely resilient societies.

We hope that we can count on all delegations' support and collaboration in pushing the resilience agenda forward and fighting to significantly reduce risks for vulnerable communities around the world.

By Leon Prop
Director, Red Cross EU Office
IFRC Media Focal Points in Sendai
For further information on the IFRC's participation in WCDRR or to arrange interviews, please contact;
Patrick Fuller, Communications manager, IFRC Asia Pacific at patrick.fuller@ifrc.org; Tel: +81 804 200 9732 / +60 12 230 8451
Pierre Kremer, Head, communications department, IFRC, at pierre.kremer@ifrc.org; Tel: +81 804 182 9792 / + 41 79 226 48 32
Please follow @Pat_Fuller , @As_SyIFRC and @Federation for live updates from the event. The official hashtags for the event are: #WCDRR with #RedCross or #RedCrescent and #1BnCoalition.
IFRC Experts available for Interview
Tadateru Konoé, President, International Federation of Red Cross and Red Crescent Societies, Languages: Japanese, English, Areas of Expertise: disaster risk reduction, resilience, integrated community development, nuclear preparedness
Elhadj As Sy, Secretary General, International Federation of Red Cross and Red Crescent Societies, Languages: English, French, German, Areas of Expertise: integrated community development, community based health and disaster risk reduction, resilience, climate change adaptation and mitigation
Gwendolyn Pang, Secretary General, Philippine Red Cross, Languages: English, Areas of Expertise: disaster preparedness and risk reduction, urban risk, climate change adaptation, early warning systems and early action, international disaster response law guidelines
Dorkas Kapembe-Haiduwa, Secretary General, Namibia Red Cross Society, Languages: English, Areas of Expertise: community based first aid and health care, hygiene awareness and promotion, community risk reduction, international disaster response law guidelines
Elizabeth McNaughton, Special advisor of the Secretary General, New Zealand Red Cross, Languages: English. Areas of expertise: Economic aspects of Disaster risk reduction
Georges Kettaneh, Secretary General, Lebanese Red Cross, Languages: English and Arabic. Areas of expertise: CBHFA, Ambulance services, Conflict preparedness
Dr Younis Al-Khatib, Secretary General, Palestine Red Crescent Society, Languages: Arabic and English. Areas of expertise: DRR in conflict, Disasters preparedness with children.
Prof. Tha Hla Shwe, president, Myanmar Red Cross, languages English. Areas of expertise: Health and DRR
Jose Juan Castro, President Honduras Red Cross. Languages: Spanish. Areas of expertise: Urban DRR
Natia Loladze, President Georgia Red Cross, Languages: English, Russian. Areas of expertise: Conflict induced disasters, migration.
Maarten Van Aalst, Director, Red Cross Red Crescent Climate Centre, Languages: English, Dutch, Areas of expertise: climate risk management, climate science and policy, disaster risk management and development planning
Further experts representing different geographical regions and various languages are also available upon request.