Published on
Third FEAD Network Meeting: Synergies between ESF and FEAD
The third meeting of the FEAD Network – which gathers representatives from national managing authorities, the European Commission, and implementing partners of the Fund of European Aid to the Most Deprived (FEAD) – took place in Brussels on 7 November. A hundred representatives from across the EU, including delegates from the French Red Cross and the Croatian Red Cross, met to discuss how Member States can maximise the impact of their activities by seeking synergies between initiatives funded under FEAD, and those financed by the European Social Fund (ESF).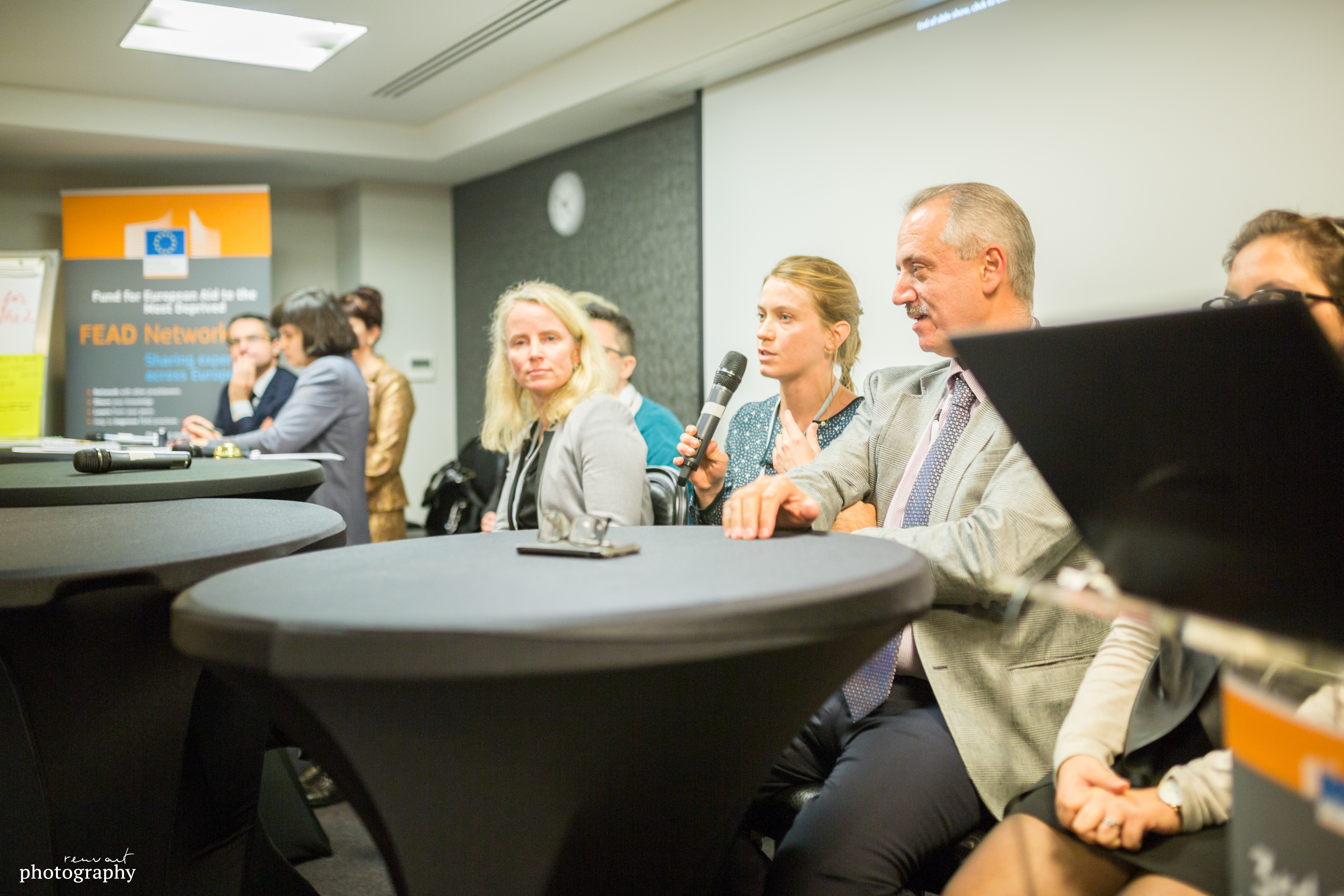 The ESF is Europe's main tool for promoting employment and social inclusion. It aims to integrate disadvantaged people into society, help people get a job, and ensure economic prospects and fairer life opportunities for all. Similarly, one of the key objectives of FEAD is to promote social cohesion and greater social inclusion of Europe's most deprived people. As the provision of basic aid often serves as a gateway to connect with a person and provide further assistance, it is hoped that greater complementarity between the two programmes would help to go beyond basic assistance towards providing more continual and holistic support.
"In the early days of FEAD, there was concern that it would overlap with ESF," says Eberhard Leuder, who works on social inclusion at the Red Cross EU Office. "We are glad to see good examples of employment support or training linked to material aid and social assistance. We also hear about models where ESF and FEAD are used in parallel to serve different types of needs," he adds. "There is great potential to contribute to improving work at the local level."
Zoltán Kazatsay from the European Commission's Directorate-General for Employment, Social Affairs and Inclusion (DG EMPL), opened the meeting by highlighting the reach of FEAD on the ground. "Member State data shows that to date, approximately 10 million individuals have been reached through FEAD initiatives annually," he said. While recognising that these results were encouraging, he underlined the need to do more to help lift Europe's most vulnerable people out of poverty. "Greater coordination with other national and EU programmes is crucial to making a lasting difference and reducing poverty sustainably," Mr Kazatsay stressed, noting the ready complementarity between ESF and FEAD to address deprivation and poverty in a more integrated way.
One example of how these two funds could be interlinked in practice came from the French Red Cross, with their "warehouse for social and professional inclusion" – an initiative which connects food aid provision with training and employment services. "We see food aid as an entry point to orientate many of the people that we accompany to our other support services in areas like housing, health care, and employment," explained Project Manager, Madeleine de la Servette.
In France, the Red Cross is one of four national FEAD implementing partners, distributing around 23,000 tons of food each year through 620 distribution centres located across the metropole and overseas territories. FEAD is used to fund approximately 6,000 tons of food, as well as to support the logistical work involved in delivering food to the distribution centres. "The distribution process (which is mainly managed by volunteers) is quite complex", said Ms de la Servette. "We have tried to optimise the supply chain to make it as efficient as possible because food items have an expiry date, so they have to be sent out relatively quickly to be distributed in time."
To efficiently coordinate the reception, delivery and preparation of orders and trucks, the French Red Cross has set up a social warehouse which directly supports access to employment for the long-term unemployed. Programme participants receive training in logistical competencies – including warehouse systems, cold chain management, and hygiene and food security norms – resulting in qualifications that will aid their job search. With the logistics industry representing around 4.1% of jobs in France, the sector has relatively good employment prospects. "Our aim is to accompany them towards long-term employment", said Ms de la Servette. "In this sense, we have set up partnerships with private companies to make sure that participants can secure a job after the programme".
Adela Sočev and Antonia Habajec from the Koprivnica branch of the Croatian Red Cross presented the "social basket" initiative – an ESF-funded project focused on improving cooperation and volunteering around food aid in the local community. In partnership with local volunteering organisation "Rad na dar" and the City of Koprivnica, the objective of this project was to set up a new social service for the town's most vulnerable residents through a social shop supplying food and other essential items free of charge. "The first thing we had to do was to elaborate some criteria for the allocation of food packages and other necessities," explained Ms Habajec, social basket's Volunteer Coordinator. Consequently, project partners identified a target group of 235 people that were receiving housing benefits, but no public nutritional support.
"Then we went on to establish the network of volunteers, who were involved in promoting the initiative, gathering food and other grocery donations, and distributing the goods to beneficiaries," Ms Habajec said. Through a series of seven training modules, 50 volunteers with different profiles and skills were enabled to participate in the project. "In total, we gathered 4,600 kilos of foods, organised 33 distributions, and delivered a total of 520 food packages," she said.
Launched in June 2015, the social shop continues its activities, although at a reduced rate. It is hoped that FEAD funding can now support the social shop and expand its reach to surrounding villages were there are also acute needs. "Through our social basket, we have developed a network and built volunteer capacities," said Adela Sočev, director of the Red Cross Koprivnica branch. "With an eventual FEAD project, we would be able to ensure 7,000 packages of food and hygiene items over the next year," she concluded.
The FEAD Network is growing, and now gathers over 800 stakeholders that are involved in FEAD at the local, national, and European levels. From 2017, there will be five annual Network meetings in which participants will discuss operational and thematic issues, identify challenges, share good practices, and network with other FEAD stakeholders.