Published on
Europe in Crisis: Facilitating Access to Protection, (Discarding) Offshore Processing and Mapping Alternatives for the Way Forward
Following discussions launched as early as 2003, external processing of asylum claims regularly attracts the attention of EU institutions and the governments of Member States. In fact, over the past ten years the external dimension of the EU asylum framework has been repeatedly emphasised by the EU.
Commissioned by the Red Cross EU Office, Dr Moreno-Lax's study "EUROPE IN CRISIS: Facilitating Access to Protection, (Discarding) Offshore Processing and Mapping Alternatives for the Way Forward" analyses existing policies and practices of joint processing, while considering the practical difficulties raised by a joint EU external processing scheme. Particular attention is paid to the humanitarian admission scheme submitted by the European Commission as part of the EU-Turkey deal. Sections 3 and 4 of the study present and assess various additional initiatives in this realm, comparing them with similar systems in the US and Australia to expound the legal and practical challenges that they generate.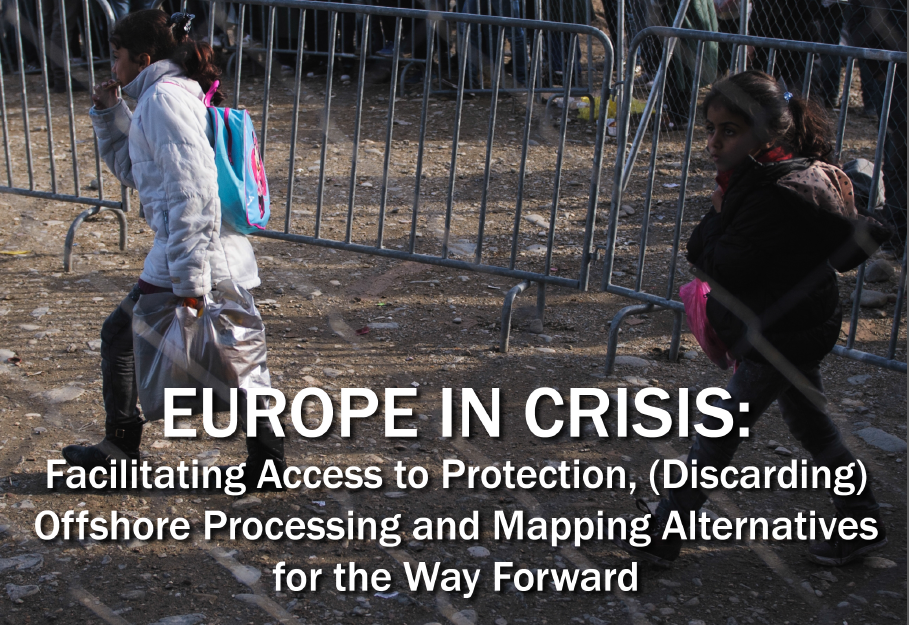 Finally, options to facilitate access to protection in the EU are considered with a view to ensuring conformity with human rights and refugee law obligations. Key recommendations and proposals are provided for a comprehensive strategy to organise the safe and legal arrival of asylum seekers to the EU and overcome the current 'access crisis' plaguing the Common European Asylum System (CEAS).
Dr Violeta Moreno-Lax, EUROPE IN CRISIS: Facilitating Access to Protection, (Discarding) Offshore Processing and Mapping Alternatives for the Way Forward, December 2015
Dr Violeta Moreno-Lax, EUROPE IN CRISIS: Facilitating Access to Protection, (Discarding) Offshore Processing and Mapping Alternatives for the Way Forward, Key Messages, December 2015
Other related publications:
RCEU, Position Paper: Addressing the vulnerabilities linked to the migratory routes to the European Union, 09 December 2015
RCEU, Position Paper: Resettlement in the European Union, 19 June 2015
RCEU, Position Paper: Legal Avenues to Access International Protection in the EU, 27 February 2013