Published on
Voices of young people at EU level
Young people play a vital role in their communities. They are eager to participate and contribute to the future of their societies at large. It is crucial to hear, encourage, support and prepare them to fulfil this commitment at national and European levels.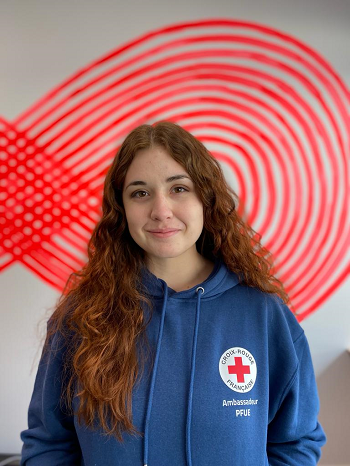 One of the common priorities of the French Red Cross for the French Presidency of the Council of the EU was to strengthen the engagement and mobility of young people in the European debate.
Over the last six months, the French Red Cross supported a group of Young Ambassadors to participate in and contribute to discussions taking place in context of the French EU Presidency. We interviewed one of these Ambassadors: Elise Monceau – a volunteer manager who started volunteering with the French Red Cross in Lille one and half years ago.
Why did you join the French Red Cross Youth Ambassador Group?
I chose to participate in this group because I believe it is a good opportunity to bring the voices of young people to the European level and contribute to the French Council Presidency. But also, it allows me to highlight the actions and positions of the Red Cross on key issues and raise awareness among young people.
As I mainly have field experience, I was not very familiar with this type of activity. It was an interesting way to discover other types of commitment within the Red Cross, but also to share my experience and the lessons I have learned in a different context and develop leadership skills.
Who is part of this group?
We come from all over France and have a wide variety of profiles which reflect the different kinds of roles played by young people in the organisation. For example, Célia is a volunteer in the foodaid sector in Lille, while Hannah and Odair are European Solidarity Corps volunteers in Bordeaux, and Manon and Lisa are students at the Regional Health and Social Training Institute of the French Red Cross.
What kind of activities does the team organise in the framework of the French EU Presidency?
We have participated in a lot of different activities and events, such as conferences and seminars, as attendees, facilitators and organisers. These events were an opportunity to share our point of view on a variety of topics and to reflect on future projects. For example, we participated in the European conference "Generations inclusive et solidaire", a cooperation project supported by the Eramus+ programme and sponsored by the French Presidency that brought together 41 young people from 15 countries on the theme of climate change. We also attended conferences held during the Africa-Europe Week and held several meetings with representatives from the European Commission, European Parliament and the French Permanent Representation to the EU. Finally, we developed and pedagogical project for high schools to raise awareness about the European institutions, the French Permanent Representation to the EU and the role of the Red Cross.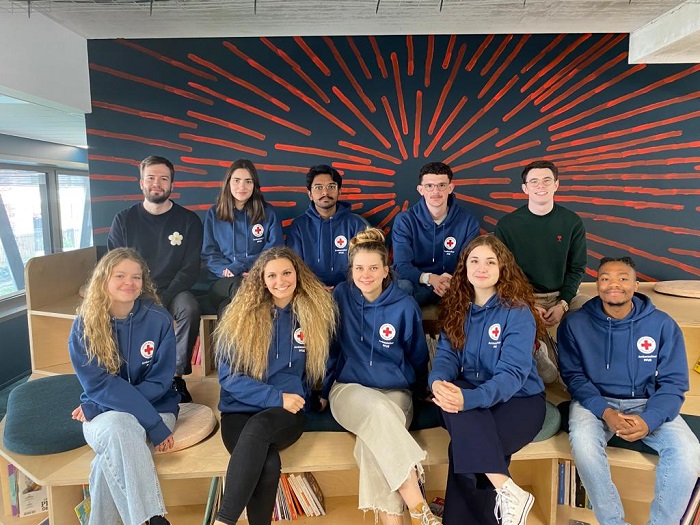 What are your views and hopes for the future?
One of our hopes is to increase awareness about ecology and to take serious actions to avoid the catastrophe that awaits us if we do nothing. Secondly, I have seen in the field how important is to simplify the legislation that affects refugees. Also, I would like the EU to engage more in advocacy with third and neighbouring countries to ensure displaced people are treated with dignity.
Finally, being a Youth Ambassador has been a great opportunity to learn about EU matters and to contribute to volunteer engagement on a European scale, while maintaining my commitments at the local level. It would be fantastic to extend this opportunity to other young people.
What message would you like to share with European citizens?
From the French Red Cross' perspective, we have four priorities:
1) Increased mobility for young Europeans mobility and creating opportunities for them to express themselves, and get involved, but also to receive training and information to better know their rights.
2) A strengthened social and solidarity economy as a sustainable model in Europe, which recognises the important role played by not-for-profit organisations.
3) Stepping up the fight against homelessness by reinforcing social welfare systems, ensuring unconditional assistance and reception and guaranteeing the right to housing.
4) Enhance prevention, protection and recovery activities to deal with growing crises, be they linked to the climate or other humanitarian emergencies.
European citizens can support these priorities through everyday actions that can make a difference at a larger scale, or by becoming a volunteer with the Red Cross in their community.
This year is the European Year of Youth, what would you like to ask the EU?
From my point of view, the knowledge that citizens, especially young people, have about the EU institutions, their functioning and their impact needs to be improved. I grew up in a rural environment and European considerations seemed very far away, as did the opportunities of mobility offered to young Europeans.
My question would be: how can the EU make itself more accessible to young Europeans? How can the reach of this information be improved so that mobility schemes are known and accessible to all, regardless of the young person's origin or context? It's a big concern for me, and something that I think is essential to guarantee the inclusiveness of all young Europeans.