Published on
Access to international protection in the EU for people fleeing Syria
We, the National Red Cross Societies of the Member States of the EU and the International Federation of Red Cross and Red Crescent Societies, call on the EU and its Member States to respect their international obligations under the 1951 Convention relating to the status of refugees and its 1967 Protocol, to ensure people fleeing Syria are provided with safe and effective legal avenues to the EU territory, to exercise their right to apply for international protection.
Recommendations
1. Ensure that people fleeing Syria have effective access to asylum procedures in the EU.
2. Consider visa applications from people fleeing Syria in a protection sensitive way.
3. Facilitate family unity in Europe for people fleeing Syria.
4. Offer emergency resettlement to the most vulnerable people fleeing Syria.
5. Review refugee status determination procedures and reception conditions for people fleeing Syria.
6. Do not return people to Syria and its neighbouring countries.
The aim of this position paper is to put forward recommendations to ensure that safe and effective legal avenues for persons fleeing Syria are put in place. It is imperative that the measures put forward in this document are seen as complementary forms of seeking protection that in no way constrain the right of asylum seekers to ask for international protection irrespective of the way they arrived in the EU. However, we also underline that these recommendations should apply to all persons fleeing armed conflict or persecution and are in need of international protection. Effective access to international protection is a fundamental right that must not be denied.
These recommendations do not intend to relieve the EU and its Member States from the responsibility of creating a fair and well-functioning Common European Asylum System.
Access the complete recommendations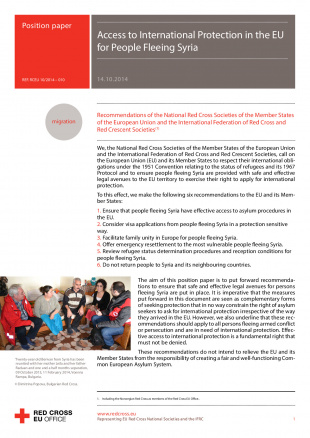 Download pdf