Published on
Reaction to Parliament position on the 2022 EU budget
As underlined by the European Parliament, EU Member States and partner countries are currently facing multiple and overlapping crises which are exacerbating vulnerability leading to an increase in needs in local communities. To respond to these needs, the EU should build and implement its budget through a principled approach with the ultimate goal of boosting resilience, ensuring social cohesion and reaching the most vulnerable and marginalised groups.
It is essential that the EU guarantees predictably and transparency of funding and ensures access to funding for civil society organisations. Furthermore, the EU should strengthen its engagement with local organisations in the planning, implementation, monitoring and evaluation of EU funding, to leave no one behind. To ensure continuity of support to the most vulnerable and to meet their needs, the EU should also guarantee that newly allocated funding does not come at the expense of existing programmes.
In their unique role of auxiliaries to their public authorities and representing the world's largest humanitarian network, National Red Cross Societies in the EU can play a key role in the EU budget's implementation, in line with the priorities Identified by the European Parliament.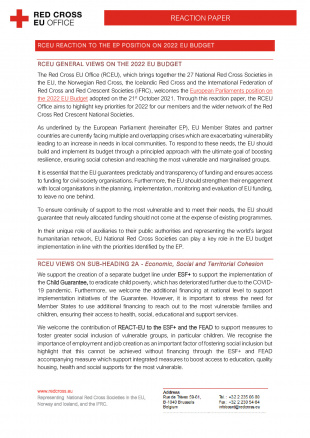 Download pdf