A new start in life for survivors of human trafficking
Many migrants reaching the European Union have been victims of human trafficking in their countries of origin or exposed to the risk of exploitation in Europe. Despite efforts to improve the identification of survivors among the migrant population, they often remain unaccounted for. For those who are identified, long-term protection, recovery, and integration measures are crucial to help them rebuild their lives and avoid being re-trafficked in their host country. Expert assistance and support from civil society organisations is decisive in facilitating effective integration in the community.
"Pathways" is a 2-year EU-funded project being implemented in Italy, Greece and the United Kingdom between 2018 and 2020 under the lead of the Italian Red Cross. It aims to improve the situation of presumed and identified survivors of trafficking in human beings, and to support their integration into host societies. Pathways adopts a survivor-centred approach, which prioritises the affected person's wishes, safety, and well-being in all activities.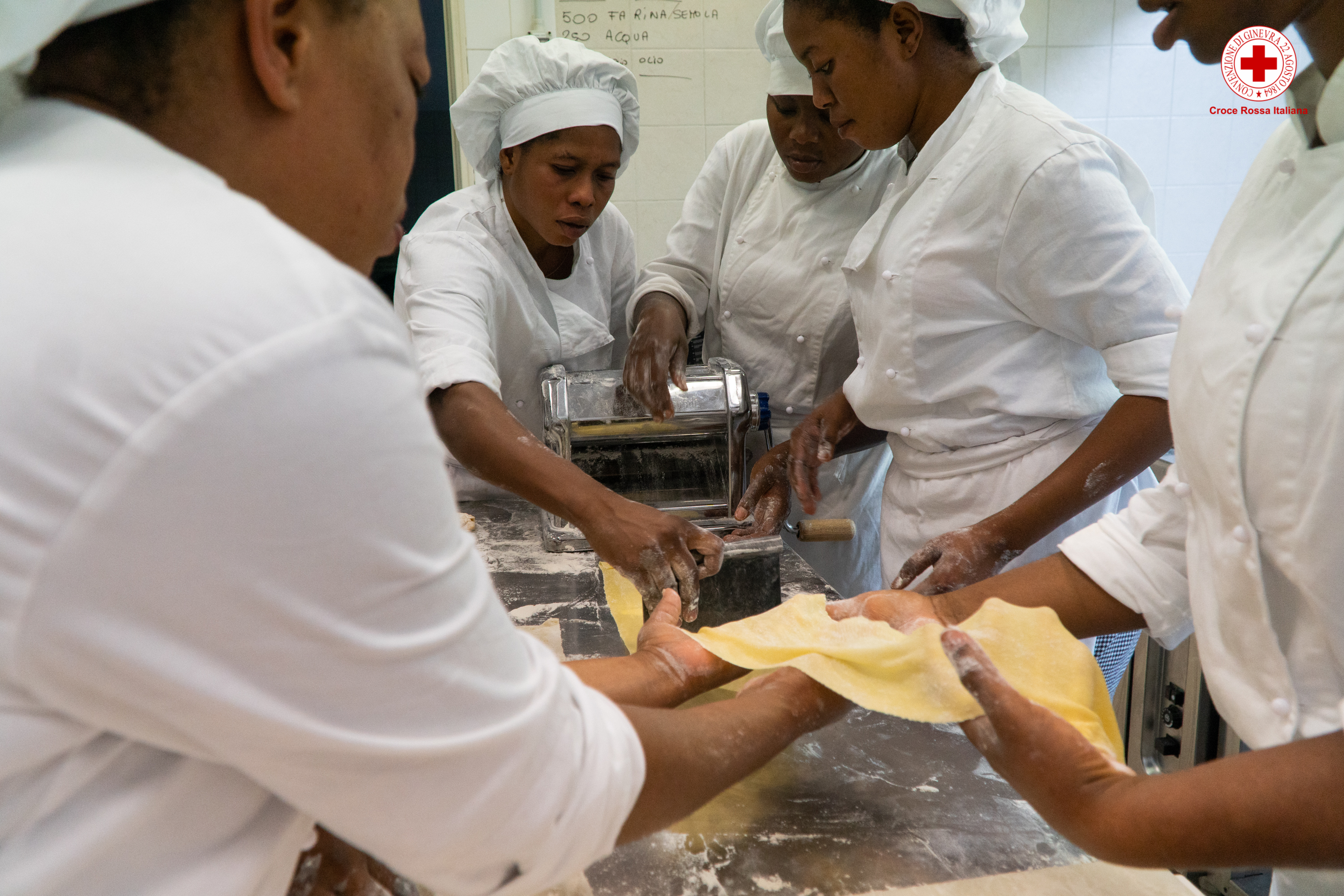 Survivors may be severely traumatised by the abuse that they have suffered. They therefore could require specific assistance to fully regain control over their lives. In Greece, the Greek Council for Refugees provides training to frontline workers, such as police, lawyers, and the personnel of non-governmental organisations (NGOs) to help them to better understand how trauma affects victims and to identify adequate ways to address their needs. In addition, the Greek Council for Refugees supports lawyers and NGOs in assessing complex cases, ensuring that presumed and identified survivors of trafficking get effective access to the different services to which they are entitled.
Access to employment is also a critical determining factor in any forward-looking integration process. With a job, survivors can not only seek to achieve economic stability, but can also create social and human bonds that will favour their recovery. However, they may face several obstacles, such as the lack of recognition of skills, that prevent them from moving forward. In Italy, the Italian Red Cross and the "Centro Nazionale Opere Salesiane - Formazione Aggiornamento Professionale" (CNOS-FAP) are implementing a job placement initiative targeting 20 women who were trafficked. After following a training course on cooking skills, food handling, and health and safety, participants are offered an internship to develop their professional skills and acquire better knowledge of the Italian labour market. During that time, they can also benefit from psychological support to help strengthen their resilience.
Ritha from Nigeria, mother of a six-year-old child, arrived in Italy when she was a girl. She enjoys being part of this project and hopes to work in a restaurant or a hotel in the future. "It is impossible to forget what I went through, but doing this training is a distraction and at the same time a hope", she said. She wishes to help people who have experienced trafficking and have a similar story to hers.
In Europe, thousands of minors continue to be trafficked and exploited to generate profits for criminal networks – they account for 23 % of all identified victims of trafficking. To respond to this worrying trend, the Italian Red Cross and Save the Children Italy are building the capacity of their employees and volunteers so that they can recognise and support children victims of trafficking. Through focus group discussions, this initiative works to challenge stereotypes and increase knowledge and awareness of the diverse and less known facets of trafficking. "It is important to know that boys and young men can also become victims of sexual exploitation. They just don't know how to talk about it", says Doctor Donatella Giunti, who participated in one of the focus group.
In the UK, Snowdrop provides tailored support to survivors of trafficking in various fields, including legal assistance, independent living, and physical and mental wellbeing. The British Red Cross provides short-term emergency accommodation to presumed victims of trafficking who need time and space to consider their options, and casework support to those outside of, or facing barriers in accessing statutory assistance. Survivors of trafficking are also offered volunteering opportunities with the Red Cross. Participatory activities place the survivor at the centre of the programme and ensure direct involvement in community life, which helps to create a social network. Every Child Protected Against Trafficking (ECPAT UK) is supporting Ayslum aid, an Oxford-based charity, to develop its capacities to undertake group work with young victims of trafficking by sharing its model of participatory youth work. This model enables young people to have their voices heard, become advocates for their peers, and contribute to social change.
In total, Pathways aims to train around 170 professionals to better support presumed and identified survivors of trafficking. Transnational exchange visits in the three participating countries will also be organised to consolidate the knowledge acquired during the implementation of the project.
Basic information
Activity name
Pathways
Country
Italy, Greece, the United Kingdom
Duration
2018-2020
Partners
Italian Red Cross, British Red Cross, Save the Children Italy, Every Child Protected Against Trafficking (ECPAT UK), the Snowdrop Project, the Greek council for Refugees, Centro Nazionale Opere Salesiane - Fomazione Aggionamento Professionale (CNOS-FAP)
Resources
Italian Red Cross website article