Aware and Resilient
The Austrian Red Cross, in collaboration with the Bulgarian Red Cross, the French Red Cross, the Latvian Red Cross, the Romanian Red Cross and the French Ministry for Ecology, Sustainable Development and Energy, implemented the EU-funded Aware & Resilient Project from April 2013 to May 2015.
Although a host of activities on disaster prevention and preparedness measures have been implemented in the EU in recent years, citizens – particularly younger people – are not always aware of their own role and contribution to disaster prevention. It is also common for civil protection organisations and authorities to deliver disaster preparedness exercises without actively involving citizens in the community.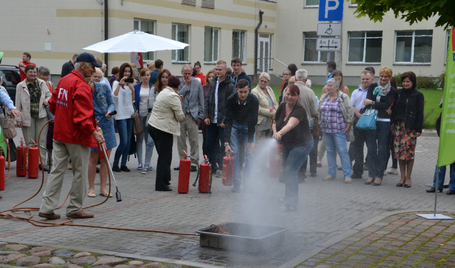 Consequently, the aim of this project was to raise the awareness of citizens of all ages of the value and benefits of disaster preparedness, in addition to creating community links between the different actors involved in disaster management at the local level.
A Community Based Exercise (CBE) was conducted in each of the five participant countries: Austria, Bulgaria, France, Latvia and Romania. These one-day interactive events involved 150 to 500 participants, including citizens and all key civil protection stakeholders such as volunteers, local emergency services and the media.
Through adapted training sessions, participants learnt about the real and potential risks threatening them and their communities, about how best to deal with these risks, and about the roles, capacities and working procedures of the relevant institutions. This was followed by a series of participative exercises designed to engage members of the community to transfer theoretical knowledge into practice, giving them an opportunity to practice using fire extinguishers, or to learn First Aid skills, for example.
The online training application "Worst Case Hero" was also developed as part of the project. It encourages players to expand and test their knowledge by inviting them to prepare for three possible disaster scenarios: floods, power outages, and a flu pandemic. Small-group discussions inspired local populations to consider the specific measures that families and individuals can take to strengthen their resilience, as well as to exchange opinions on how to respond to different types of emergency within the community. Support was provided in developing personalised family emergency plans and disaster kits, and interactive demonstrations carried out by local emergency services aided understanding of the kind of assistance that can be expected during an emergency situation.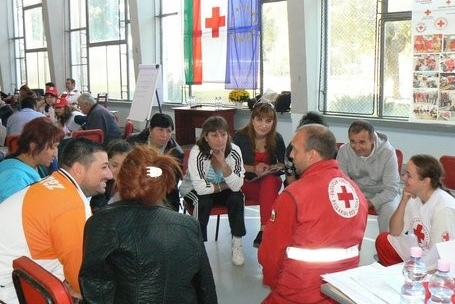 The Awareness & Resilient Project advocated the importance of disaster preparedness education and made practical information more accessible by translating the following tools:
Trainer's handbook: Bulgarian, English, German, French, Latvian, Romanian and Russian
"Self-protection plan for me and my family" leaflet: Bulgarian, English, German, French, Latvian, Romanian and Russian
Training programme for trainers: Bulgarian, English, German, French, Latvian, Romanian and Russian
Gaming Tool "Worst Case Hero": Bulgarian, German, English, French, Latvian, Romanian and Czech
The Community Based Exercise Guide: Bulgarian, English, German, French, Romanian and Latvian
Project partners developed an innovative format of citizen engagement and provided guidelines to inspire further progress. The translation and circulation of disaster preparedness education materials enables local communities to educate their peers and establish strong community links that build resilience and reduce the potential impacts of risks and hazards.
This project was implemented with the contribution of the Civil Protection Financial Instrument of the European Union.
Visit the Aware and Resilient website.
Basic information
Activity name
Awareness & Resilient Project
Country
Austria, Bulgaria, France, Latvia, Romania
Duration
2013-2014
Partners
Austrian Red Cross, Bulgarian Red Cross, French Red Cross, Latvian Red Cross, Romanian Red Cross, French Ministry for Ecology, Sustainable Development and Energy
URL
The Civil Protection Financial Instrument (SCFI) of the European Union is a mechanism that financially supports programmes for prevention, preparedness, and rapid emergency response to major disasters. SCFI has a budget of EUR 223.7 million (2014-2020) for actions within the EU, and awards to implement proposals from public and private organisations. For more information, examples of programmes, and contact details of national managing authorities, visit this page.