Community building and inclusion in Germany
Swimming lessons, a second-hand bike service, language classes and support with asylum claims are part of the German Red Cross's pledge to provide social inclusion support for migrants, as its focus moves from emergency response to longer term programmes. An estimated 25,000 volunteers and staff have been working on the migration crisis in Germany since last year. It is running more than 490 emergency accommodation centers across the country hosting more than 141,000 people.
The Red Cross is also currently playing an active part in language and integration sessions, employment training, family tracing services, medical care and psychosocial support for people suffering from stress and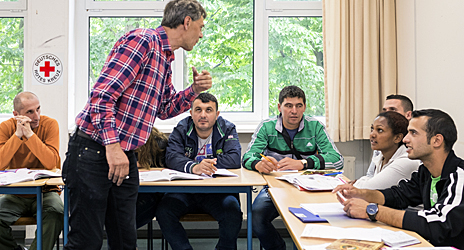 Germany has been one of the main destination countries for people heading into Europe through the Western Balkan route and across the Mediterranean. "More than one million had arrived in Germany by the end of 2015 and we were on the front-line, providing emergency support in arrival centres," Stefan Osche, Head of the German Red Cross Task Force for Refugee Camps.
"While we continue to provide emergency support, we are also focusing on community programmes aimed at helping people settle into life in Germany(...)The Red Cross has a long tradition of assisting migrants in Germany that stretches back to the Second World War and runs 200 information center for migrants and refugees nationwide," added Osche.
Last year, the German Red Cross was tasked with setting up and running two camps in Bavaria which are still operating – a response replicated in other parts of the country when the Red Cross is called upon to help by federal governments.
The camps have received support from the Red Cross Societies of Belgium, Denmark, Finland, Canada, USA, the Netherlands, Norway, France, Sweden and Switzerland. This support means it is the only national German Red Cross relief operation within Germany carried out using international support in recent history.
The German Red Cross has in turn provided support to the Hellenic Red Cross and the Red Cross of the former Yugoslav Republic of Macedonia.
Basic information
Country
Germany
Partners
German Red Cross