First aid around central Europe's largest lake
The largest lake in central Europe, Lake Balaton, has a maximum depth of 12 metres. While this is not especially deep for the area, the lake can pose significant risks to people's safety when crowds flock to spend their leisure time by its beaches and swim in its water.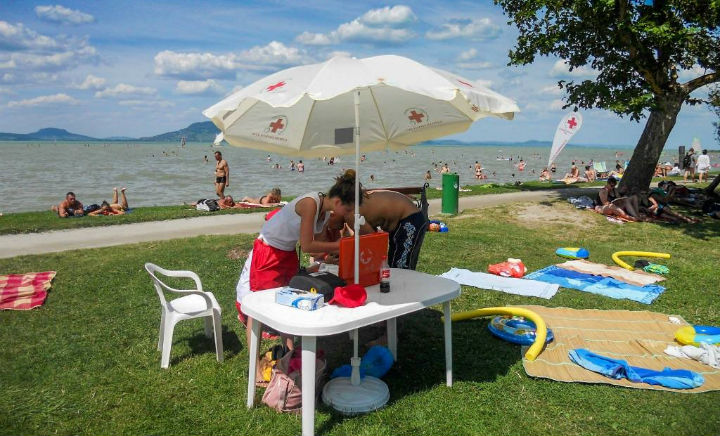 To protect the visitors, the Hungarian Red Cross has been running free first aid services on up to 20 beaches every summer since 2007. Volunteers from the Youth section carry out patrols and ensure that two people are on duty at all the first aid stations around the lake between 10am and 6pm during July and August. They are there to attend to injuries, stabilise patients, and call an ambulance when necessary. In case they need to resuscitate someone, there are 13 Automated External Defibrillators (AEDs) set up at various beaches.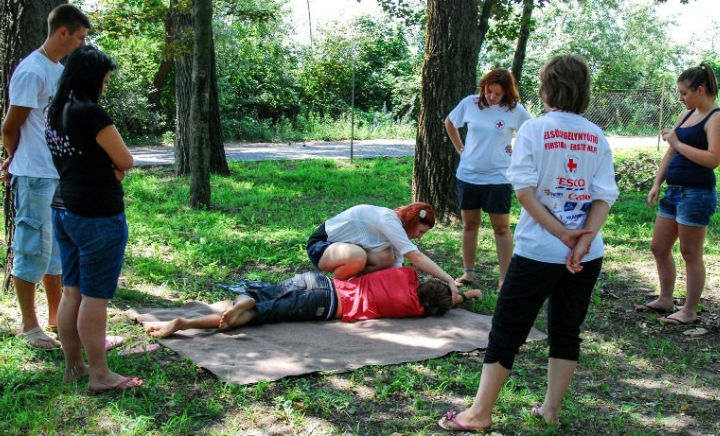 As the volunteers must all be well trained, this initiative also works to spread first aid knowledge. Before embarking on a shift of approximately 10 days, each person either refreshed their skills or receives comprehensive first aid training. Around 350 Red Cross youth volunteers participate each year. After the summer, they bring their new skills back to their homes across Hungary.
Around 3,700 people are treated for minor injuries each summer, and volunteers can see up to 180 cases on busy days. Since this first aid support around Lake Balaton was launched, five people's lives have been saved, with Red Cross volunteers calling the emergency services and successfully carrying out cardiopulmonary resuscitation (CPR) until the ambulance arrived.
There has been overwhelmingly positive feedback; 87% of patients surveyed rated the quality of the services given and the volunteers' professional knowledge as "perfect", 12% as "good", and the final 1% as "average".
While people of any age can have an accident or medical emergency, the assistance offered at Lake Balaton is particularly important to young children, as they often suffer the most from smaller injuries and insect bites. These services also help to raise awareness of the vital role of first aid. "We waded into the water at a tricky spot and a broken glass cut my foot. Then we had to run to the first aid point. Now I understand how important it is," explained Hungarian singer, Kati Wolf. In another case, a volunteer called an ambulance and cared for someone in need until it arrived. "I think I should attend a Red Cross first aid course. Thank you!" said the patient from the hospital.
These activities reveal the benefits of volunteering, both to recipients of first aid around Lake Balaton and to the young participants who gain training and the satisfaction of serving others. 97% of the volunteers said they will participate in the initiative next year, or would like to if they have the time. "It was a pleasure to be part of this gorgeous programme again. It lets me really help people, and develop my first aid knowledge," a Hungarian Red Cross volunteer expressed.
Medical emergencies and dangerous situations happen all the time, and we are never sure when they will occur. First aid training can save people's lives, particularly where there are grave injuries and it is critical that immediate action is taken. By increasing safety awareness, first aid training provides the skills and confidence to effectively manage an emergency without fear or confusion. National Red Cross Societies across the EU therefore not only provide essential first aid services at public events, such as football matches and festivals, but also work to increase the first aid knowledge of all kinds of people. The Bulgarian Red Cross, for example, has been delivering first aid training to learner drivers since 2003, while in Austria and the UK, the Red Cross campaigns to make first aid training part of the school curriculum.
Basic information
Activity name
Hétcsoda Adventure Camp
Country
Hungary
Duration
ongoing
Partners
Hungarian Red Cross
URL