From healthcare to socio-economic inclusion: alleviating the vulnerabilities of migrants in the Maldives
Proportionately, the Maldives has the largest population of migrants in South Asia, with migrants representing around one third of the population. These people, many from Bangladesh and India, contribute to the Maldivian economy and reinforce the workforce in key industries. However, they face significant challenges because of discrimination and exploitation, as well as limited access to health and justice – difficulties which have been further exacerbated by the COVID-19 pandemic. In response, the Maldivian Red Crescent, the Italian Red Cross and the Bangladesh Red Crescent Society established a collaboration in 2019 to ensure effective assistance to migrants in the country. The Bangladesh Red Crescent Society plays a key role in supporting individuals who decide to return to Bangladesh, while the Italian Red Cross brings significant national and international migration programming experience. "Within the International Red Cross Red Crescent Movement, we have the responsibility to support other National Societies, particularly where we can bring an added value building on acquired knowledge, experience and skills, defining solutions and addressing common challenges," says Fabrizio Damiani, International Cooperation and Relations Manager at the Italian Red Cross.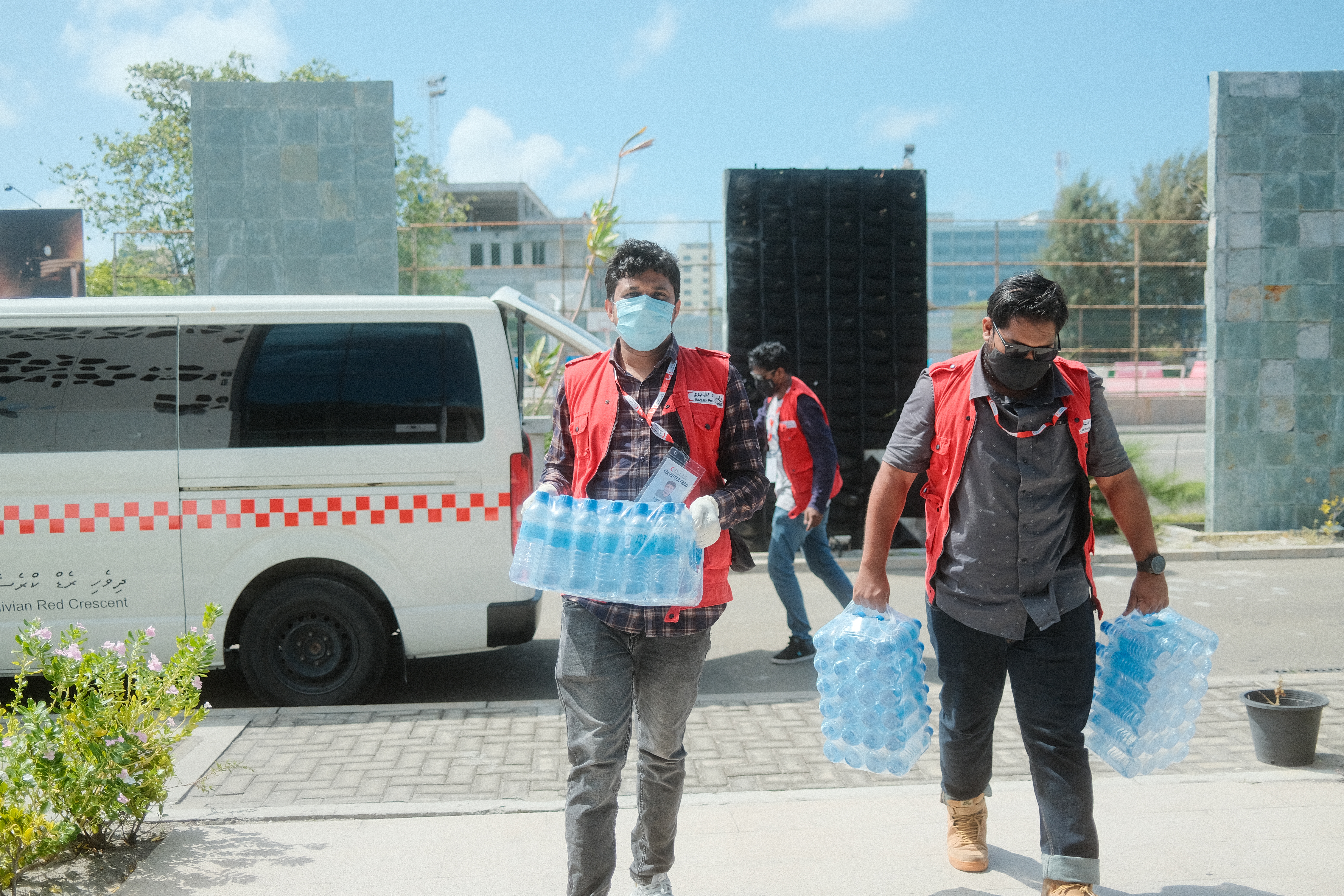 Through the "Migration and Displacement Needs Assessment", the Maldivian Red Crescent worked with the support for the Italian Red Cross to gather data from migrant communities and gain a more accurate picture of their needs and priorities. A fundamental tool to design relevant actions, the needs assessment found that many migrants face challenges related with accommodation, as facilities are cramped and often unhygienic due to overcrowding. People normally have to share a toilet. They often live on construction sites or even boat building sites in makeshift neighbourhoods without proper water and sanitation facilities. Other challenges relate to work, as migrants tend to work long hours without proper compensation.
A previous service implemented by the Maldivian Red Crescent assisted 65,000 people providing information regarding available processes and supports to regularise their work permission and documentation to stay in the country. The information gathered and the lessons learnt from the previous activities were crucial to define targeted strategies and relevant interventions in the areas of health, protection, and socio-economic integration and inclusion – including effective guidance and referral mechanisms.
A system of Humanitarian Service Points was set up, offering neutral spaces where migrants can collect essential items and access a wide range of humanitarian support, services and information. These service points are especially important in emergencies, disasters and crises. During the COVID-19 pandemic for example, many migrant workers, especially those without documentation, faced severe hardship as they were left without a means of earning a living. Staff and volunteers carry out various activities, including hygiene promotion, translation and communication support during legal proceedings or health visits, and additional support through a toll-free helpline. Healthcare and vaccination are also provided directly at the service points on specific occasions.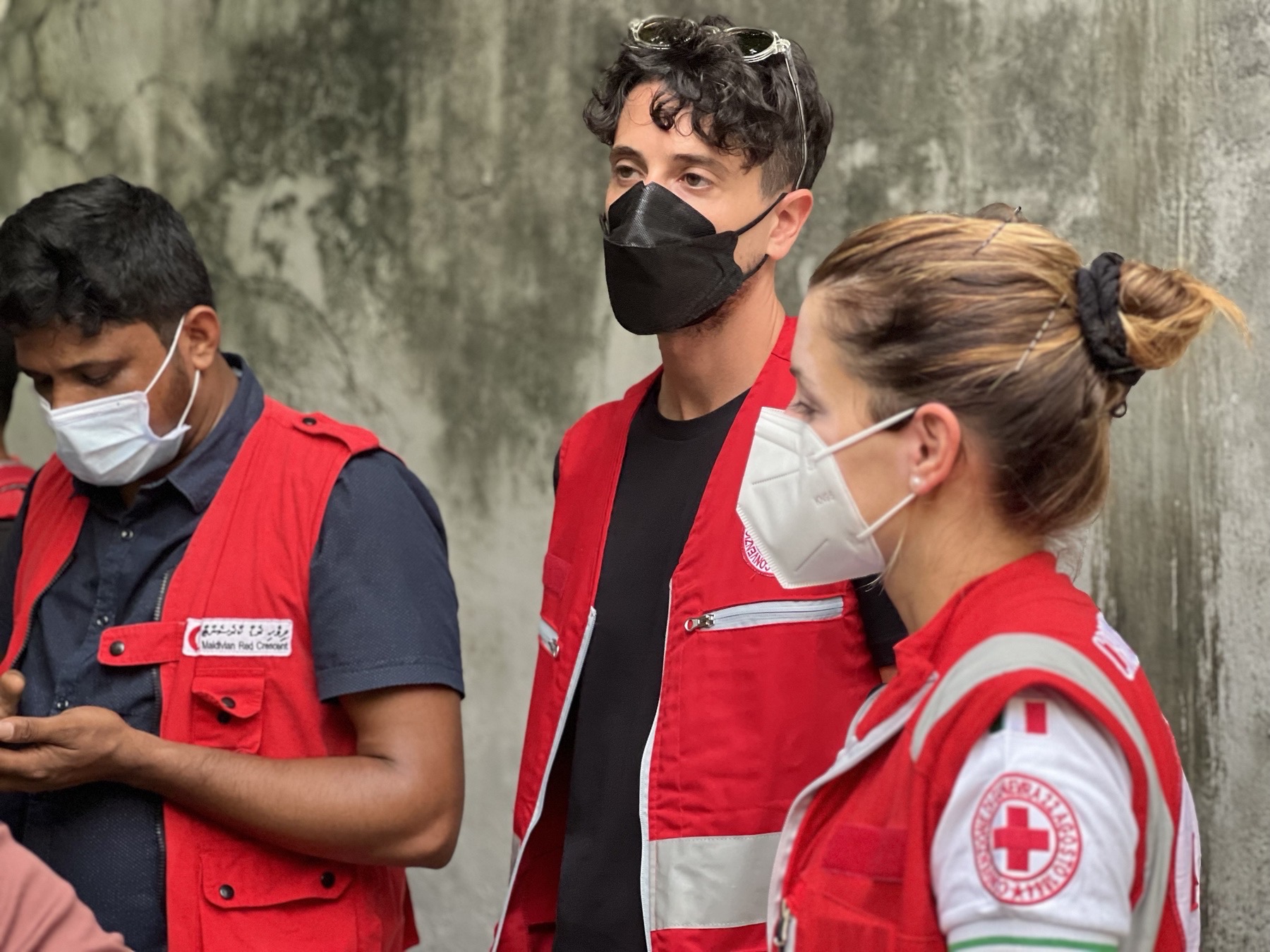 "Thanks to my volunteering experience, I have had a unique opportunity to work with locals and expatriates in the Maldives", say Kamal – a young migrant who started to volunteer with the Maldivian Red Crescent during the COVID-19 pandemic and now supports many of the activities aimed at migrant communities, facilitating dialogue with other people from his country of origin. "I have tried to contribute to Maldivian Red Crescent activities by providing social education, first aid training, vaccination, food and non-food items, translation services and supporting repatriation of the deceased. This made me experience the plight of migrants very closely," he adds.
With the support of its partners, the Maldivian Red Crescent has directly reached more than 2,000 migrant workers through the different activities of the project. The National Society plans to continue to expand existing services to strengthen community resilience and ensure that the most vulnerable people are reached, including in times of crisis. It also leverages its auxiliary role towards public authorities to advocates for the inclusion of migrants in healthcare and socio-economic services.