Girl-to-Woman
For many girls, women, and menstruating people around the world, it is difficult to live freely during their menstrual period due to a lack of access to the necessary hygiene materials. This is known as period poverty, a highly stigmatized phenomenon which can cause a series of physical and mental risks. In Hungary, the price for intimate hygiene products includes 27% VAT – the highest among EU countries. There is no governmental support programme on the matter, despite campaigns by civil society organizations to alleviate the burden of period poverty affecting vulnerable groups.
In 2018, the Hungarian Red Cross launched the Girl-to-Woman programme to tackle period poverty by providing free feminine hygiene products in schools, thereby reducing the potential consequences of this problem. This way, young people living in disadvantaged families do not feel ashamed or anxious, or miss out on school, solely because of their period. In 2021 alone, about 24,000 students in 500 schools received free period products through the project.
"Period poverty was not part of public discourse until a journalist drew people's attention to it in 2018. That was when we decided to establish a pilot programme in two specific districts with disadvantaged communities in Békés county, to assess whether cyclical school absences could be reduced if we provided high-quality period products for free", says Mariann Váradi, Girl-to-Woman Programme Manager. And indeed, a survey among students participating in the programme revealed that about one-tenth of the girls who responded had previously experienced difficulties because their families could not provide them with essential feminine hygiene products.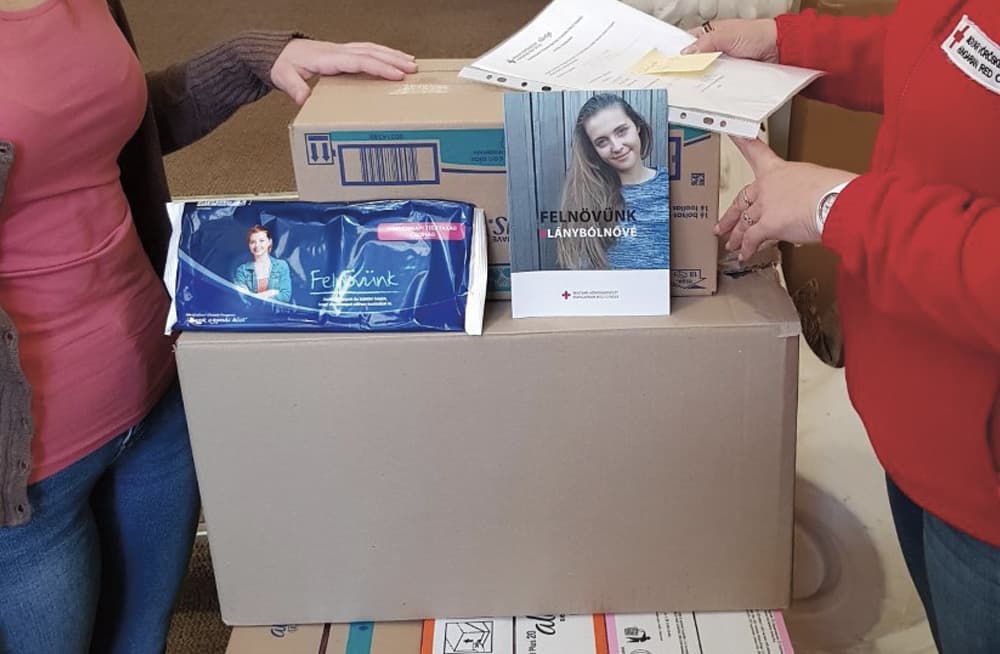 It emerged from the programme that in many cases adolescent girls struggle not only with a lack of menstrual equipment, but also with a lack of information. "There are families where this topic is not discussed at all, leaving girls alone to deal with their first menstruation", says Mariann. "In addition, if the family budget is tight, menstrual hygiene products are not at the top of the shopping list. That is when alternative items come into play, such as rags or torn sheets."
Additionally, according to Mariann, the mental damage caused by period poverty is considerable: "The natural process of experiencing a menstrual cycle for the first time is decisive in an adolescent girl's life. If girls have the necessary hygienic products, they gain a sense of security, comfort, and confidence. If, on the other hand, they have to face uncertainty in this regard, it can easily become a source of recurring fear."
In its first year, the pilot programme of the Hungarian Red Cross held educational sessions for a total of 1,600 students in Békés county, in addition to providing intimate hygiene products. Through group sessions, students are sensitised about menstruation as a natural bodily process. "The right time to talk about this topic might not be when the curriculum says so, but when the pupils face these problems for the first time. When children are taught about this part of the human body, they are usually well past their first period. With our programme, the goal was to give young people an opportunity to ask questions that may not be answered at home or in other circles of trust," says Mariann.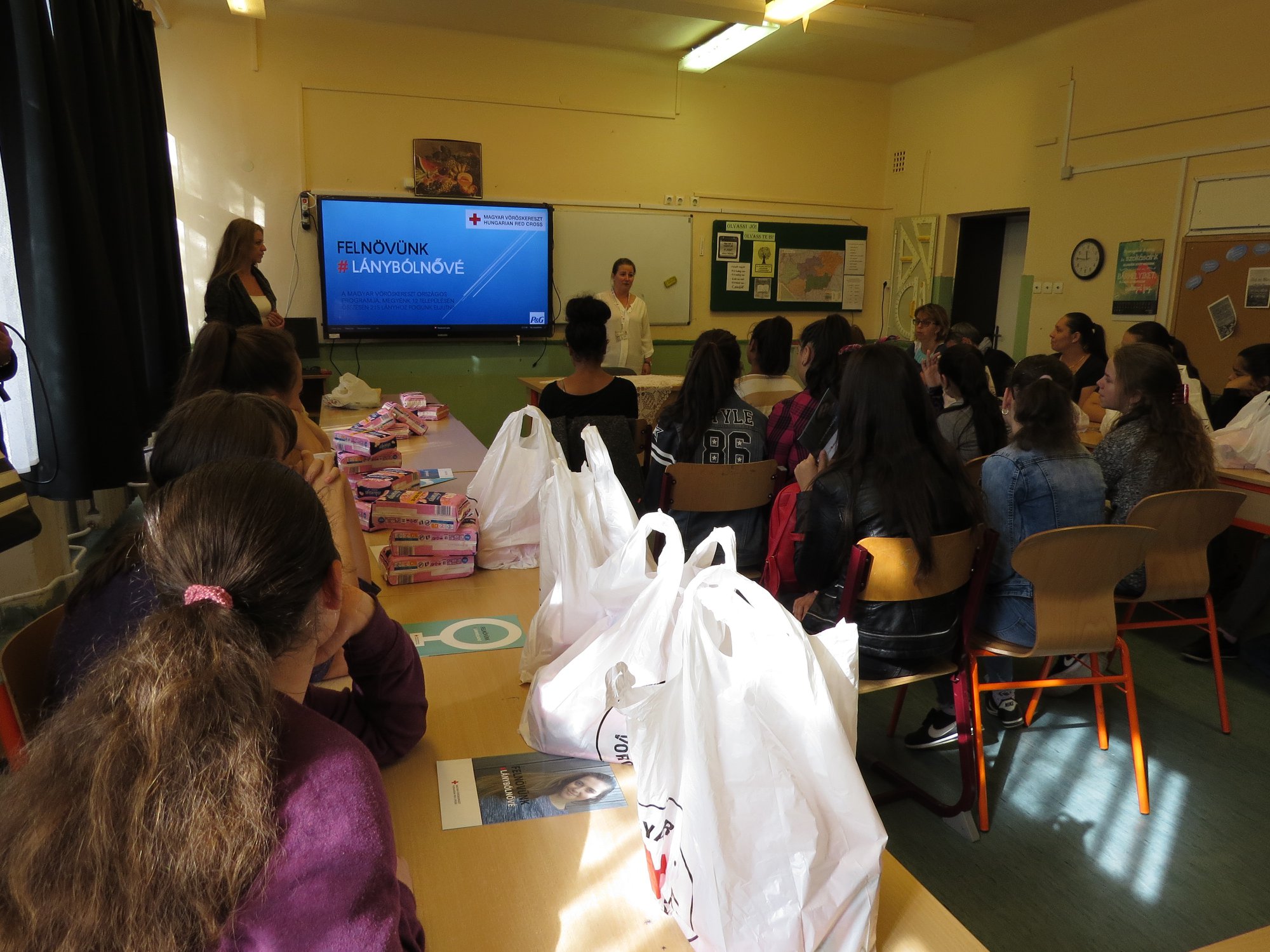 The Girl-to-Woman programme was extended to a nationwide project in 2019, reaching more than 4,000 seventh-grade girls through volunteer teachers, nurses and doctors. In 2021, 500 boxes containing feminine hygiene products were delivered to educational institutions. The sessions were replaced by a film made with the University of Miskolc. In addition to feminine hygiene products, the Red Cross also provided makeup bags so that students could carry around the menstrual pads in a discrete way.
Despite the progress made by the Girl-to-Woman programme, civil society organizations operating in this area lack the resources and capacity to entirely eradicate menstrual poverty in Hungary by themselves. "These products are quite expensive", Mariann says. "A government-funded programme is needed so those who cannot afford these products can get them for free." Despite that, a notable accomplishment of the Girl-to-Woman programme is that period poverty has appeared in the public discourse, making it less of a taboo subject in Hungarian society.
Basic information
Activity name
Activity name: Girl-to-Woman
Country
Hungary
Duration
2018 – ongoing
Partners
Hungarian Red Cross, Faculty of Health Sciences of the University of Miskolc
Resources