Preparing schools and kindergartens for hazards
Due to the impacts of climate change, extreme weather events such as floods, droughts, cold snaps and heat waves can be expected to occur more frequently in the future. When these types of disasters happen, children are often among the most vulnerable. Regulations and the general framework pertaining to safety, first aid, and disaster preparedness in schools and kindergartens differ from country to country. As does the extent to which these regulations are implemented and integrated into regular activities. Thus, the Safer Schools and Kindergartens project, co-financed by Erasmus+, aimed to raise awareness and improve policies for disaster preparedness and first aid in schools and kindergartens in Austria, Bulgaria, Croatia, North Macedonia and Serbia. Throughout the project, 57 schools and 67 kindergartens participated in the piloting of platform activities, reaching more than 3,500 pupils and 260 teachers.
An online disaster risk reduction and first aid platform for primary schools and kindergartens was set up, containing a host of pedagogical material, including emergency checklists, general safety information, and tools for disaster risk reduction, first aid, and psycho-social support. "The platform is very user friendly, concrete, and filled with excellent materials that are very useful for all teachers working in schools and kindergartens," said a project participant from Croatia. Before the piloting phase started in schools and kindergartens, 380 teachers and Red Cross volunteers learned about disaster risk reduction and safety issues and were trained to use the platform. They then became ambassadors who accompanied the piloting process and provided additional support to schools and kindergartens.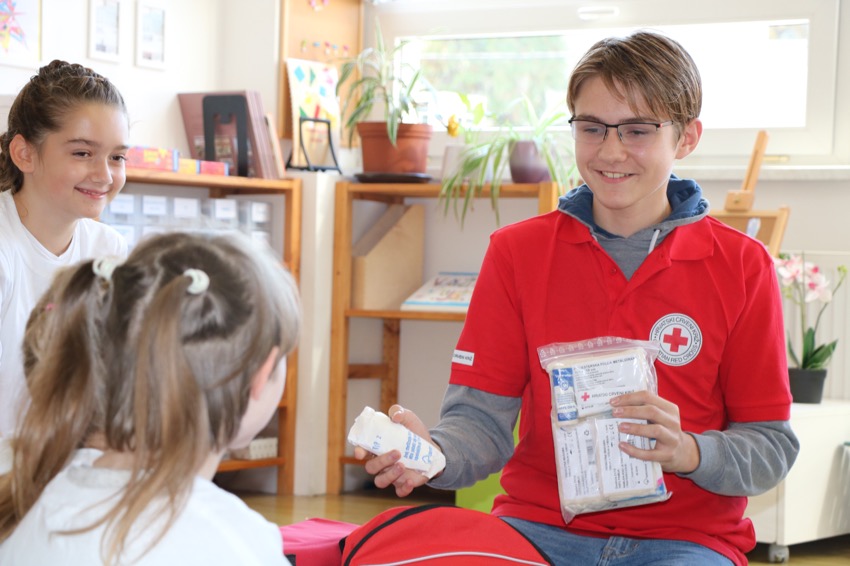 Participating institutions were encouraged to increase their disaster preparedness by becoming certified as a "safe school" or "safe kindergarten" after completing activities on the online platform. Activities offered to achieve this certificate included first aid refresher classes for teachers, first aid beginner classes for pupils, sessions for children to practice making an emergency call, and an exercise where kids could pack an "emergency backpack" by choosing cards with images of emergency supplies. Through collecting findings from the exercises, partners aimed to harmonise regulations concerning school and kindergarten safety through recommendations towards three different types of stakeholders: policy makers, schools and kindergartens, and National Red Cross Societies. "The project has given us the opportunity to work with ready-to-use materials and allowed us to have a more holistic approach to first aid, psycho-social support, and safety topics.", said a Kindergarten teacher from Bulgaria.
Ultimately, the project improved the knowledge and competences of primary school students and children attending kindergarten in school safety, disaster risk reduction, and first aid. It also strengthened their abilities to cope with stressful situations. Furthermore, primary school and kindergarten teachers enhanced their capacities regarding these key aspects and existing innovative and interactive participatory tools to share with schools via the online platform were collected. In Austria, evaluation results showed that kindergarten teachers ranked their competences and their ability to transfer knowledge on first aid or disaster risk reduction to their pupils higher than before the project. Throughout the exercise, cooperation was strengthened between National Red Cross Societies and several different stakeholders, such as the Teacher Training Agency, the Ministry of Education, and the Protection and Rescue Directorate. "We think the program makes absolutely sense. The children show interest in the topics of health, prevention, traffic safety and first aid. It is an important impetus to increasingly include this content in educational work", says a kindergarten teacher in Austria.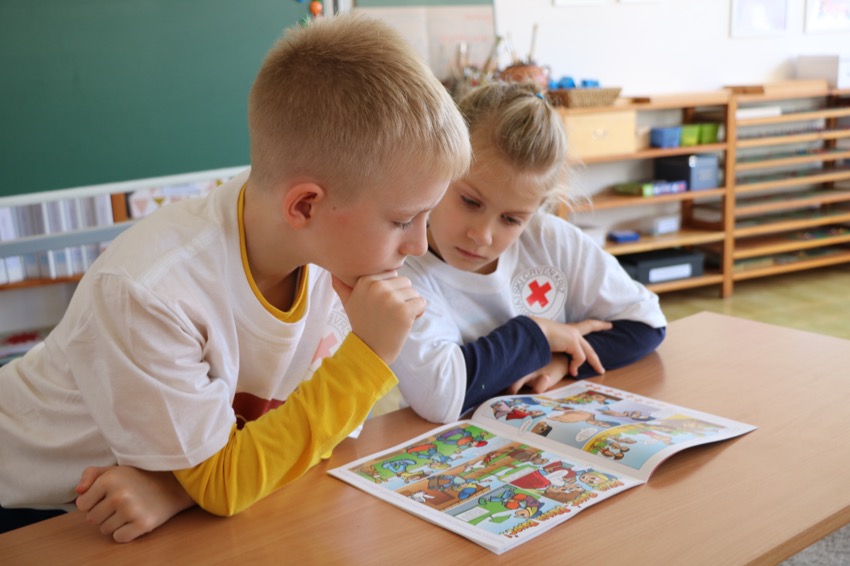 The major earthquake in Croatia in December 2020 brought home the importance of increasing the disaster preparedness of young kids. Following the 6.4 magnitude quake in Petrinja, there was a surge in interest around the project's activities, particularly the online platform. So, the Croatian Red Cross organised several professional seminars for teachers and other experts working with children. The goal was to help them learn how to behave during an earthquake and how to prepare for other disasters in terms of general safety, first aid, and psychosocial support. Members of the local community, particularly the parents of the kindergarten and school children, were informed about the project and involved in the implementation of some of the project's activities. These included identifying and choosing a safe space in the kindergarten or school in case of an earthquake, followed by a security procedure that was demonstrated by one of the ambassadors, and finalised by a session where participants coloured in a work sheet to memorise the security procedure.
The Safer Schools and Kindergartens project culminated in a multiplier event in partner countries in January 2021, which served to present the platform and key recommendations. From an educational standpoint, the project was appreciated for conveying important skills to children early on in life. Other important advantages of the project are the simplicity of using the platform, making it easily accessible and understandable for children of all ages and backgrounds, as well as its ability to quickly adapt to new challenges, for example through offering activities helpful for handling the COVID-19 pandemic.

Basic information
Activity name
Safer Schools and Kindergartens
Country
Austria, Bulgaria, Croatia, North Macedonia, Serbia
Duration
November 2018 - January 2021
Partners
Austrian Red Cross, Austrian Youth Red Cross, Bulgarian Red Cross, Croatian Red Cross, Red Cross of North Macedonia, Red Cross of Serbia
URL
Austrian Red Cross - Safe Kindergarten
Austrian Red Cross - First Aid Fit
Resources
The "Safer Schools and Kindergarten Project" is co-funded by the European Union. This text reflects only the author's view and the Commission can not be held responsible for any use, which may be made of the information it contains.