Promoting resilient neighbourhoods to overcome vulnerability
Sweden ranks highly in terms of public health. However, disparities in this area are still a reality in the country. Apart from facing health disparities, people living in socio-economically vulnerable neighbourhoods were hit particularly hard by the COVID-19 pandemic – both by the virus itself and its socio-economic consequences. Gaps and inequalities grew, leaving people who had already been falling through the social safety net even more exposed, with children especially hard hit. Currently, these communities are also being affected by economic and other related consequences of the Ukraine crisis, such as rising energy prices.
The Swedish Red Cross is responding through its 'Socially Sustainable Cities' programme, which aims to contribute to improving the situation for people living in these areas and to countering the structural causes of inequality. The programme is driven by a needs-based approach and organises its activities around four focus areas, each representing the experience and capacity that the Swedish Red Cross can offer communities and partners:
Activities that promote health and well-being such as dialogue forums, homework buddies, leisure activities, and language cafes.
Safety promotion activities such as dialogue groups run through a participatory approach, community safety mapping and walks.
Activities that strengthen the resilience of individuals and local communities through crisis. preparedness and response, such as First Aid, Psychological First Aid and psycho-social support.
Protection- and rights-related activities such as pro bono counselling and information sharing.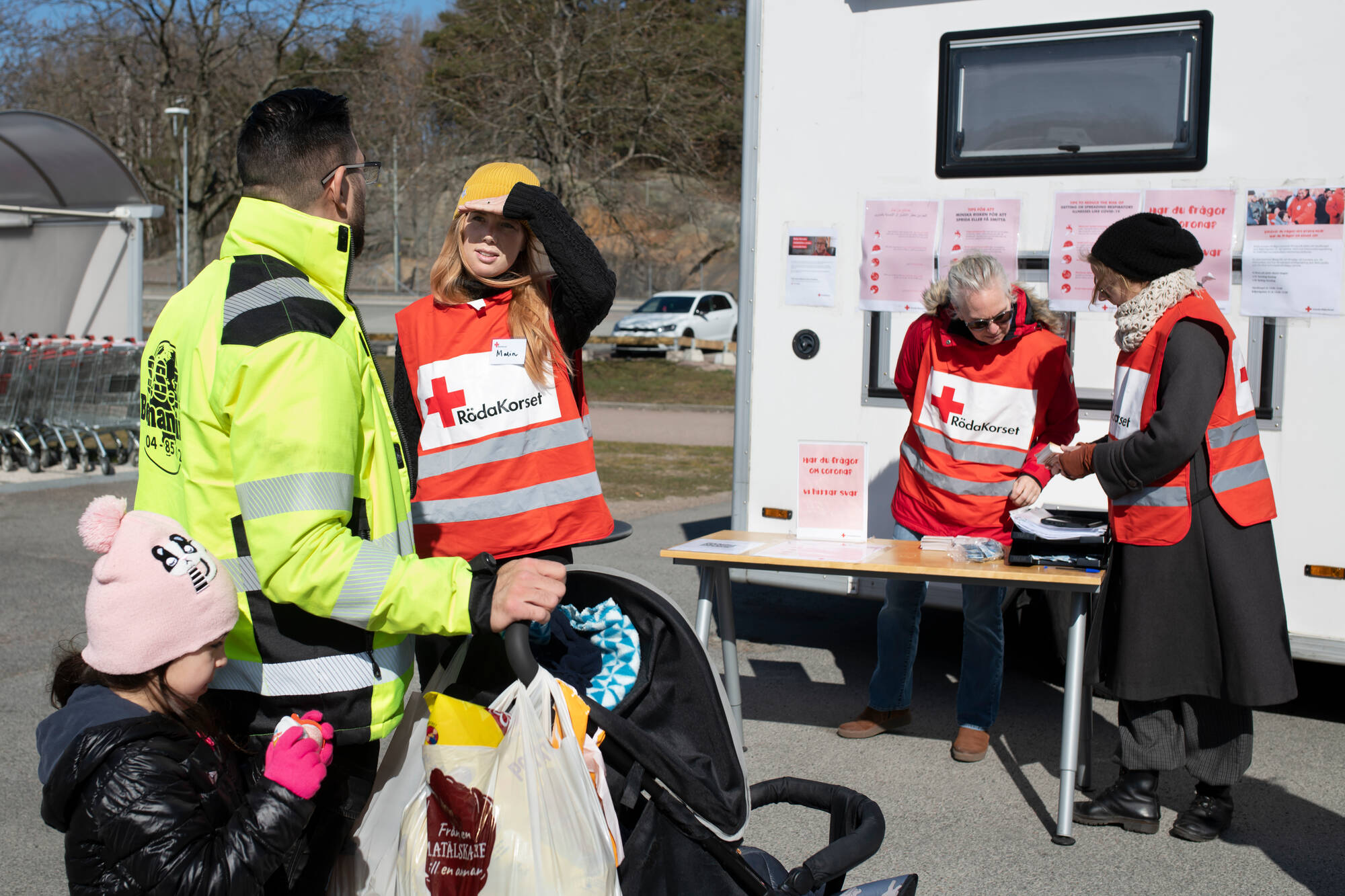 Through a community-based methodology, the Swedish Red Cross designs initiatives in collaboration with participants and builds on needs analyses and the needs expressed. Thanks to its strong local presence, the Swedish Red Cross was able to easily adapt and scale up activities to meet local needs when the COVID-19 lockdown started. "Through our local presence in urban areas, especially where the risk of socio-economic vulnerability is high, we can quickly adapt and adjust when crises hit", says Sofia Granhaga, National coordinator for the Socially Sustainable Cities Programme in the Health promotion and Social Sustainability Unit at the Swedish Red Cross. "This is greatly due to the consistent and long-term commitment of Swedish Red Cross' local branches, and our partners and staff within the framework of the programme."
Other efforts include initiatives in areas characterized by socioeconomic vulnerability, where the Swedish Red Cross provides opportunities for people to prevent and recover from long-term crises and concerns, while contributing to improved health and increased participation. This includes recurrent first aid training, dialogue groups discussing psychosocial support and mental health; and people in the asylum-seeking process receiving help through contact with the authorities and with guidance through local activities.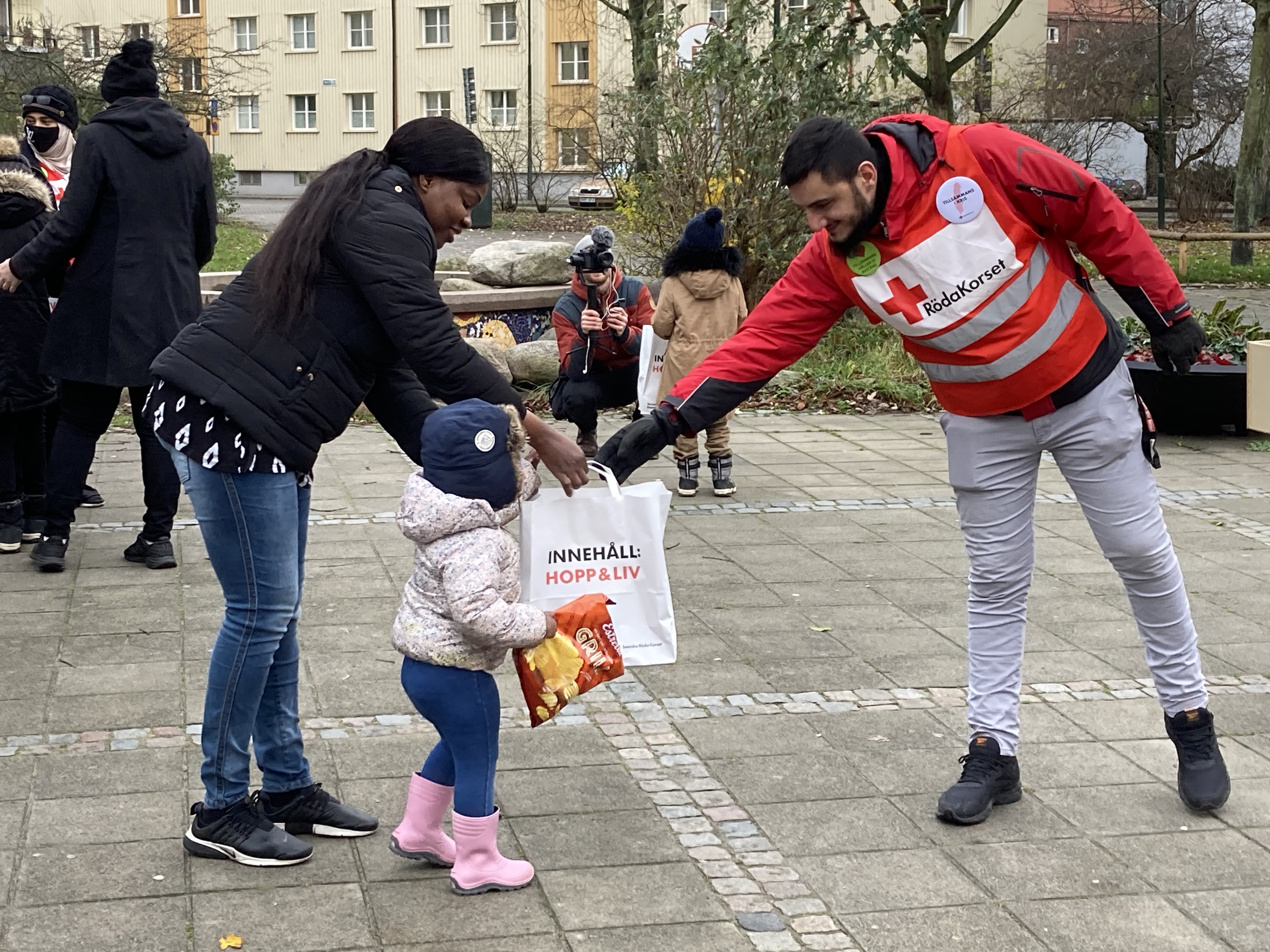 In 2020, the Swedish Red Cross partnered with several local civil society organisations and businesses. In total, 2,700 grocery bags were handed out that year, reaching over 8,000 people. "My husband and I lost our jobs", says Catherine*, one of the people who received groceries though this initiative "We got an email from a woman working at the Church of Sweden inviting us to pick up food, so we went. Later, I saw in an email that the Red Cross was short of people to pack the food. I became a volunteer as I didn't have a job at the time. I helped them pack food, and when it was time for me to leave, I took my own food home. The Red Cross in Stockholm helped me a lot. I was happy to help them."
The Swedish Red Cross also provided information about testing and vaccine through awareness-raising campaigns in 11 urban areas Moreover, longer-term consequences of isolation were addressed, particularly among the elderly and other risk groups, through advocacy highlighting the humanitarian consequences of the issue, – and work to ensure equal and appropriate access to, and information about, testing and vaccination against Covid-19.
An important advocacy tool is the report "Local strength in a crisis" which builds on the experiences of the COVID-19 pandemic in socio-economically vulnerable neighbourhoods and issues recommendations for local authorities to carry out before, during and after a crisis.
The programme is still running and will expand from 30 to 50 urban areas throughout Sweden by the end of 2023. Through 2022 it aims to contribute to increasing capacities, by working with and through communities to reach more residents with knowledge and training, to prevent and recover in the event of crisis and social tension, to improve health, and to reinforce participation and safety.
*Her name has been changed to preserve her privacy.