Reacting in emergencies
Following the Brussels attacks in March 2016, and drawing from the experience of the French Red Cross in responding to similar events of November 2015, the Belgian Red Cross proactively set up a new training programme for the general public: "Reacting in emergencies".
People's reactions in emergency situations are not easy to predict. The "10-80-10" theory of survival purports that 10% of people will be leaders that remain calm and lucid, while the majority of people – 80% – will be confused and bewildered, and a minority will further lose control.
Lack of preparation can make people feel helpless in emergency situations, so training is a vital precaution. Questions to consider in advance include: how to react? How to protect oneself? How is it possible to help? Adopting a good attitude and taking effective action helps save lives.
Organised in collaboration with the Fire Brigade and Emergency Medical Service (SIAMU) and the Institute of Training in Emergency Medical Aid (IFAMU), the programme aims specifically to prepare people for emergencies where the rescue services are overwhelmed. When there are more victims than the rescue team can provide support to, ordinary citizens equipped with the right skills and knowledge are crucial to reduce risks for themselves and those around them. Every citizen is a link in the chain of rescue.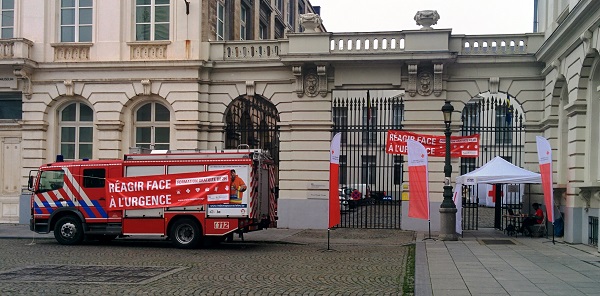 Collaboration with Brussels' Regional Government has enabled the courses to be provided free of charge. The training approach combines field experience and expertise in public awareness around First Aid. It is applicable to a range of emergencies, from the human and technological to the naturally occurring.

During the training, participants learnt how to react in the critical moments after an emergency has occurred and while they wait for help to arrive. It is very important to retain self-control and seek out a safe area, before attempting to assist others and offer First Aid if necessary. The training also addressed the appropriate way to interact with the police, army and medical teams during these situations. The sessions concluded with an exchange on how to handle personal stress, particularly regarding children and relatives.
The courses have been well received. Approximately 2,000 people have attended so far, and of those surveyed, 86.9% have stated that they found the training to be relevant, 63.6% have said they feel like they could handle an emergency situation thanks to the course, and 70.4% have expressed an interest in taking further first aid courses and getting the BEPS (European First Aid Certificate) to complete their training.
The programme continues to build on its success, expanding to deal with responses to more kinds of emergencies. In 2017, training sessions began on the June 3 and will continue over the coming months. On Saturdays they are reserved for adults, and on Sundays they are reserved for young people over 12 years old.
A working group composed of representatives of the Belgian Red Cross and the Fire Brigade and Emergency Medical Service (SIAMU) will be established in September 2017 to consider a plan for sustaining these kinds of training in the future.
The "Responding to Emergencies" training courses do not replace specialised training, and can be extended by other Red Cross courses.
For more information and to register for the training, visit the programme's website.
Basic information
Activity name
Réagir face à l'urgence (Reacting in emergencies)
Country
Belgium
Duration
2016
Partners
Belgian Red Cross, Fire Brigade and Emergency Medical Service (SIAMU), Institute of Training in Emergency Medical Aid (IFAMU)
URL