Responding to the needs of migrants along the route: Red Cross Humanitarian Service Points in West Africa
On their journeys, migrants often face difficulties in meeting their needs and accessing essential services. They also risk being subject to violence, exploitation and abuse. In these cases, people on the move often rely on the support of humanitarian organisations to access essential services, such as health care.
Taking advantage of their presence throughout migratory routes, National Red Cross and Red Crescent Societies in different regions of the world have set up Humanitarian Service Points – neutral spaces that provide a welcoming and safe environment for migrants to access essential services, regardless of their status and without fear of being arrested or reported to the authorities.
Humanitarian Service Points can be fixed or mobile. There is no one-size-fits-all model of operation, allowing sufficient flexibility to reach the diverse and evolving needs of migrants, while safeguarding their dignity and protection. Services depend on migrants' needs and the resources and capacities of the local National Red Cross or Red Crescent Society. Activities include language assistance, psychosocial or mental health support, health or medical care and referral, legal support, the distribution of food and non-food items, shelter and bathing facilities, family tracing and restoring family links (RFL), and specialised services for individuals with specific vulnerabilities.
One example of the Humanitarian Service Points approach can be found in West Africa. The Spanish Red Cross, the Danish Red Cross, the Italian Red Cross and the Luxembourg Red Cross are working together to implement the project "Assistance and protection of the most vulnerable migrants in West Africa'' along the main migratory routes between West Africa and the Sahel to North Africa. The project covers different regions along much travelled migratory routes between Burkina Faso, The Gambia, Mali, Niger, and Senegal.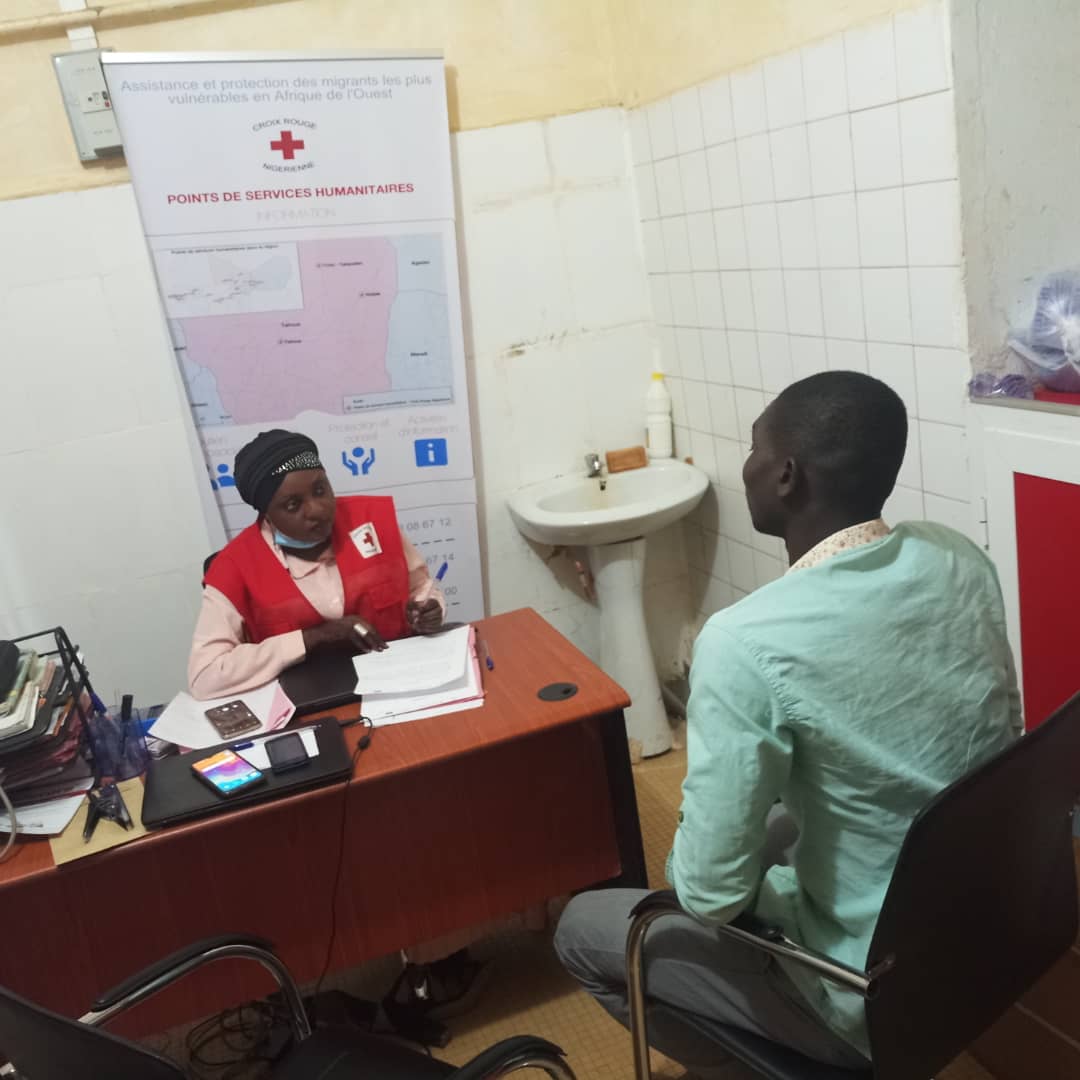 In partnership with the National Red Cross Societies in these countries, the project ensures access to essential services for migrants in transit who face acute vulnerabilities, including victims of trafficking, but also to local communities. Activities range from housing and health to psychosocial and livelihoods support, as well as training and awareness raising with community members and state actors.
In this way, project partners aim to help institutional and local actors to increase their knowledge and capacities about the risks and protection needs of people on the move. Tailor-made humanitarian diplomacy interventions are also undertaken so that public policies for the protection of migrants at national and regional levels are developed and properly implemented.
In addition, 10 'listening centres' were set up across the five countries, where migrants are offered psychosocial support. Moreover, three migrant reception centres were established in the Tahoua region in Niger, and in Burkina Faso and The Gambia, where the most vulnerable migrants in transit are supported with temporary accommodation.
"The humanitarian service point offers a free, anonymous and confidential reception and listening space to migrants in difficulty or those who feel the need to confide in someone", says Jaques François Sambou, social worker at the Kolda Humanitarian Service Point run by the Senegalese Red Cross. "When migrants present a need that we cannot meet, we refer them to external structures. We also carry out awareness-raising activities with local communities to ensure that the rights and dignity of migrants are respected," he adds. In the area of health for example, collaboration agreements have been signed with national health authorities for the referral of cases beyond basic care.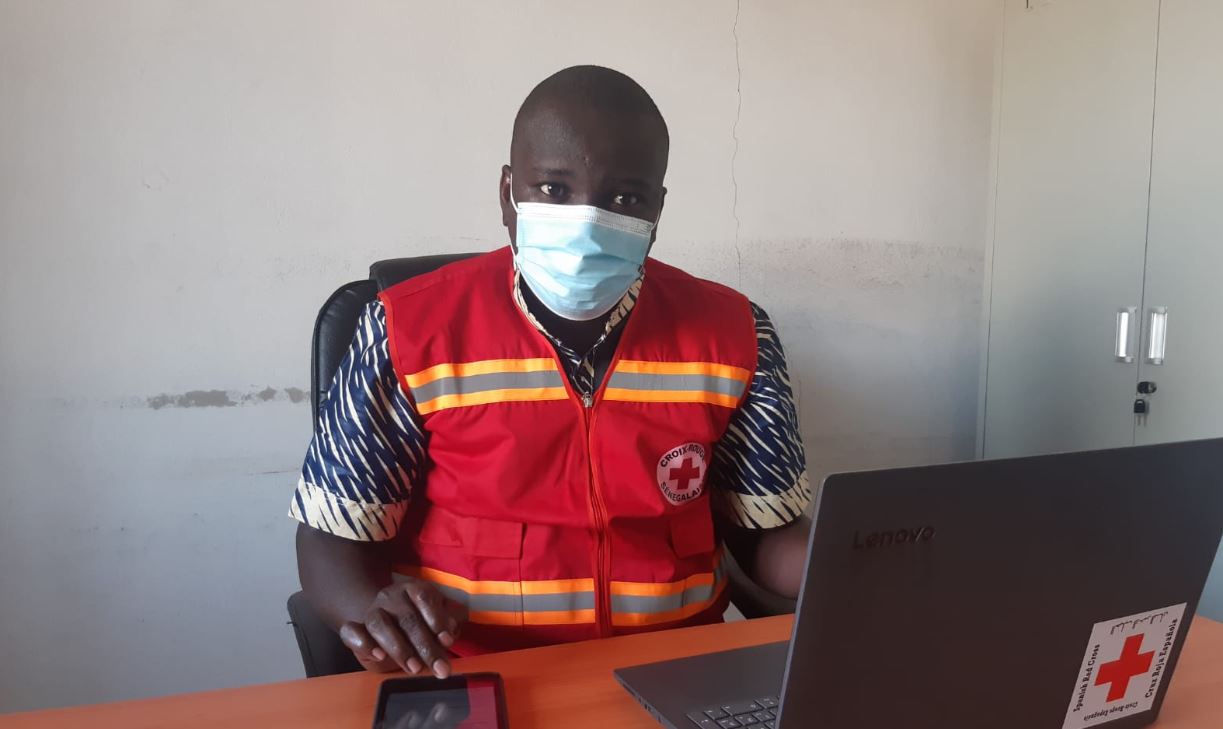 Red Cross staff and volunteers seek to meet the needs of migrants in transit, particularly at the borders. People who receive assistance from the Red Cross have often undergone lengthy and perilous journeys, leaving them in need of accommodation and psychological support, as well as timely emergency assistance in terms of access to food, amongst others. Their economic precarity and the fact that they are undocumented not only hinders their access to services, but also puts them at higher risk of sexual abuse or labour exploitation.
"I received medical assistance and had an interview with a psychologist who also gave me advice", says Dovassi Odoh, who was assisted at the Humanitarian Service Point in Tahoua, Niger, on his way from Togo to Algeria. "I will never forget the help the Niger Red Cross gave me; thanks to you I found my health".
Through the Humanitarian Service Points, National Red Cross and Red Crescent Societies aim to create a safe, one-stop shop to provide information, direct humanitarian assistance and protection services for migrants moving along migratory routes. Such agile mechanisms allow timely responses to emerging needs.
With many people living in hiding across migratory routes within the EU, the establishment of additional Humanitarian Service Points whare are protected from the scope of immigration enforcement activities should be encouraged. This could help to bring us a step closer to securing a conducive environment for humanitarian actors to address migrants' vulnerabilities and needs, as well as mitigating the risks that migrants face.
Basic information
Activity name
"Assistance et protection des migrants les plus vulnérables en Afrique de l'Ouest" (Assistance and protection of the most vulnerable migrants in West Africa)
Country
Burkina Faso, The Gambia, Mali, Niger, Senegal
Duration
15 January 2020 – 14 January 2023
Partners
Spanish Red Cross, Danish Red Cross, Luxembourg Red Cross, Burkinabe Red Cross, Niger Red Cross, Mali Red Cross, Senegalese Red Cross Society, The Gambia Red Cross Society
URL
EU Emergency Trust Fund for Africa: Appui à la protection des migrants les plus vulnérables en Afrique de l'Ouest
Resources