Support at home following hospitalisation
The British Red Cross' assistance programme 'Support At Home' provides short-term support services to individuals in need of extra help after a stay in the hospital. People that fragile or elderly, can be more at risk of future accidents and injuries. The programme is therefore also critical for those who wish to avoid hospital admissions in the future. With support from the British Red Cross, individuals are able to ease back into their daily routines and regain independence through physical, emotional and social services.
The transition from a stay at the hospital back to life at home may be a challenging for individuals trying to adjust to old routines. Those that have suffered from an accident can find it hard to get around, or to complete daily tasks without assistance. They may no longer be able to go out to shop, walk a pet, or visit a neighbour due to their physical condition.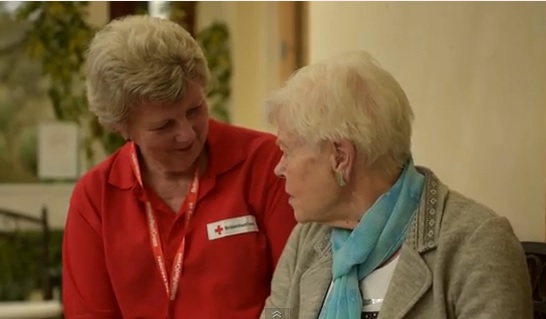 Unable to care for themselves as before, people can lose their sense of self-security and independence. Also, a prolonged lack of interaction with members of the community, may leave them feeling lonely or isolated. Red Cross volunteers support their efforts by providing extra assistance in completing daily tasks and creating a safe and friendly atmosphere to promote the healing process. Through first aid training and emotional support provided, volunteers help people adapt to new practices and routines, reducing the probability of them needing to return to hospital.
"I cannot sing their praises enough. It is very depressing living alone, but their visits cheered me up", said John Hill from Walcot in Swindon. "They changed my life around, if it was not for the Red Cross I do not know what would have happened. The highlight of my week was when the Red Cross volunteer came to visit and they would phone me up to check everything was OK. They were just brilliant."
Support at Home provides a wide range of practical services, which include transportation to doctor's appointments, picking up prescriptions, or organising events and workshops to encourage links between members of the community. Assistance is personalised and flexible to the needs of every individual, with essential services including chatting over a cup of tea, or taking a walk in the park, for example.
"I've done everything from ringing the plumber if the toilet's broken, to collecting a mobility scooter from town because someone was picked up by ambulance after they fell ill during a shopping trip. I've done supermarket shopping, cleaned out fridges, fed cats, walked dogs and collected people's dentures," Anne Sawyer, a British Red Cross volunteer and Marie Curie nurse.
Red Cross volunteers are an integral element of Support At Home, and are oftentimes locals who are able to respond to community-specific needs and difficulties. While volunteers provide basic first aid and social care, their commitment to providing emotional support also encourages a sense of self-determination and friendship. They help people recovering from a hospital stay to re-integrate into the community, establish social support networks and rebuild confidence and a sense of personal security.
Thanks to a partnership with Land Rover UK, the British Red Cross has successfully established Support At Home programmes in 11 rural and hard-to-reach areas.
Learn more about Support At Home.
Basic information
Activity name
Support At Home
Country
United Kingdom
Partners
British Red Cross with the support of Land Rover UK
URL