Published on
COVID-19 conversations: Stay safe while helping others
In this new series of articles, we interview representatives of different National Red Cross Societies, one pair at a time, to learn more about the impact of COVID-19 on their work, and ways forward.
Today we are joined by:
Mayi Mukuna
Food aid advisor, Strategic support to the network, Belgian Red Cross (French Community)
Agnese Trofimova
Head of International and Public Relations, Latvian Red Cross

In retrospect, how did you experience the beginning of the pandemic? How did the work of your department change in response to it?
Mayi Mukuna (Belgian Red Cross)
In Belgium, the lockdown started on 18 March and lasted until June. Some strict measures have been in place until now, and in recent weeks the government has imposed new restrictions to cope with the second wave.
At the beginning, we at the Belgian Red Cross asked ourselves many questions: what are we going to do? How are we going to work? What are our volunteers and employees going to do? I can speak about food aid, which is my domain. We believe it is important work, and in times of crisis even more. Vulnerable people come to our organisation, and with the COVID-19 crisis they are even more vulnerable, so it has been crucial for us to keep the services running. We currently manage 41 social groceries and 42 distribution places for food packages, sometimes both together, sometimes in separate locations. It is a big operation.
These programmes are almost entirely run with volunteers, and many of them are above the age of 65 years; they themselves are at risk during this pandemic. Among the recipients, you find many elderly people too. Suddenly human contact can be life-threatening, and some teams had to pause activities while others struggled hard to keep going.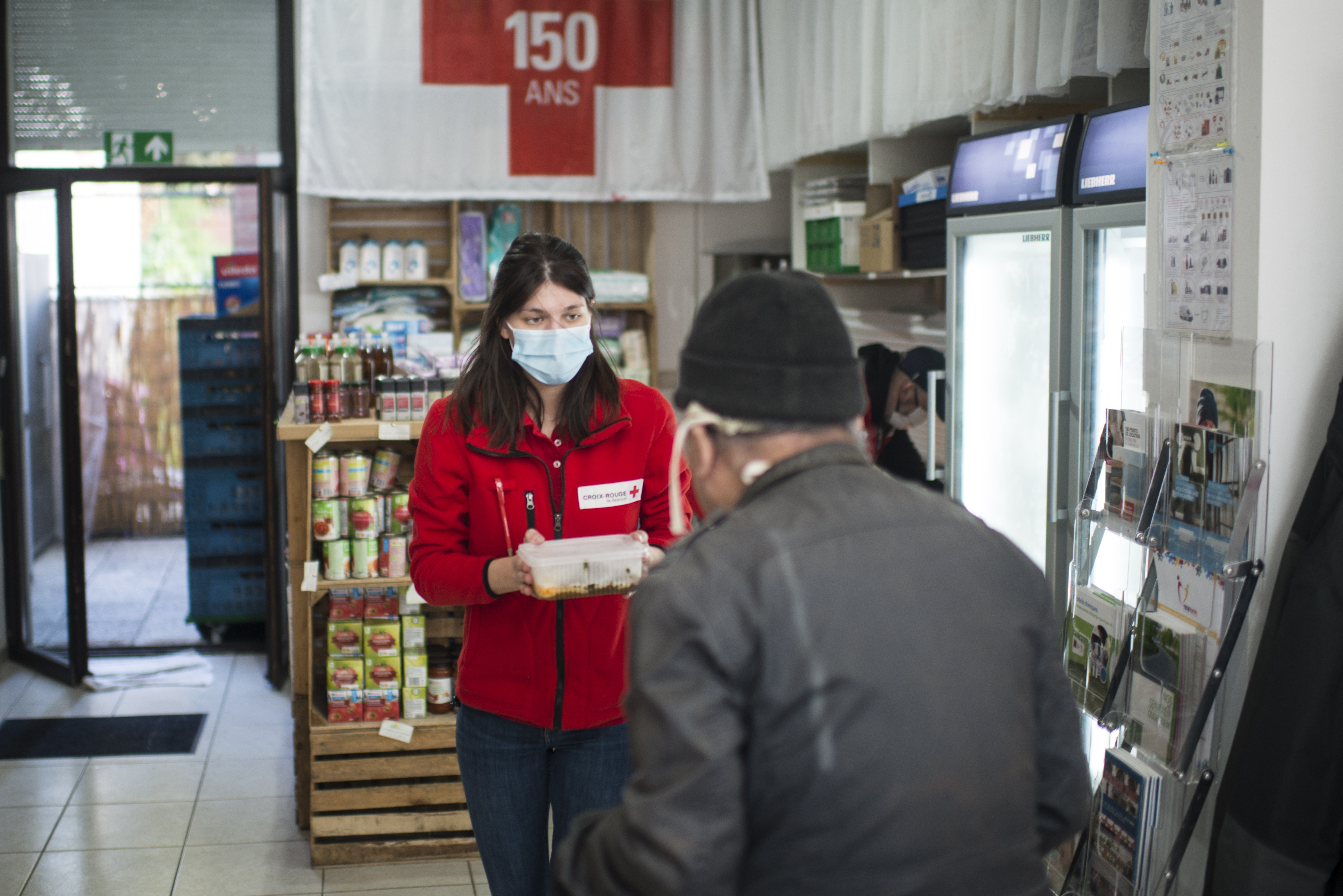 Agnese Trofimova (Latvian Red Cross)
In Latvia, things have been calmer because the infection rates have been lower. Still, the pandemic was a shock for many. Fear but also neglect quickly became a problem. At the beginning there were not so many cases, but in recent weeks numbers have significantly gone up, creating anxiety once again.
Mayi Mukuna (Belgian Red Cross)
Did the country also go into full lockdown?
Agnese Trofimova (Latvian Red Cross)
Latvia declared a state of emergency on 12 March. Masks became obligatory in public transport, and companies were requested to promote teleworking. We were taken by surprise. But the Latvian Red Cross decided that, because we run so many social services, including home care, social centres, shelters for homeless, day centres and crisis centres, we had to be there for people in need. And we had to step up our efforts. We did not stop any of the programmes, but introduced safety measures everywhere, including protective gear.
What are the most pressing issues now? How is your National Society approaching them?
Agnese Trofimova (Latvian Red Cross)
Our social workers and mentors continue to provide support to refugees and asylum seekers in a centre near Riga, though we noticed they present difficult questions triggered by the pandemic restrictions, such as on travel. The one area where we had to temporarily pause everything is first aid, one of our largest service sectors. No more individual first aid training, no first aid for driving licenses, and no first aid services during major events were allowed in spring/summer, which in other years was our peak season (but we could resume those activities later on). We also had to deal with restrictions in our 17 social centres: visits were limited or no longer allowed, which pushed our staff to get creative. Keeping in touch with family and friends is extremely important for people staying in social social centres, and technology can be very useful for that, so our teams help ensure regular contact with the help of digital devices – and provide psychological support to those who miss meeting their loved ones in person.
Beyond keeping our programmes and centres running, we have introduced new services including a helpline for people seeking practical support. It turns out 80% of the callers need psychosocial support, with people suffering from stress and anxiety about what to do, how to get food and other worries. Our volunteers adapted the services, and expanded the available services from delivering meals to people in self-isolation to organising online meetings and trainings to openly talk about mental health; many, especially young people, have shared that psychological struggles have been one of their major problems in the last months.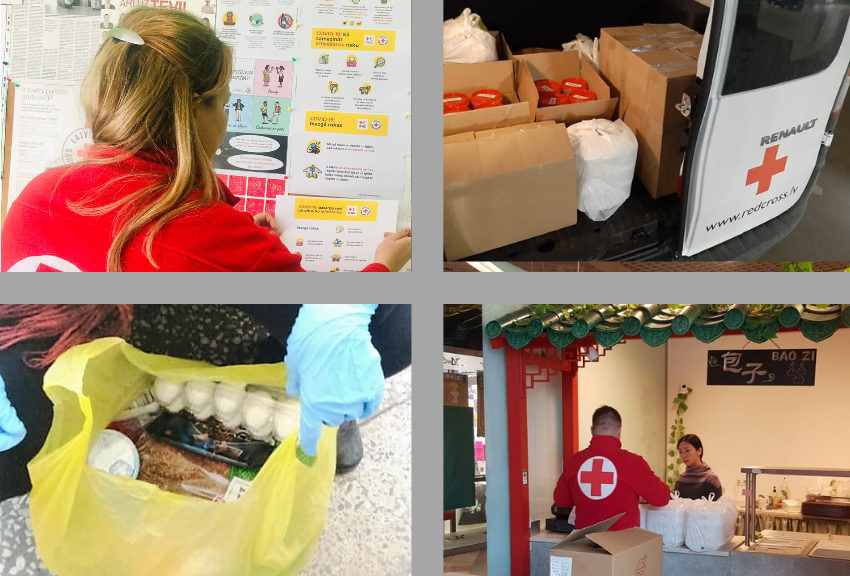 Mayi Mukuna (Belgian Red Cross)
Here, too, many people are asking for psychological help. The Belgian government established helplines at national and regional level. At the Belgian Red Cross, we continued to adapt aid delivery, both for those able to come to the social groceries and those who require home delivery. A key question for us was how to connect the different services and actors involved in the crisis response; multiple organisations play an important role.
Agnese Trofimova (Latvian Red Cross)
State institutions appointed the Latvian Red Cross as coordinator for the distribution of protective equipment, so we serve as distribution hub for NGOs across the country. We are happy about this assignment; in this way, we can make sure the frontline workers in many organisations, including our own social centres, get the protective gear they need to stay safe while helping others.
In parallel to that, we have seen interesting trends during the pandemic: new organisations emerging and taking up many of the new volunteer recruits, especially for delivering food at home, and other very positive initiatives such as catering companies offering to prepare meals for our social centres.
What will the 'new normal' look like for your activities? How will you ensure care for those most affected by the crisis in the long-term?
Mayi Mukuna (Belgian Red Cross)
In Belgium, the situation for people with low income is critical for many reasons. They are more exposed because they have less resources to keep themselves safe, because housing conditions can be dense, and other factors. Different aspects are coming together, including access to information. We have to increase our efforts to protect, as we know the pandemic is triggering an economic crisis. Thousands more will lose their jobs or have no business in the case of the self-employed, and others struggle with temporary employment. Many will be asking for help for the first time.
Agnese Trofimova (Latvian Red Cross)
Our work will be about practical, real action for people in need. To cite an example, a local branch of the Latvian Red Cross decided to reorganise their workshops towards producing masks so that medical masks stay available for the medical professionals, while other people can stay safe with cloth masks from the workshops.
In the future, mental health will be a huge topic. We really need to step up our work and change our ways of carrying it out. The demand for help is rising rapidly. In our communication channels, we begin with encouraging people to stay calm, to take it easy, and to keep up with the safety measures. It is vital to provide good orientation in times of crisis, and for the months ahead.
We also need to get better in planning and preparing for crises. We tend to talk about preparedness, but we should do more to prepare. In the past months, we have learned about quality assistance and support in times of lockdown; we must bring this knowledge to good use.
Additional information:
Website of the Latvian Red Cross in this link
Website of the Belgian Red Cross (French Community) in this link
---
Other COVID-19 conversations:
How to tackle rising needs and stigma
With the Hungarian Red Cross and the Slovenian Red Cross: in this link
Digital or face-to-face help?
With the Danish Red Cross and the Finnish Red Cross: in this link
Mental health will remain a challenge in the long run
With the Luxembourg Red Cross and the Portuguese Red Cross: in this link
The socio-economic crisis is worrying
With the Romanian Red Cross and the Swedish Red Cross: in this link