Published on
COVID-19 conversations: The socio-economic crisis is worrying
In this new series of articles, we interview representatives of different National Red Cross Societies, one pair at a time, to learn more about the impact of COVID-19, and ways forward.
Today we are joined by:
Andreea Furtuna
Director of Programmes, Romanian Red Cross
Therese Leijon
Head of Unit, Socially Sustainable Cities, Swedish Red Cross

In retrospect, how did you experience the beginning of the pandemic? How did the work of your department change in response to it?
Andreea Furtuna (Romanian Red Cross)
The first known case of COVID-19 in Romania was confirmed in Gorj County on 26 February. On 16 March, President Klaus Iohannis declared the state of emergency in the country.
Within only two weeks, the situation exploded. Everybody was scared, and no one was really prepared. The Romanian Red Cross went to collaborate with the authorities in charge of managing the crisis. We started with an online prevention campaign in partnership with the government, then added case management and the provision of personal protective equipment (PPE) to frontline personnel.
We worked day and night. No time limits. We received multiple requests for protection materials from hospitals, local authorities, law enforcement units, and others. We delivered tents for triage and medical supplies, as well as food, hygienic products and beds for the quarantine units. We also operated at the borders, in the western part of the country, offering information, food and water to Romanians returning from abroad.
Authorities designated the Romanian Red Cross as the main actor to receive donations, both cash and in-kind, and to distribute products and specific materials to health services, frontline workers and other categories in need. About 2,000 volunteers and staff members worked on a daily basis during the emergency. We had to prioritise activities, keeping in mind that we need to continue interventions such as home care, ambulances and the food bank under any circumstances. On a positive note, we experienced solidarity like never before.
Therese Leijon (Swedish Red Cross)
When the pandemic started in Sweden, many of our local branches and volunteers in risk groups had to stop their work upon the Public Health Agency's recommendations. At the same time, we created a disaster management team to deal with the crisis.
Initially, people over 70 years old were identified as a risk group, and the Swedish Civil Contingencies Agency (MSB) assigned the Swedish Red Cross and other organisations to deliver groceries, medicine, and pharmaceutical items to them. The National Board of Health and Welfare also assigned the Swedish Red Cross to supply healthcare materials such as personal protective equipment. We launched a support hotline with staff and volunteers taking calls in several languages – and, with support from major donors, we set up tents outside hospitals to offer psychosocial support. By July, 1,500 people had received this kind of assistance.
Nearly 300 local branches redirected ongoing activities or started new services, with 2,800 additional volunteers signing up. Our teams produced their own personal protective equipment approved by the National Board of Health and Welfare, and supported people in isolation to take care of daily needs such as running errands. We raised awareness about preventative measures, and provided support through hotlines. We converted indoor meeting activities into outdoor walking and activity groups following physical distancing rules, and we changed homework support and language classes to digital events.
People living in socio-economically vulnerable settings were identified as very likely to be affected by COVID-19. For this reason, we launched awareness raising campaigns in 11 urban areas. We had reached over 4,000 people as of July, including through psychosocial support. Community-based participatory assessments allowed us to identify other needs and develop further support services, such as food distribution for families with children living under the poverty line, or public health information in various languages.
What are the most pressing issues now? How is your National Society approaching them?
Andreea Furtuna (Romanian Red Cross)
We continue organising information campaigns. During the lockdown people were quite disciplined, but since then, COVID-19 deniers have gained terrain.
Hygiene remains an issue too. Rural Romania is still a place where most people do not have in-house bathrooms. We need to offer more sessions on hand-washing.
Another concern is related to the education system, as it is important to keep children safe and informed. We continue distributing disinfectants and masks, and proceed with awareness-raising activities. Also: online teaching can be a disaster for poor kids and those in rural or disadvantaged communities. There are not enough electronic devices for the pupils, and in some areas there is no internet connection for many hours of the day. What can families do, with only one device, but two, three or more girls and boys following different classes?
Last, but not least, the economic crisis is worrying. At the beginning, attention was focused on health issues. There was less interest for the isolated people, the elderly, the poor and the new poor – those who were left without job, or repatriated workers returning from abroad. In July we held an online art auction to raise additional funds, among other initiatives, and we are going to organise a health education caravan as well as distribute food packages through our food bank.
Therese Leijon (Swedish Red Cross)
Socio-economic gaps and inequality are growing. People who have already been falling through the social safety net are now even more exposed and vulnerable, with children especially hard hit. We see an even greater need for the Swedish Red Cross and other organisations to address and meet people's basic needs. We produced support material for our local branches, and began research on how the Swedish Red Cross can improve the work on food and housing assistance. We also seek to address longer term consequences of isolation, particularly among the elderly and other risk groups. Furthermore, we aim to provide psychosocial support and information on how to manage stress, concerns, and anxiety.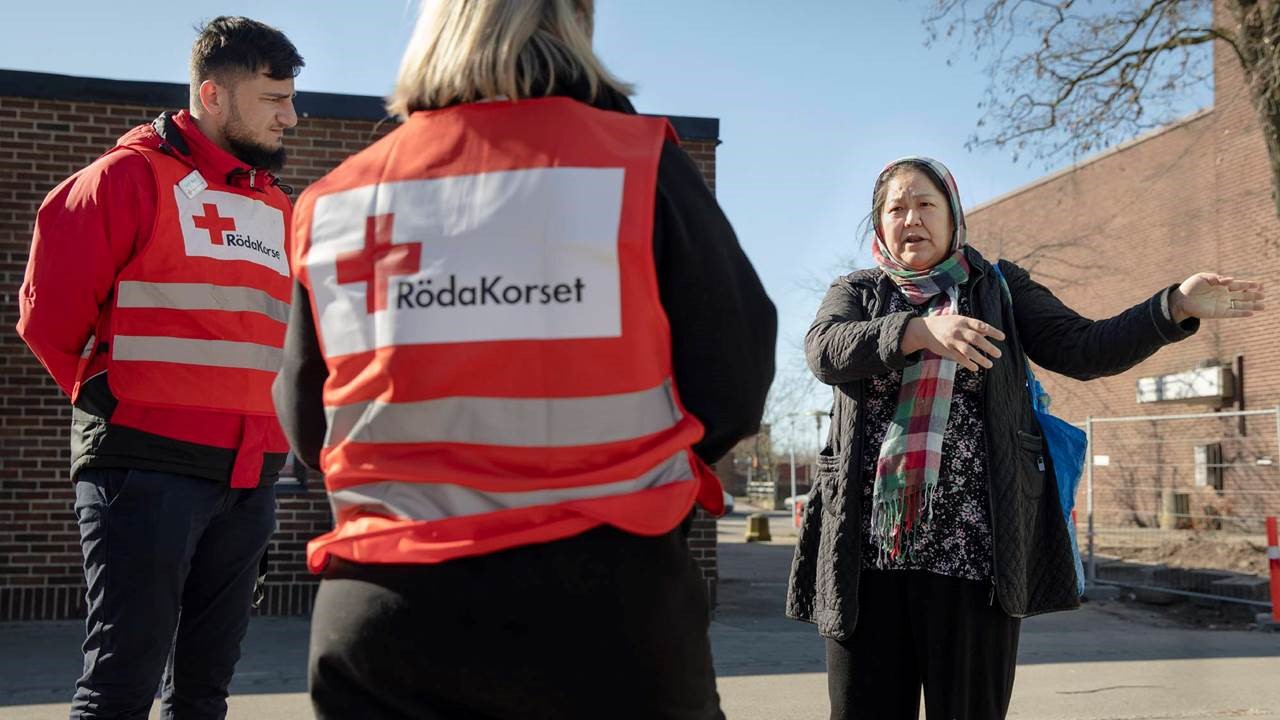 What will the 'new normal' look like for your activities? How will you ensure care for those most affected by the crisis in the long-term?
Andreea Furtuna (Romanian Red Cross)
We still have to prepare ourselves for the medium and long term challenges. Our main sources of income have been seriously reduced due to the confinement, the restrictions and the physical distancing. Hence, we need to find new strategies to sustain the services – and review our planning for the months and years to come.
Therese Leijon (Swedish Red Cross)
Digitalising further our working modalities is crucial. We must also diversify our volunteer base to be able to respond to all types of crises, as many of our current volunteers belong to COVID-19 risk groups and ought to stay in isolation. Moreover, we need to ensure that more people in socio-economically vulnerable communities receive our support.
Additional information:
---
Other COVID-19 conversations:
How to tackle rising needs and stigma
With the Hungarian Red Cross and the Slovenian Red Cross: in this link
Digital or face-to-face help?
With the Danish Red Cross and the Finnish Red Cross: in this link
Mental health will remain a challenge in the long run
With the Luxembourg Red Cross and the Portuguese Red Cross: in this link
Stay safe while helping others
With the Belgian Red Cross (French Community) and the Latvian Red Cross: in this link