Published on
Happening here and now: Europe in the face of extreme weather events
This summer has seen numerous extreme weather events cause significant damage across Europe: for example, floods in Belgium, Germany, Luxembourg and the Netherlands, as well as wildfires in Greece, Italy and Spain, have killed hundreds of people, forced thousands to leave their homes, and heavily tested preparedness and response capacities.
Last week, the attribution study "Heavy rainfall which led to severe flooding in Western Europe made more likely by climate change" written by an international team of leading climate scientists and the Red Cross Red Crescent Climate Centre warned that the flooding experienced in in Germany and the low countries in July is 1.2 to 9 times more likely due to climate change. These findings are in line with the conclusions of the recent Intergovernmental Panel on Climate Change (IPCC) report, which assessed that there is now unequivocal evidence that humans are warming the planet's climate, and that human-induced climate change is the main driver of an array of significant changes, including weather extremes.
With science clearly pointing to the severely increased likelihood of extreme weather events, strengthening preparedness and anticipatory action at all levels, enhancing cross-border cooperation, and investing in local communities are critical to saving lives and reducing losses. Individuals can play an important role in preparing themselves and their communities by knowing the hazards in their area and taking action such as packing an emergency preparedness kit, or following a training in first aid.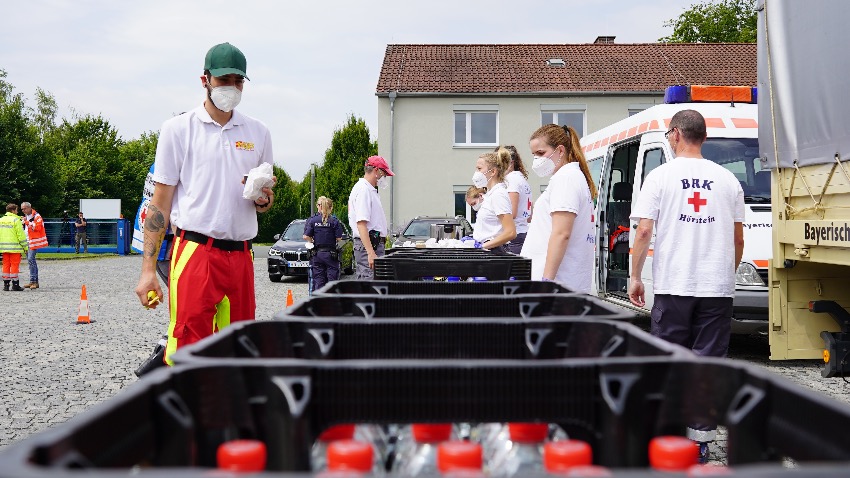 "The science is clear: climate change is hurting us already today", says Maarten van Aalst, Director of the Red Cross Red Crescent Climate Centre. "Local communities are already confronted with the rising risks, and it is critical that we are aware of what is coming their way, support to reduce risks wherever we can, but also to evacuate and respond if needed."
Throughout the summer, National Red Cross Societies in the affected countries have been working hard to mitigate the disastrous consequences of these extreme weather events and to assist those who have lost homes, livelihoods, and loved ones. After the dreadful floods all over Europe, the Red Cross evacuated people and provided emergency shelter in areas that were safe from rising water levels, as well as distributed clothes, food, and drinking water. One month later, the focus is on continuing material aid to those who have lost their homes, but also on providing psychosocial support to help people cope with the impact of the floods.
In Southern Europe, wildfires have been ravaging through Italy, Spain, and Greece since July. Red Cross first responders were swiftly deployed to evacuate affected populations, and provide first aid, psychosocial support, and essential goods such as food, water, and clothing. In Greece, the Hellenic Red Cross has also been helping the fire brigade and coordinating the search and rescue of missing individuals. In Sardinia, with farmers struggling to feed their animals as the wildfires destroyed most of the crops, the Italian Red Cross delivered emergency animal feed to 200 families, in addition to sending wildfire-fighting vehicles and carrying out aerial assessments of damages.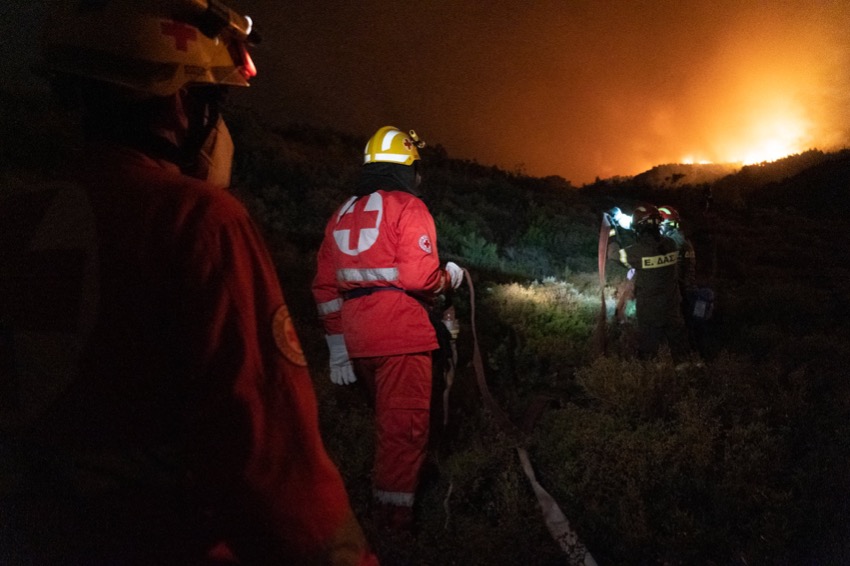 "It cannot be more evident that climate change is here – and its humanitarian impacts are devastating", says Jagan Chapagain, Secretary General of the International Federation of Red Cross and Red Crescent Societies (IFRC). "The Red Cross is working to respond to disasters, but also to address risks and better prepare communities, especially the most vulnerable. But we cannot do it alone – with COP26 approaching, we urge governments to make comprehensive and lasting political commitments to boost preparedness, build resilient communities and save lives."
In order to effectively respond to disaster situations, National Red Cross Societies carry out a wide range of activities to boost their preparedness, such as raising awareness of potential risks, setting up early-warning mechanisms for communities residing in at-risk areas, carrying out drills and exercises, or strengthening coordination with public authorities and other relevant actors.
The EU states its ambitions to fight climate change, including through climate related policies such as the European Green Deal and cooperation with international partners. To ensure these measures have a strong impact in the field, local actors should be engaged. At EU level, there is recognition that building capacities to respond to the consequences of climate change is essential. The EU´s Civil Protection Mechanism (UCPM) has now responded to over 500 requests for emergency assistance submitted since its launch in 2001. The civil protection operation in response to forest fires in Greece was the largest ever. The response prevented the worst, but as the climate crisis is accelerating, more needs to be done.
As stated in the newly amended UCPM legislation, it is necessary to improve resilience and planning for disaster prevention, preparedness and response. Advocating for investment in the prevention of disasters across borders and sectors, as well as for comprehensive risk management approaches that underpin prevention and preparedness is crucial. Actions must be multi-hazard and ecosystem-based, taking into account the likely impacts of climate change.
For more information, consult our publication 'RED ALERT': Managing disaster risks in Europe which showcases good practices, challenges and lessons learned by National Red Cross Societies in Europe and the International Federation of Red Cross and Red Crescent Societies (IFRC) on reducing and managing disaster risks across the region.