Published on
Red Cross Approach: Caring for older people in age-friendly communities
The COVID-19 pandemic laid bare the long-standing challenges of ensuring accessible, affordable and quality long-term care, backed up by a sufficient and skilled workforce and adequate financing. It highlighted the critical importance of long-term care systems in ensuring the well-being of people in need and preserving their dignity and access to care services, while also contributing to broader social cohesion and solidarity.
By presenting practices by National Red Cross Societies across Europe, this publication highlights the Red Cross' commitment to ensuring access to high-quality home and community-based care for older people. Through a principled approach centred on meeting the needs of older people, National Red Cross Societies in Europe have accumulated extensive experience in developing community-based interventions and programmes to support access to services and in promoting healthy ageing practices for older people to live with dignity in age-friendly environments.
OUR APPROACH:
Volunteerism in long-term care: We support older people, their families and informal carers by providing high-quality services that meet their needs. At the same time, we include and value the role of older people as an integral part of the Red Cross volunteering network.

Age-friendly communities: We promote age-friendly communities to enhance active and healthy ageing by improving health services and promoting the participation of people of all ages in shaping community-level structures and the services provided. We also work to create inclusive environments for older people with varying needs and capacities, while addressing issues of social isolation and loneliness.

Home care: We work with older people, their families and informal carers to provide health and social services that allow rehabilitation and re-enablement to restore older people's ability to live independently and stay in their familiar environment for as long as possible.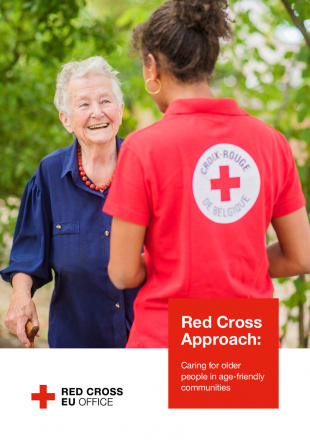 Download pdf