Fuelling hope in northern Colombia
Plagued by conflict and with very little hope for the future, the people of Catatumbo in Norte de Santander are in dire need of humanitarian assistance. Disease prevails due to poor water and hygiene conditions, and unexploded ordnances and land mines pose the constant threat of detonation. With almost no transportation and a general absence of basic health services, the population in Catatumbo face high levels of vulnerability and isolation.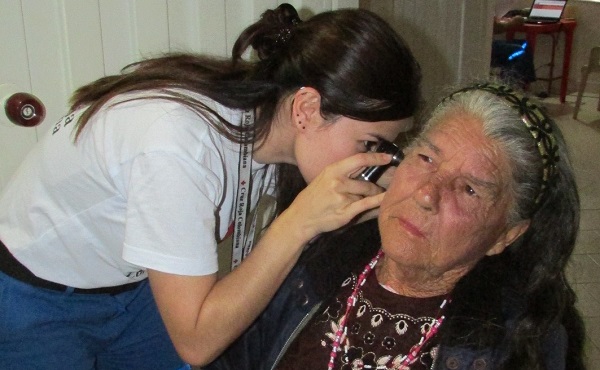 Funded by the European Commission's Directorate-General for European Civil Protection and Humanitarian Aid Operations (ECHO), the Norwegian Red Cross and the Spanish Red Cross are supporting the Colombian Red Cross to deliver life-saving support in this remote area. Initiated in April 2016, the project aims to reach over 10,000 people over a 12-month period – either through services such as medical consultations, or by distributing healthcare items like prenatal packs and community first aid kits.
While military operations by the government and the Revolutionary Armed Forces of Colombia (FARC) have significantly decreased in the country since the bilateral ceasefire established in June 2016, other armed groups continue to be active. Disappearances and killings endure, and there are high numbers of unrecorded cases. The region of Catatumbo is particularly affected.
"Catatumbo is cursed by its typography", says Joanna Radziukiewicz, Norwegian Red Cross Country Manager in Colombia. "The soil and climate are ideal for cocoa plantations, which – along with illegal exploitation of natural resources and minerals – provide a funding mechanism for armed groups", she explains. "Another key feature are the narrow paths along the mountains, which provide strategic routes that are ideal for the trafficking of arms, drugs and people".
"Difficult access, including because of the presence of various armed groups, means that public entities are not present", adds Joanna. "All these factors combined lead to an extremely complex environment.''
"Julia Gonzales" is a member of the Colombian Red Cross mobile health units; teams of healthcare professionals – including doctors, nurses, dentists, and psychologists – that deliver basic medicines and health assistance to selected communities, on 10-12 day rotations. Julia's name has been anonymised to protect her and her colleagues' security. On return to Bogota following a 12-day mission to Catatumbo, she shares her experiences and impressions.
"When people get sick, it is impossible for them to go to the nearest health centre – which is a 4-hour drive away, on roads that are in a poor condition", Julia explains. "People's houses are made of very simple material, from whatever they can collect in the jungle. They barely have access to electricity", she adds.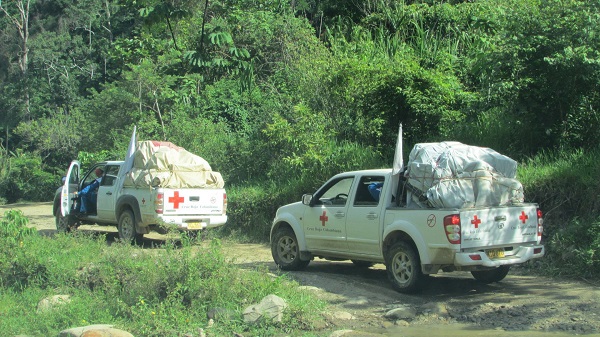 Although the Mobile Health Units constitute a temporary deployment of basic and non-specialised health services that provide effective humanitarian aid, the Red Cross advocates to improve the visibility of these populations, with a view to promoting more sustainable solutions and permanent access to public health facilities.
The Colombian Red Cross strictly adheres to the principles of impartial humanity and provides assistance to all the wounded and sick, including guerrilla combatants. Due to its neutrality and the trust it has built over time, the Colombian Red Cross is accepted to carry out its humanitarian mandate by all groups, and enjoys access across all of Colombia, including in Catatumbo.
"Before leaving, we make sure to inform the community and all the parties to the conflict about the planned mission to guarantee access and the safety of all our staff and beneficiaries", Julia explains, as she recounts her experience of impartiality in practice during this last mission.
"While I was working in the reception, I noticed that there were 6 men waiting outside. They were all standing outside the gate. I asked the doctor if there was something wrong, and she said there wasn't, but that they were just hesitant to enter," recalls Julia. "I was a bit puzzled at first, but once they came in I understood who they were and why they had hesitated. When I asked them for their names they paused, and gave very common names like 'Carlos', which I suspect were fake as none of them wanted to provide their ID. They spent a long time with the doctor and dentist, and behaved respectfully during their visit", she says. "Later, the doctor told me that they fear people will perceive them as weak if they enter".
The Catatumbo region has high levels of unexploded ordnances, and weapon contamination is a very serious and sensitive issue. To help communities face this scenario, the Colombian Red Cross provides training and advice on how to prevent accidents from happening, and how to react when they occur. Red Cross teams also implement water collection systems, water filters, and proper solid waste management to reduce the prevalence of diseases. "This will be crucial for local communities", says Julia. "It will not only reduce the health risks, but also greatly reduce the burden of work for those living there."
The Norwegian Red Cross has been collaborating with the Colombian Red Cross since the mid-1980s in the fields of violence prevention among youth at risk, organisational development, youth engagement and health. Having established a field presence in Colombia in 2011, the first Mobile Health Unit that was supported by the Norwegian Red Cross and funded by ECHO was deployed in the Guapi municipality in 2011. Since then, the Norwegian Red Cross has assisted numerous Mobile Health Unit interventions, focusing on the provision of primary healthcare, as well as capacity building in disease prevention and health promotion among the local population. In 2014, in consortium with the Spanish Red Cross and the Colombian Red Cross, Mobile Health Unit interventions were deployed in both the Guapi and the Iscuande municipalities.
Basic information
Activity name
Mobile Health Units
Country
Columbia
Duration
2016-2017
Partners
Colombian Red Cross, Norwegian Red Cross, Spanish Red Cross