Published on
Massive surge in volunteer numbers in response to the COVID-19 pandemic
"Every individual action of solidarity, of peace and of lending a hand and supporting local communities counts."
Worldwide, hundreds of thousands of new volunteers have joined their National Red Cross and Red Crescent Society this year, providing vital support to their local communities during the COVID-19 pandemic. In Europe, widespread increases have been reported too: over 63,000 additional people have been mobilised in the Spanish Red Cross through its 'Cruz Roja RESPONDE' plan, and there have been more than 48,000 new sign-ups to the 'Ready2Help' citizen aid network of the Netherlands Red Cross, 2,000 to the Danish Red Cross and 1,000 to the Swedish Red Cross, to cite some examples.
New and long-standing volunteers have dedicated their time to wide-ranging COVID-19 response activities, including: delivering essential food and medical items; transporting patients to health facilities; supporting with testing and contact tracing; providing psychosocial support to vulnerable and quarantined people; distributing personal protective equipment (PPE); and providing trusted and accurate health information to their communities. Collectively, they have reached tens of millions of people in nearly every country of the world, while also responding to hundreds of other disasters.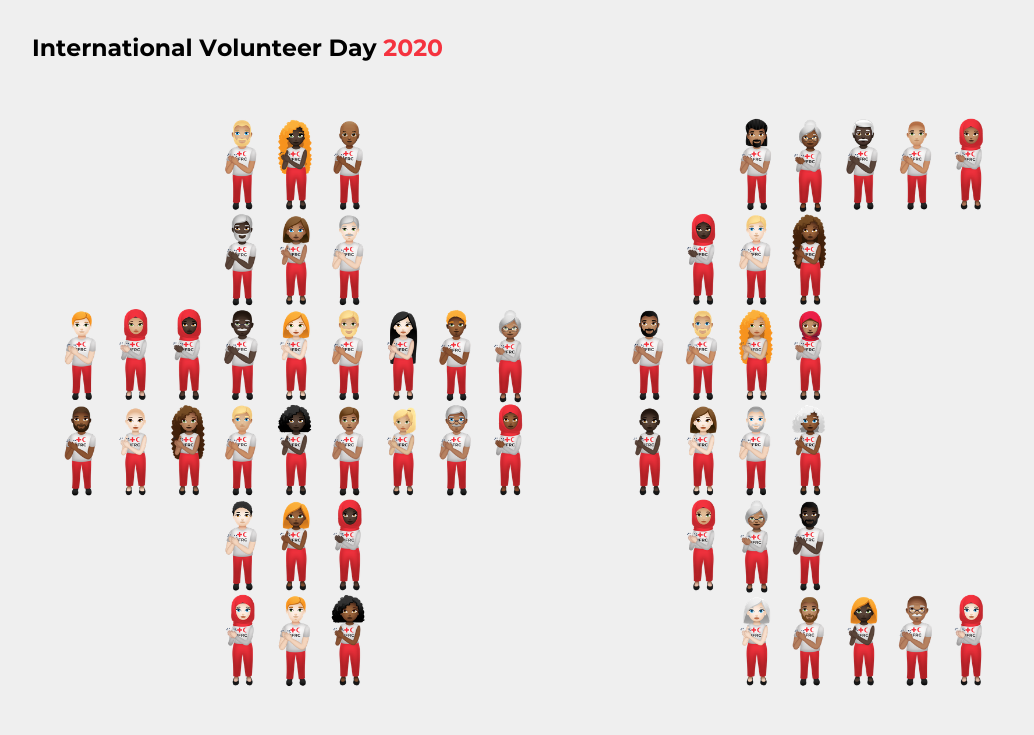 "This year, in response to unprecedented humanitarian need, the IFRC has witnessed equally unprecedented humanity and kindness – with hundreds of thousands of people joining the Red Cross Red Crescent family for the first time, all the while contending with the terrible impacts of COVID-19 on their own lives," said Francesco Rocca, President of the International Federation of Red Cross and Red Crescent Societies (IFRC). "Our millions of volunteers are a true light among the darkness. Ahead of International Volunteers Day, as with every day, we deeply thank them for their immense compassion and courage, and remember those sadly no longer with us," he added.
Volunteers involved in the response are of all ages and backgrounds – teachers, parents, nurses, students, bankers, artists, potentially now unemployed or furloughed, young and old – and motivated by a common desire to serve their communities:
Adda Þóreyjardóttir Smáradóttir, a student from Iceland who received support in an isolation centre run by the Icelandic Red Cross when she herself contracted COVID-19 and who has since become a volunteer, explained: "I wanted to give something back because the Red Cross was doing so much for me. I have a purpose. It's just so good mentally to be around people and being able to help people in the same situation that I was in"
Ludovica Pugi, an IT worker from Florence, started volunteering with the Italian Red Cross in March as a receptionist in a COVID-19 health facility: "The thing that makes your heart break is when a lady over 80 calls you asking about her husband, with whom she cannot speak. After this emergency I will continue my path with the Red Cross for sure. There are other pressing situations every day, even if we don't realise it"
As encouraging vaccine development news reminds us the home stretch is in sight, the spirit of volunteering is still needed more than ever in the pandemic. If you are interested in becoming a Red Cross or Red Crescent volunteer, you can find more information on how to get involved by contacting the National Society of your country or by clicking here.
Homepage image: © Icelandic Red Cross
ADDITIONAL INFORMATION
Other articles on volunteering:
"Imagine you sleep rough, and COVID-19 brings the country into lockdown"
Testimonial by our colleague Elise Poumay: in this link
Volunteering in the midst of a pandemic
Experiences from across Europe: in this link
---
COVID-19 conversations between National Red Cross Societies:
How to tackle rising needs and stigma
With the Hungarian Red Cross and the Slovenian Red Cross: in this link
Digital or face-to-face help?
With the Danish Red Cross and the Finnish Red Cross: in this link
Mental health will remain a challenge in the long run
With the Luxembourg Red Cross and the Portuguese Red Cross: in this link
The socio-economic crisis is worrying
With the Romanian Red Cross and the Swedish Red Cross: in this link
Stay safe while helping others
With the Belgian Red Cross and the Latvian Red Cross: in this link